At least 19 dead in Nepal plane crash (PHOTOS)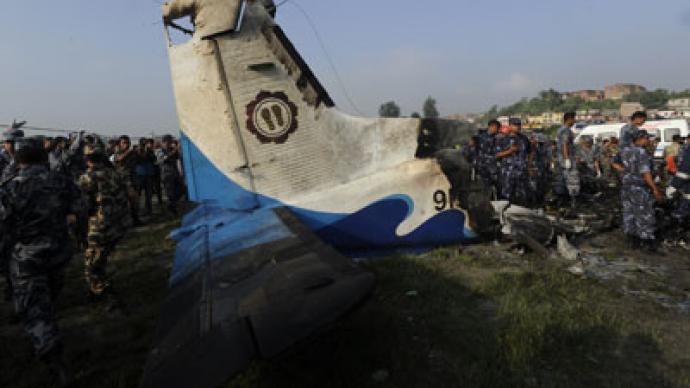 At least 19 people have been killed in a plane crash in Nepal. Seven Britons, five Chinese and seven Nepalis were reportedly among the victims.
­The Sita Air twin-engine propeller plane crashed near the Manohara River while en route to Lukla, in Nepal's Mount Everest region just after takeoff. Three of those killed were crew members, said Katmandu airport chief Narayan Bastakoti.Firefighters brought the fire in the wreckage under control and police rescuers were trying to pull out the bodies.Thousands of Western tourists head to the Mount Everest region in autumn for trekking trips. Last Sunday, an avalanche on another Nepali peak killed seven foreign climbers and a local guide.
Onlookers and rescuers are seen near the wreckage of an Sita Air Dornier plane crash site in Manohara, on the outskirts of Kathmandu.(AFP Photo / Prakash Mathema)­
Onlookers and rescuers are seen near the wreckage of an Sita Air Dornier plane crash site in Manohara, on the outskirts of Kathmandu.(AFP Photo / Prakash Mathema)­
A rescue team member hoses down the crash site of a Dornier aircraft in Kathmandu.(Reuters / Navesh Chitrakar)­
Members of a rescue team investigate the crash site of a Dornier aircraft in Kathmandu.(Reuters / Navesh Chitrakar)