RIP Nelson Mandela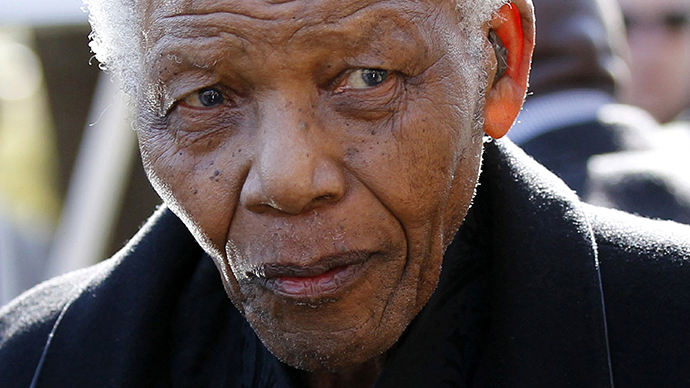 South African leader and international icon Nelson Mandela has died at age 95 at his Johannesburg home after struggling with health problems. Mandela dedicated his life to ending apartheid and became the first black president of South Africa.
At 21:45 GMT Thursday, South African president Jacob Zuma announced on live television that Madiba, as Mandela is known in South Africa, had passed away. The former president, who spent decades in prison, had been plagued by a lung infection in his later years, as well as suffering from severe stomach issues, prostate and eye problems.
"He is now resting," Zuma said. "He is now at peace."
"Our nation has lost its greatest son," he went on. "Our people have lost their father."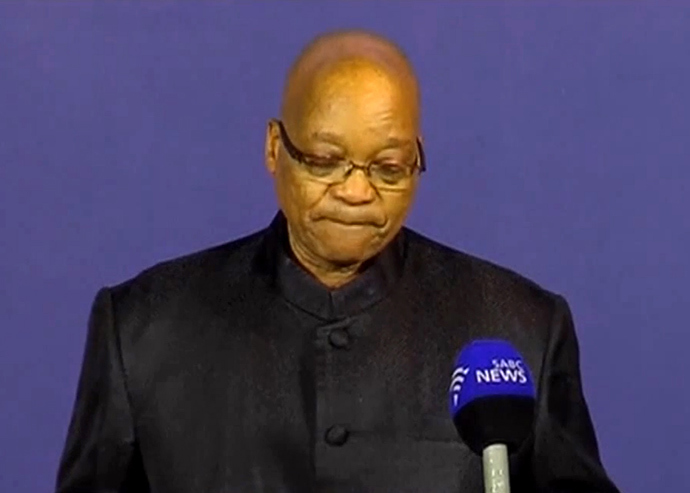 18:22 GMT: US Ambassador to the United Nations, Samantha Power, tweeted an image from the body as it began to hold a moment of silence for Mandela.
Moving moment of silence in #UNGA. One thing all countries can agree: Nelson Mandela was a great and good man. pic.twitter.com/kRwqoTcXqk

— Samantha Power (@AmbassadorPower) December 6, 2013
17:35 GMT: Mourners gathered in Soweto, on the outskirts of Johannesburg, and the home where Mandela died to pay respects as flags flew at half-staff in capitals worldwide. Archbishop emeritus Desmond Tutu led a memorial mass in Cape Town, during which he said: "Let us give him the gift of a South Africa united, one,"
16:05 GMT:
We love you + will always be thankful for setting us free - one of the messages on the flower tributes for Mandela pic.twitter.com/alR412qznE

— Justine Gerardy (@JustineGerardy) December 6, 2013
14:31 GMT: Some in Africa fear that Mandela's death would see the beginning of dark times for the continent as there are no politicians of his caliber seen on the horizon.

"We are in trouble in Africa. We have been left without leadership," a teacher in Kenya's western city of Kisumuis cited by Reuters. "No one will fit Mandela's shoes. Dictators who are power hungry will kill Africa's dream."

14:16 GMT: Ordinary South Africans express hope that the example of late Nelson Mandela will inspire its current leaders to deal with the country's increasing wealth gap.

"We need the next Mandela to fight for the poor," a community worker in Nairobi's Kibera slum told Reuters. "We have to get a person, who isn't after his own riches, a common man. The poor are marginalized."
14:01 GMT: Afghanistan's president, Hamid Karzai, has recorded a video tribute to the late Nelson Mandela, calling him "an icon of our time."
13:54 GMT: German Chancellor Angela Merkel has praised Mandela's incredible willpower, adding that the former South African president is an inspiration to the whole world.

"Even many years in prison could not break Nelson Mandela or make him bitter – his message of reconciliation ultimately led to a new, better South Africa," Merkel was cited by DPA news agency as saying. "Nelson Mandela's luminous example and his political legacy of non-violence and rejection of all forms of racism will remain an inspiration for people the world over for a long time still."

13:43 GMT: Nelson Mandela will be buried in his home village of Qunu in the Eastern Cape on December 15, South African president Jacob Zuma said as he visited Mandela's home to bring condolences to his family.

Prior to that, a memorial service for the anti-apartheid hero will be held at Johannesburg's Soccer City stadium on December 10, Zuma added.

12:30 GMT: Britain's Queen Elizabeth II said she "remembers with great warmth her meetings with Mr. Mandela and sends her sincere condolences to his family and the people of South Africa at this very sad time," says a statement from Buckingham Palace.
"He worked tirelessly for the good of his country, and his legacy is the peaceful South Africa we see today," she adds.
12:18 GMT: President of the Swiss Confederation, Ueli Maurer says it was with "great sadness" that he learned of Mandela's death, reports the Swiss edition of the Local newspaper.
"With the passing of Nelson Mandela, South Africa, the African continent and the whole world loses an exceptional leader, one of the great men of our times," he adds.
"His struggle for freedom, human rights, democracy, the peaceful settlement of conflicts and national reconciliation in his country has marked the history of the world of the second half of the 20th century," says the Swiss President.
http://t.co/yL4z0UVt9P#Mandela, one of our times' greatest political figures.Let's honour his memory by commitment to democracy & tolerance

— Herman Van Rompuy (@euHvR) December 5, 2013
11:57 GMT: Pope Francis says Nelson Mandela "will inspire generations of South Africans to put justice and the common good," reports the Vatican Radio website
"I pray that the late president's example will inspire generations of South Africans to put justice and the common good at the forefront of their political aspirations," Francis said in a telegram to South African President Jacob Zuma.
"In commending the soul of the deceased to the infinite mercy of Almighty God, I ask the Lord to console and strengthen all who mourn his loss," he added.
11:07 GMT: A portrait of Nelson Mandela can be seen on the façade of Quai d'Orsay, the French Ministry of Foreign Affairs, in Paris.
Portrait de Nelson Mandela sur la façade du quai d'orsay pic.twitter.com/BKmubmSSWY

— Romain Nadal (@NadalDiplo) December 6, 2013
10:47 GMT: South African citizens are paying their own tributes to the Father of the Nation, says South African news website DestinyConnect.com.
In Johannesburg, commuters began singing struggle songs. "We were singing just to remember uTata," said Mathabo Thuntsi, Johannesburg citizen. "We are still sad that he passed, but we are grateful for the legacy he leaves behind and for his contribution. At least now we know he is resting in peace."
In Soweto, people who passed by Mandela's former house (now the Nelson Mandela National Museum) stopped to take pictures and leave messages of support. "I am very sad. My heart goes out to the Mandela family," says Ofentse Nakedi, 20, with tears in her eyes.
08:53 GMT: Israeli President Shimon Peres and PM Benjamin Netanyahu also express their sorrow at the death of Nelson Mandela.
"The world has lost a venerable leader who changed the path of history," Peres says. "Nelson Mandela fought for human rights and left his mark on the war against discrimination and racism."
"Mandela's legacy to his people and to the world will remain etched in the pages of history and in the hearts of all of those whose lives he touched, and who will remember him forever," Peres added.
Mandela was "the father of his nation, a man of vision, a freedom fighter who opposed violence," Netanyahu wrote on his Facebook page. "He will be remembered as the father of the new South Africa and as a highly important moral leader."
08:33 GMT: UN Secretary-General Ban Ki-moon said Nelson Mandela was a "giant for justice and a down-to-earth human inspiration."
"Many around the world were greatly influenced by his selfless struggle for human dignity, equality and freedom. He touched our lives in deeply personal ways," he added.
#Mandela changed course of history for his people, country, continent & the world. My thoughts are w/his family&people of #SouthAfrica/JMB

— José Manuel Barroso (@BarrosoEU) December 5, 2013
07:45 GMT: Russian President Vladimir Putin considers Mandela to be one of the most monumental figures in politics, and that his name is connected to an entire epoch of African history, ITAR-TASS reported.
Kremlin's press office reports that the President has expressed his condolences in a letter to South African leader Jacob Zuma. In it he said that the Mandela has overcome insurmountable odds to forever be remembered as a name tied to the ideals of humanism and justice.
"The President of Russia has also highly praised Nelson Mandela for his role in instigating developments in South African-Russian relations, which have presently evolved into strategic ones," the Kremlin said.
07:18 GMT: In the South African 'Madiba' bar in New York, mourners pay tribute to anti-apartheid leader Nelson Mandela. People gathered to launch giant white lanterns. The bar, named after Mandela's Xhosa clan name and which has been home for South Africans in New York, is decorated with Mandela posters. Many people said it was the natural place to come when they heard of Mandela's death.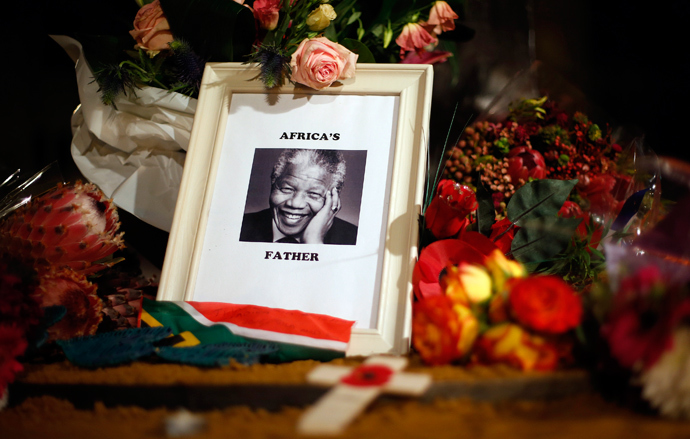 06:48 GMT: Many key sporting figures also expressed their condolences at the death of South African former President Mandela.
"A remarkable man who understood that sport could build bridges, break down walls, and reveal our common humanity," International Olympic Committee President Thomas Bach said, calling Mandela "a true statesman."
FIFA President Sepp Blatter ordered the lowering of 209 flags of the world body's member countries at FIFA headquarters in Switzerland.
"It is in deep mourning that I pay my respects to an extraordinary person, probably one of the greatest humanists of our time and a dear friend of mine: Nelson Rolihlahla Mandela," said Blatter. "The memories of his remarkable fight against oppression, his incredible charisma and his positive values will live on in us and with us."
"Nelson Mandela was one of the most powerful and inspirational leaders in the world and a great friend of the NBA," that body's Commissioner David Stern said, "… and while we mourn his passing, we know that his legacy and quest for equality will endure."
Spain's World Cup winners and Portugal's Cristiano Ronaldo also tweeted messages of condolence, with many including photographs of themselves with Mandela.
Thankful Madiba for your legacy and your example. You"ll always stay with us. pic.twitter.com/IA72uYB6N4

— Cristiano Ronaldo (@Cristiano) December 5, 2013
06:34 GMT: Former Soviet leader Mikhail Gorbachev has come out with a statement on Mandela's passing:
"A great man has passed a way - one that I personally respected, and was respected by many others for his commitment to freedom and a revolution that was necessary for achieving that freedom."
"I knew Mandela well, we were friends."
"Mandela would always say - 'without your Perestroika, we would never have managed to make our way out of the situation we were in'."
"Mandela is a man who deserves an enormous thank you from all of us for what he has done. His memory will live on forever. His whole life is an example to those who care for their country and people... his courageous sacrifice will live on through the ages."
05:58 GMT: As the period of mourning for Nelson Mandela begins, books of condolence are being opened at public buildings in South Africa and its embassies around the world, says BBC news.
05:30 GMT: The authorities of South Africa have already begun organizing the funerals of Nelson Mandela, says the Guardian.
Every living American president is expected to attend, along with foreign dignitaries ranging from Prince Charles to the Zimbabwean president, Robert Mugabe.
The current South Africa's president Jacob Zuma said on Thursday night, "Our beloved Madiba [Mandela's Xhosa clan name] will be accorded a state funeral."
There may be internal conflicts among Mandela relatives over the place of burial of former South Africa leader: either in the village of Mvezo where Mandela was chief or his native village of Qunu.
04:41 GMT: His Holiness the Dalai Lama also expresses his condolences to the death of Mandela. He hails South African former President as "a man of courage, principle and unquestionable integrity" saying he will miss a "dear friend."
02:47 GMT: US Vice President Joe Biden thanked Nelson Mandela for his courage in a statement hours after the former president's death. He also relayed a story about making a trip to South Africa when the nation was still under apartheid control.
"I saw the world the way it used to be when I visited South Africa as a 34 year old Senator. When I exited the plane I was directed to one side of the tarmac, while the African American congressmen traveling with me were sent to the other side. I refused to break off, and the officials finally relented," Biden said.
"When I tried to enter Soweto township with Congressmen Andrew young of Atlanta and Charles Diggs of Detroit, I remember their tears of anger and sadness. Because of Nelson Mandela's courage, and compassion, that world has been transformed."
02:12 GMT:
About a dozen news vans outside the Apollo Theater getting b-roll of this tribute to Nelson Mandela pic.twitter.com/cHiuoYdPic

— James Arkin (@JamesArkin) December 6, 2013
01:44 GMT:
Nelson Mandela was a champion for justice & human dignity, with unmatched grace. I'll remember him as Madiba, truly an unconquerable soul.

— Hillary Clinton (@HillaryClinton) December 6, 2013
01:34 GMT: Mandela's passing came on the same day that a film about his life titled "Mandela: Long Walk to Freedom" made its premiere in London. The audience, which included the film's stars as well as Prince William and wife Kate, was informed of Mandela's death as the final credits began.
The most notable attendee was Mandela's youngest daughter, Zindzi Mandela, who learned the news along with the rest of the group. Asking about her father's health on the walk into the theater, she replied "My father is fine."
01:18 GMT:
In honor of Nelson Mandela, who died today, here is an image of South Africa from #ISS: https://t.co/JkwMuxcGm0pic.twitter.com/mdrNs2lHFH

— NASA (@NASA) December 5, 2013
01:12 GMT:
The TV camera lights in front of the Mandela statue are casting his shadow on the South African embassy: pic.twitter.com/ZQRzURoA8I

— Matt Ford (@HemlockMartinis) December 6, 2013
00:59 GMT: Desmond Tutu, the former archbishop of Cape Town who won the Nobel Peace Prize in 1984 because of his actions against the apartheid, wrote a short essay for the Washington Post's "On Faith" blog to mark the death of his friend. An excerpt follows:
Never before in history was one human being so universally acknowledged in his lifetime as the embodiment of magnanimity and reconciliation as Nelson Mandela was.
He set aside the bitterness of enduring 27 years in apartheid prisons – and the weight of centuries of colonial division, subjugation and repression – to personify the spirit and practice of ubuntu. He perfectly understood that people are dependent on other people in order for individuals and society to prosper.
That was his dream for South Africa, and the hope that he represented the world over. If it was possible in South Africa, it was possible in Ireland, it was possible in Bosnia and Rwanda, it was possible in Colombia, it is possible in Israel and Palestine.
Of course, in the spirit of ubuntu, Madiba was quick to point out that he alone could not take credit for the many accolades that came his way; that he was surrounded by people of integrity who were brighter and more youthful than himself.
That is only partially true.
The truth is that the 27 years Madiba spent in the belly of the apartheid beast deepened his compassion and capacity to empathize with others. On top of the lessons about leadership and culture to which he was exposed growing up, and his developing a voice for young people in anti-apartheid politics, prison seemed to add an understanding of the human condition.
Like a most precious diamond honed deep beneath the surface of the earth, the Madiba who emerged from prison in January 1990 was virtually flawless.
00:55 GMT:
Nelson Mandela: a noble reminder that those declared "criminals" by an unjust society are often the most just.

— Glenn Greenwald (@ggreenwald) December 6, 2013
00:32 GMT:
The crowd outside the #Mandela home keeps growing. More people are bringing candles and flowers @Jacanews MV pic.twitter.com/hnPF44gh79

— Jacaranda Newsteam (@Jacanews) December 6, 2013
00:25 GMT: Former US President Jimmy Carter offered a statement Thursday to honor Mandela, saying he and wife Rosalynn are "saddened" because "the people of South Africa and human rights advocates around the world have lost a great leader."
"His passion for freedom and justice created new hope for generations of oppressed people worldwide, and because of hi, South Africa is today one of the world's leading democracies," he continued. "In recent years, I was gratified to be able to work with him through The Elders to encourage resolution of conflicts and advance social justice and human rights in many nations."
00:19 GMT: Broadcaster Larry King said "of all the interviews I've done Nelson Mandela ranks among the top – he was eloquent and classy."
Sad to hear about the passing of Nelson Mandela - he was the greatest figure of the 20th century - a fascinating man pic.twitter.com/hsqfltcyO9

— Larry King (@kingsthings) December 5, 2013
00:15 GMT:
"Death is something inevitable.When a man has done what he considers to be his duty to his people&his country,he can rest in peace" #Madiba

— NelsonMandela (@NelsonMandela) December 5, 2013
"A real leader uses every issue,no matter how serious & sensitive,to ensure that at the end of the debate we should emerge stronger" #Madiba

— NelsonMandela (@NelsonMandela) December 5, 2013
00:07 GMT:
Tomorrow's cartoon from @BrookesTimes: Release http://t.co/1bP9rXlxsW#Mandelapic.twitter.com/TuYwTg4Xxv

— The Times of London (@thetimes) December 5, 2013
Friday, December 6
23:56 GMT: The scene outside Mandela's home at approximately 1:30 AM local time:
23:53 GMT:
Today, I am very saddened. Nelson Mandela was one of the most influential people in my life. pic.twitter.com/zzixsqm1Af

— Pelé (@Pele) December 5, 2013
23:50 GMT: Nelson Mandela and his African National Congress party were removed from the US terror watch list in 2008, with then-President George W. Bush authorizing the move in time for Mandela's 90th birthday. US President Reagan originally placed the ANC on the watch list in the 1980s.
"Today the United States moved closer at last to removing the great shame of dishonoring the great leader by including him on our government's terror watch list," then-Senator John Kerry said at the time.
Mandela freely toured the US while still technically listed on the watch list.
23:45 GMT: Venezuelan President Nicolas Maduro declared three days of national mourning to honor Mandela.
En homenaje al Gigante Nelson Mandela decidí en nombre de toda Venezuela,decretar tres días de duelo en toda la Patria de Bolívar y Chávez!!

— Nicolás Maduro (@NicolasMaduro) December 5, 2013
23:42 GMT: US Secretary of State John Kerry reminded his Twitter followers that Mandela's life will continue to be a point of inspiration throughout the globe.
Madiba's long walk has ended, but his example lives on for all. #inspiration -JK

— Department of State (@StateDept) December 5, 2013
23:38 GMT: The New Yorker magazine gave readers a sneak preview of its next issue, the cover of which will feature a stark image depicting Mandela's resilience.
Our cover. http://t.co/iaN10YDr58pic.twitter.com/zsq5O3gYDg

— Nicholas Thompson (@nxthompson) December 5, 2013
23:32 GMT: Crowds have assembled outside Mandela's home in Johannesburg. The video below is live footage of residents mourning Mandela's passing.
23:29 GMT: Brazilian President Dilma Rousseff tweeted a tribute to Mandela in Portuguese, which translates to "The example of Mandela will guide all those who are fighting for social justice and peace in the world."
O exemplo de #Mandela guiará todos aqueles que lutam pela justiça social e pela paz no mundo.

— Dilma Rousseff (@dilmabr) December 5, 2013
23:26 GMT: American boxing legend and civil rights activist Muhammad Ali, who fought a high-profile bout in Africa at the peak of his career, has said Mandela is an inspiration to all people fighting for what they believe in.
"I am deeply saddened by the passing of Mr. Mandela. His was a life filled with purpose and hope; hope for himself, his country and the world. He inspired others to reach for what appeared to be impossible and moved them to break through the barriers that held them hostage mentally, physically, socially and economically," Ali said.
"He made us realize, we are our brother's keeper and that our brothers come in all colors. What I will remember most about Mr.Mandela is that he was a man whose heart, soul and spirit could not be contained or restrained by racial and economic injustices, metal bars or the burden of hate and revenge. He taught us forgiveness on a grand scale. His was a spirit born free, destined to soar above the rainbows. Today his spirit is soaring through the heavens. He is now forever free."
23:13 GMT: Many international leaders and celebrities have expressed their condolences to South Africa and noted their own experiences, however limited, with the deceased former president. Among them was Arnold Schwarzenegger, the Austrian athlete who turned his weightlifting accolades into a movie career and then served as governor of California.
President Mandela's life is the closest thing we have to proof of God. http://t.co/ce8FyjCzN1pic.twitter.com/qg6Of20xL9

— Arnold (@Schwarzenegger) December 5, 2013
23:00 GMT: Former US President Bill Clinton, whose own presidency overlapped with Mandela's, has issued a statement of his own.
"Nelson Mandela taught us so much about so many things. Perhaps the greatest lesson, especially for young people, is that, while bad things do happen to good people, we still have the freedom and responsibility to decide how to respond to injustice, cruelty and violence and how they will affect our spirits, hearts and minds," he said.
"In his 27 years of imprisonment, Mandela endured physical and emotional abuse, isolation and degradation. His trials purified his spirit and clarified his vision, giving him the strength to be a free man even behind bars, and to remain free of anger and hatred when he was at last released.
"Mandela's enduring legacy is that, under a crushing burden of oppression he saw through differences, discrimination and destruction to embrace our common humanity.
"Thanks to his life and work, the rest of us are closer to embracing it too."
I will never forget my friend Madiba. pic.twitter.com/UX21ZZG7cg

— Bill Clinton (@billclinton) December 5, 2013
22:58 GMT: United Kingdom Prime Minister has also paid tribute to Mandela, ordering the flag above Number 10 Downing street to fly at half-mast as a mark of respect.
"A great light has gone out in the world. Nelson Mandela was a hero of our time," Cameron said.
PM: A great light has gone out in the world. Nelson Mandela was a hero of our time. I've asked for the flag at No10 to be flown at half mast

— UK Prime Minister (@Number10gov) December 5, 2013
22:55 GMT: George W. Bush, who served as US president from 2001 until January 2009 and has since fought to reduce HIV in Africa, mourned the world's loss along with his wife Laura Thursday.
"Laura and I join the people of South Africa and the world in celebrating the life of Nelson Rolihlahla Mandela," Bush said in a statement. "President Mandela was one of the great forces for freedom and equality of our time. He bore his burdens with dignity and grace, and our world is better off because of his example. This good man will be missed, but his contributions will live on forever. Laura and I send our heartfelt sympathy to President Mandela's family and to the citizens of the nation he loved."
22:52 GMT: People in South Africa and throughout the world tuned in to witness President Zuma's announcement. Below is a picture of South Africans in the Johannesburg suburb of Houghton listening on the radio.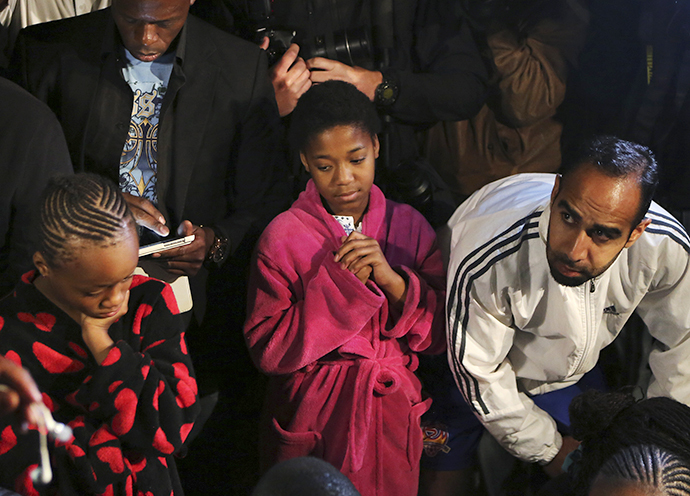 22:34 GMT: Former US President George HW Bush praised Mandela's "remarkable capacity" for tolerance and understanding in a statement issued less than an hour after Mandela's passing was announced.
"Barbara and I mourn the passing of one of the greatest believers in freedom we have had the privilege to know," Bush said in the statement read. "He was a man of tremendous moral courage, who changed the course of history in his country. Barbara and I had great respect for President Mandela, and send our condolences to his family and countrymen."
Especially notable, Bush said, was Mandela's ability to reunite his nation after spending 26 years behind bars.
"As President, I watched in wonder as Nelson Mandela had the remarkable capacity to forgive his jailers following 26 years of wrongful imprisonment — setting a powerful example of redemption and grace for us all."
22:26 GMT: US President Obama delivered a speech honoring Mandela shortly after the initial announcement. In his remarks, Obama said Mandela's "journey from a prisoner to a president embodied the promise that human beings, and countries, can change for the better."
"His commitment to transfer power and reconcile with those who jailed him set an example that all humanity should aspire to," Obama continued. "I am one of the countless millions who drew inspiration from Nelson Mandela's life. My first political action was a protest against apartheid."
You can share this story on social media: