'Fabricated!' NBC Sochi 'hack hysteria' exposed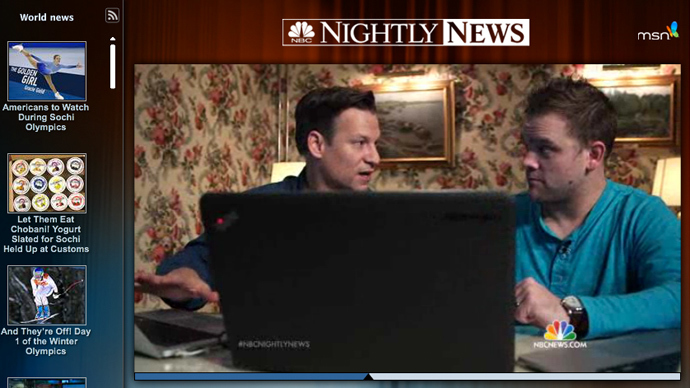 'The story was fabricated.' Cyber security experts are calling out an NBC Sochi-hacker hit-job as a fabrication that, at best, made liberal use of assistance given to them by experts.
NBC news Chief Foreign Correspondent Richard Engel and security expert Kyle Wilhoit claimed to prove how fresh computers were hacked within 24 hours of operation in Russia. A theatrically staged set-up featuring Moscow landmarks wrongly claimed to prove the point Engel wanted to make – Your data is not safe in Sochi.
Engel provided few technical details on how exactly those cyber-attacks happened, but suggested he had not initiated any act before his phone was hacked.
But he had. He downloaded a hostile Android app.
Engel then tried to convince viewers that uninitiated hacks are rampant in Russia. "American athletes and fans are entering a minefield the moment they log in to the internet" he warned. Untrue. In fact, almost impossible!
Security expert Robert Graham of errata looked at the package aired on MSNBC and slammed it as "100 percent fraudulent" and "wrong in every salient detail".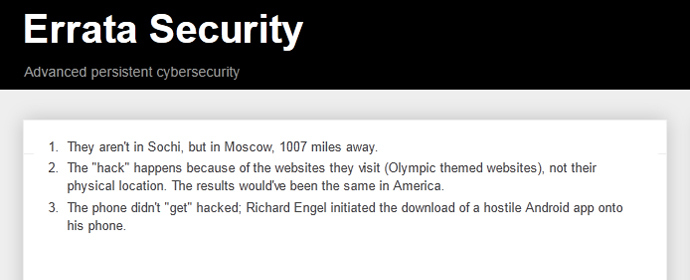 Graham added a salient point to anyone deciphering the subtle anti-Sochi spin saturating MSM as the Olympics open.

Wilhoit, the expert central to the NBC report, is currently is writing a whitepaper on the technology featured, but has clarified how his work was 'edited' to give a false impression.
@pyoor_ Was definitely not uninitiated. That was part of the "tv magic". MD5's forthcoming depending on Trend legal approval.

— Kyle Wilhoit (@lowcalspam) 5 февраля 2014

@securityninja@diami03@scottjosh Definitely agree that there was a lot of editing done ;) That's why there is the technical blog coming ;)

— Kyle Wilhoit (@lowcalspam) 5 февраля 2014
@jbrodkin@marknca I agree. Unfortunately, the editing got the best of the story. Cut a lot of the technical/context details out.

— Kyle Wilhoit (@lowcalspam) 6 февраля 2014
NBC haven't made any statement despite repeated requests to @RicahrdEngel and @NBCNews to clarify just how hackers are set to prey on every American visitor to Sochi.
@declanm@_cypherpunks_ Who would one contact at @NBCnews and complain that their story was made up? Do they even care?

— Robert David Graham (@ErrataRob) 7 февраля 2014
Graham offers advice to anyone, regardless of where they might be: "If you're a stupid user, don't patch your shit, and click on Olympic themed sites and randomly click 'yes', ur good."
The Sochi spinfest continues…
You can share this story on social media: