Navalny verdict: LIVE UPDATES
Russian opposition protest leader Aleksey Navalny has been found guilty of corruption on a large scale. The anti-corruption blogger has been sentenced to 5 years in jail for embezzlement of funds in a state-owned timber company.
6:07 GMT:   A police officer tells the crowd through a megaphone, "Let Mr. Navalny get by!" Security was stepped up at the train station before the opposition blogger's arrival.

6:05 GMT: Navalny thanks Ofitserov, his co-defendant. The crowd chants "Ofitserov!"

6:04 GMT: Navalny has returned to Moscow from Kirov. About a hundred supporters welcomed him at the train station, which had earlier been closed due to a bomb threat.

Saturday, July 20

15:45 GMT: Vladimir Putin is aware of the situation with the opposition activist Aleksey Navalny, Itar-Tass cites presidential spokesman Dmitry Peskov as saying.  

"However, it is widely known that the President does not and cannot comment on court decisions," Peskov added.

When asked about the possibility of a presidential pardon for Navalny if he is jailed, Peskov said that, according to the law, a convicted person must plead guilty before asking for a pardon.

8:04 GMT: All the opposition protesters detained during Wednesday's rally have been freed, Moscow police say.
Friday, July 19

7:12 GMT: Navalny and his accomplice Ofitserov have been freed pending appeal on the condition they adhere to travel restrictions stipulated by the court. The judge also ruled that Navalny may run in the Moscow mayoral elections in spite of the charges set against him. Navalny told the court he had not yet decided whether he will participate in the September elections.

00:10 GMT: City workers have started to clean up the streets following a mass rally. Litter is everywhere after several thousand protested Navalny's verdict.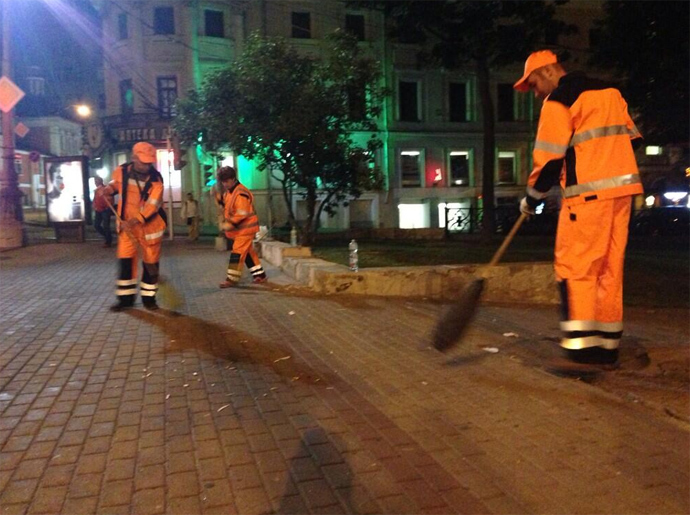 23:38 GMT: Some 50 people have reportedly returned to Manezhnaya Square. In an effort to organize a larger crowd they are tweeting that it would actually be "much more fun" if there were several thousand of them.
22:45 GMT: 
Voilà. Last protesters. No slogans. No banners. Silent. #plevna#Navalnypic.twitter.com/apac7guOcA

— Maria Finoshina (@MFinoshina_RT) July 18, 2013
22:27 GMT: With police having left Manezhnaya Square, protesters in Kitai-Gorod, where the police presence is still high, are considering returning there.
Last policeman left #Manezhnaya. Will protesters come back? #Navalnypic.twitter.com/janPPFo0oY

— Maria Finoshina (@MFinoshina_RT) July 18, 2013
22:15 GMT: While about 100 people remain in Kitai-Gorod area, the majority of protesters have left the streets in anticipation of more rallies tomorrow, when the court is scheduled to consider the appeal to release Navalny and Ofitserov with restrictions on travel until the final verdict officially comes into effect.
21:43 GMT: Several hundred people remain near the Memorial to the Heroes of Plevna in Kitai-Gorod. Tensions are high, but police are not trying to disperse the remaining crowd.

21:01 GMT: Police have detained several of the most vigorous protesters, calling on others to go home. The crowd was chanting "Do not disperse!"
у овд Арбат ,из автозака не выпускают,на улице уже дежурит Эшник,бежать бы отсюда,да дверь некому открыть #манежкаpic.twitter.com/XgAcelu1BK

— Команданте Ще (@shegolll) July 18, 2013
Some groups up to 200 protesters strong still manifesting in #Moscow center.Detentions continue while some earlier-detained released #Navalny

— Maria Finoshina (@MFinoshina_RT) July 18, 2013
20:51 GMT: Riot police have addressed the crowd in Kitay-Gorod telling them to stop the unsanctioned protest.
20:36 GMT: Police sources are saying at least 113 people have been detained across Moscow. Meanwhile activists on Twitter claim police have run out of space in prison trucks and call on everyone to join decentralized protest "promenades" in Moscow streets.
Relief for all? Ppl by their nature hate / avoid violence. #moscow#Manezhnaya#Navalny#Putinpic.twitter.com/zloHMWbJa0

— Maria Finoshina (@MFinoshina_RT) July 18, 2013
20:19 GMT: Several hundred people have marched towards Kitai-Gorod area of central Moscow.
20:10 GMT: Police have pushed protesters away from Manezhnaya square. 
Всех загнали на б.дмитровку и окружили @teamnavalnypic.twitter.com/e54GHYgRQv

— !!! (@usachev) July 18, 2013
19:50 GMT: In the city of St. Petersburg most of the 500 to 800 people who gathered in Malaya Sadovaya Street have dispersed due to torrential rain some three hours after the start of the unauthorized protest. However, around 100 people shouting slogans in support of Navalny have remained in the city's central pedestrian street.

The city's police have not initiated mass arrests, however, they have detained those shouting slogans and holding placards, according to Itar-Tass. A local deputy was detained along with some 60 protesters, but was soon released, the agency said.

19:48 GMT: The protesters in Moscow have covered the entrance to Russia's State Duma with anti-government and pro-Navalny stickers, also leaving several obscene inscriptions on the building's walls.

Entry to state duma "@kakabadze: вход в госдуму норм pic.twitter.com/lmnpHS5OfI"

— Ilya Mouzykantskii (@ilyamuz) July 18, 2013
19:24 GMT: The police have cleared the area near Moscow's Hotel National, and have been pushing the protesters from the corner of State Duma building, RT's Egor Piskunov reports from the scene.
Менты давят тверская pic.twitter.com/1LKlgSQ522

— !!! (@usachev) July 18, 2013
19:21 GMT: After five hours of unauthorized peaceful protests crowds of Navalny supporters are still standing in Moscow's central streets, occasionally clapping hands and shouting slogans. Some have brought flashlights, and vowed to continue protesting overnight.
Meanwhile, Team Navalny has called on people to bring water and food to the protesters and not to cease the action.

"@nikbatalov: Активисты разносят воду, расходиться не собираются pic.twitter.com/UF34ID4yGX" И НЕ НАДО!!!!

— Anna Veduta (@Anna_Veduta) July 18, 2013
The police have cordoned off the thoroughfares to prevent protesters from blocking the traffic and have been detaining those trying to run into busy streets, as well as those holding banners. At least 60 activists have reportedly been detained in Moscow, according to journalists at the site.

19:17 GMT: There are lots of young people among the Navalny supporters protesting near Moscow's Manezhnaya Square, RT's Maria Finoshina reports from the scene. Some of them have pinned stickers reading "Change Russia – start with Moscow," she said.

Heart of #Moscow. Between #Duma & #Kremlin. Evening of opposition #Navalny 's guilty verdict. Ppl say they're #angrypic.twitter.com/ScZbZn4YuZ

— Maria Finoshina (@MFinoshina_RT) July 18, 2013
18:43 GMT: The police have separated protesters, but some Navalny supporters have organized chanting in synch across the street via mobile phone, RT's Lucy Kafanov reports from Moscow's center.

Protesters have been chanting slogans like "Navalny is sitting [in jail] on our behalf," "We won't forgive we won't forget," "One for all and all for one," and "Freedom!"

18:24 GMT: The US State Department said it was "very disappointed" with the Russian court's verdict for Navalny and Ofitserov and expressed concerns over the "frightening tendency" for "politically motivated" cases in Russia.
17:45 GMT: Kirov's Leninsky District Court had no grounds for changing Navalny's and Ofitserov's pre-trial restrictions from a travel ban to detention, the Prosecutor-General's Office explained to Interfax. The prosecution earlier appealed the decision of the court. The court is to consider the appeal on Friday.

PHOTO: Thousands of protesters surrounding the Hotel National building in the center of Moscow near Manezhnaya Square.

#Манежка, вы знаете, какие вы крутые?!))) pic.twitter.com/EqH8ejRmPK

— Anna Veduta (@Anna_Veduta) July 18, 2013
17:30 GMT: At least 60 people have been detained near Manezhnaya Square at the unauthorized protest in support of Aleksey Navalny, Itar-Tass reports. Those detained have been loaded into police buses and taken away to police stations.
#манежка сейчас: панорама pic.twitter.com/afNVXMl7Hr

— Кирилл Руков (@Rukov) July 18, 2013
Угол у Националя #манежкаpic.twitter.com/jAKrnmwzlX

— Тот самый Терновский (@dternovskiy) July 18, 2013
17:27 GMT:

Huge column of green uniform clad internal #Russia security forces just marched by the street outside of Duma at #Navalny verdict protest

— Lucy Kafanov (@LucyKafanov) July 18, 2013
PHOTO: Riot police formed a column in an attempt to block Mohovaya Street in the center of Moscow.
Чуть было не попал под перекрытие космонавтами. Расширяют линию сдерживания #манежкаpic.twitter.com/lcERWF7IFn

— Тот самый Терновский (@dternovskiy) July 18, 2013
17:17 GMT:

#Navalny verdict protests are extremely spread out as #Russia police blocked many streets. hard to get head count or sense of scale

— Lucy Kafanov (@LucyKafanov) July 18, 2013
The video shows central Manezhnaya Square and surrounding streets crowded with Navalny supporters.
17:05 GMT: Riot police have been dispatched to central Moscow as the protest continues. According to RT's Egor Piskunov, several trucks filled with riot police have arrived on the scene.
Подкрепление на подходе #манежка #навальный#мкpic.twitter.com/aNoUkqRFv8

— Max Grigoriev (@GideonMaximus) July 18, 2013
For some reason, mobile internet works great next to this guy #skolkovo#nanotechnology#russia#navalny#russiahttp://t.co/ee0Rd56gsS

— Ilya Mouzykantskii (@ilyamuz) July 18, 2013
16:48 GMT: Navalny will take part in Moscow mayoral race if he is released, said the head of his election campaign team, Leonid Volkov.

According to Volkov, they are awaiting both Navalny's decision and the court's decision on the prosecution's appeal to free Navalny from detention.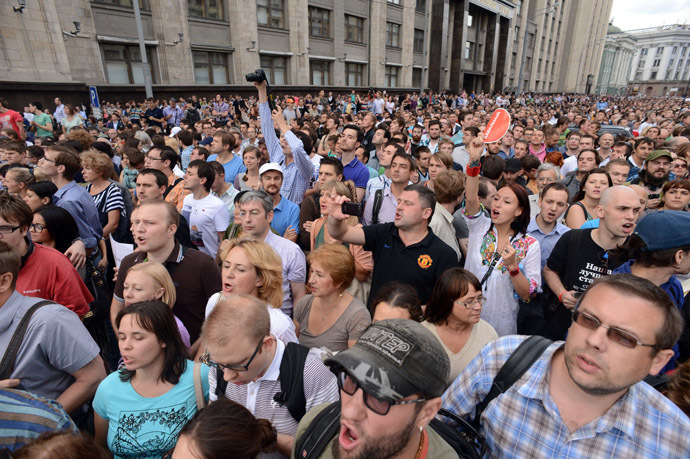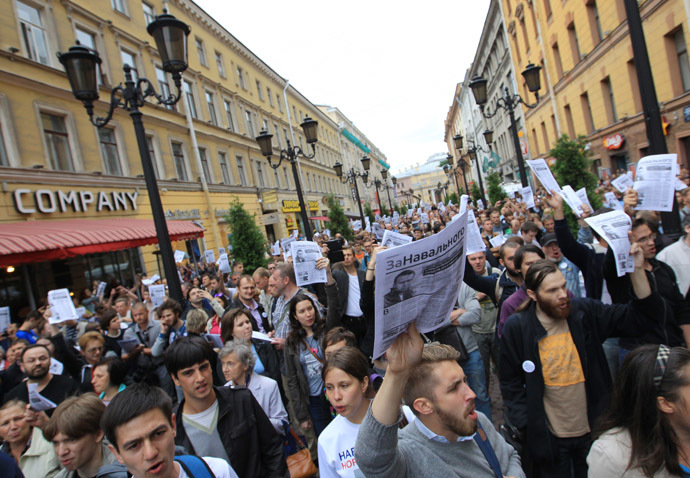 16:33 GMT: The police have been detaining Navalny supporters in St. Petersburg, where about 800 people are still protesting his verdict, according to Itar-Tass and Interfax.

The agencies' correspondents reported from the scene that at least 30 people have been detained. He said there were no mass arrests underway and that the police are only taking away those chanting slogans.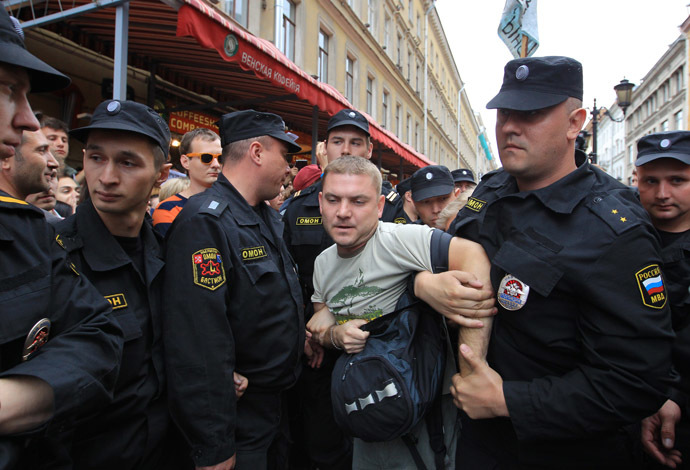 16:24 GMT: More than 2,000 Navalny supporters have gathered in Moscow's center, a police source told Interfax.

"According to Moscow police estimates, around 2.5 thousand people have gathered in the city center near Revolution Square. Law enforcement officers have officially warned them and continue to warn that should they breach public order, they would be detained and held accountable according to the current law," he said.
Вот это да. Столько людей! #Манежкаpic.twitter.com/UiGp8s0LPr

— Arthur Grigoryan (@ArthurLeroux) July 18, 2013
16:12 GMT: Traffic has resumed on Tverskaya Street as those protesting in support of Navalny have returned to the sidewalk, RT's Egor Piskunov reports from Moscow's center.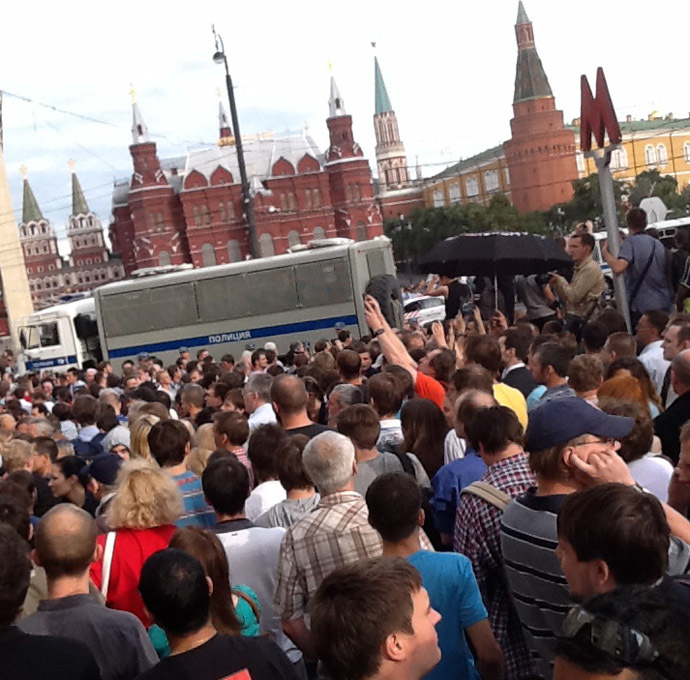 16:04 GMT: The Prosecutor's office in the Kirov region has appealed Navalny's detention, asking the court to release the opposition leader from a pretrial detention center until the verdict comes into force on condition that he not leave the country.

PHOTO: The barracks surrounded by barbed wire in a Kirov pretrial detention center where Navalny is said to be held.

Барак кировского СИЗО N2. Вот за этой колючей проволокой сейчас находятся Навальный и Офицеров. pic.twitter.com/sFkeH0Z2ps

— Илья Яшин (@IlyaYashin) July 18, 2013
15:45 GMT: Twitter users have reported several arrests in St. Petersburg, where around 400 Navalny supporters have gathered on Malaya Sadovaya Street for an unsanctioned protest.

Smaller protests have been taking place in several other Russian cities including Samara, Kazan and Voronezh, with about 100 protesters reportedly holding banners and chanting slogans in Samara, according to Lenta.ru.

PHOTO: Crowds gathered on Malaya Sadovaya Street in the northern city of St. Petersburg
Подошел ближе к винтилову - после задержания вся улица хлопает - Питер - Малая Садовая pic.twitter.com/CTw7drAqAu

— Вадим Суходольский (@sukhodolsky) July 18, 2013
PHOTO: Supporters of the opposition leader in the provincial city of Samara.
#Самара #ЗаНавального #Навальныйpic.twitter.com/KB2wpNlF6z

— Anton German (@germananton) July 18, 2013
15:36 GMT: Russian opposition activists will decide on Friday whether it will call for a mass protest in support of Aleksey Navalny.
When asked about possible dates for such a rally, member of the "Solidarity" movement and the Russian Opposition Coordination Council Pyotr Tsarkov said it is still "hard to make predictions," as there are "different opinions," adding that he expects heated discussions at the meeting.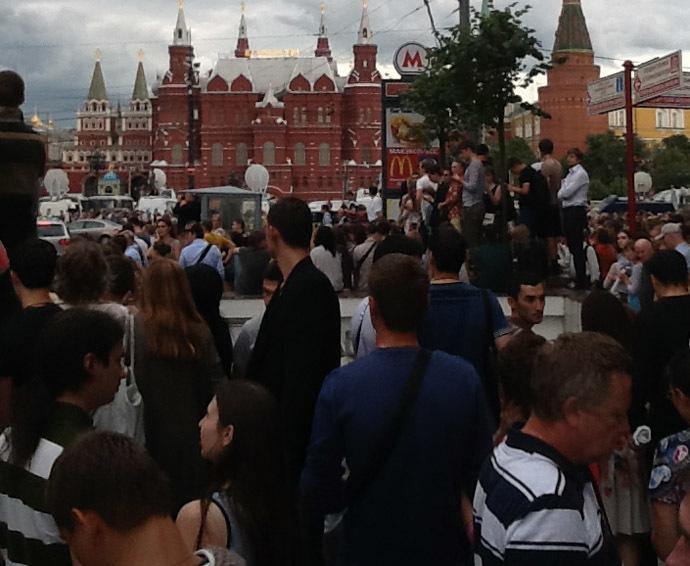 15:07 GMT: Hundreds of protesters have gathered near cordoned off Manezhnaya Square, according to Itar-Tass. The people keep clapping their hands and chanting "freedom." Those who step onto the thoroughfare are immediately detained by the police, with at least 10 arrests reported thus far.
@teamnavalny@klndr_protesta Задержаны около 15 человек #манежкаpic.twitter.com/EONrnT0oUD

— BA (@BorisALV) July 18, 2013
Периодически скандируют "Свободу!" #Манежкаpic.twitter.com/TCrXjeCET8

— Rumol4ik (@Rumol4ik) July 18, 2013
14:50 GMT: Several arrests have reportedly been made near Manezhnaya Square as the protesters chant "shame."
People penned between army and wall. Police motorbiking down people on road http://t.co/wqNh1nvoMR

— Ilya Mouzykantskii (@ilyamuz) July 18, 2013
14:44 GMT: The police have pushed everyone out of Moscow's Manezhnaya Square onto a nearby street, but the protesters are apparently unwilling to leave and continue standing and clapping their hands.
Police clearing Manezhnaya square from people, journalists had to go also, amid expected #protests over #Navalny 's verdict. #Moscow

— Egor Piskunov (@episkunov_RT) July 18, 2013
Манежная площадь полностью зачищена, людей оттеснили к ул Охотный Ряд в сторону Госдумы (ФОТО @dternovskiy) #манежкаpic.twitter.com/wBsKCyG11J

— МОЛНИЯ❗ (@molnia_me) July 18, 2013
14:25 GMT: At least three people have been detained on Moscow's Manezhnaya Square for holding an unauthorized rally in protest of Navalny's guilty verdict, according to police.

Думаю сейчас тут осталось человек 500. ОМОН монотонно просит всех разойтись http://t.co/hXMjLjRx4B

— Ilya Varlamov (@varlamov) July 18, 2013
14:18 GMT: It is too early to view Navalny's case as closed, former Soviet President Mikhail Gorbachev said while expressing his regret for guilty verdict handed down to the opposition leader. "All I know about this case, how it started, then closed and reopened again, and how it was examined in court unfortunately confirms that we have no independent court," he said.
Gorbachev said the case had left "a very grave impression" on him, and stressed that what he believes is the use of courts for fighting political opponents is "inadmissible."
13:35 GMT: Aleksey Navalny will not take part in Moscow mayoral race, the opposition activist's spokesperson Anna Veduta has confirmed. Navalny had previously said he would drop out of the race if convicted.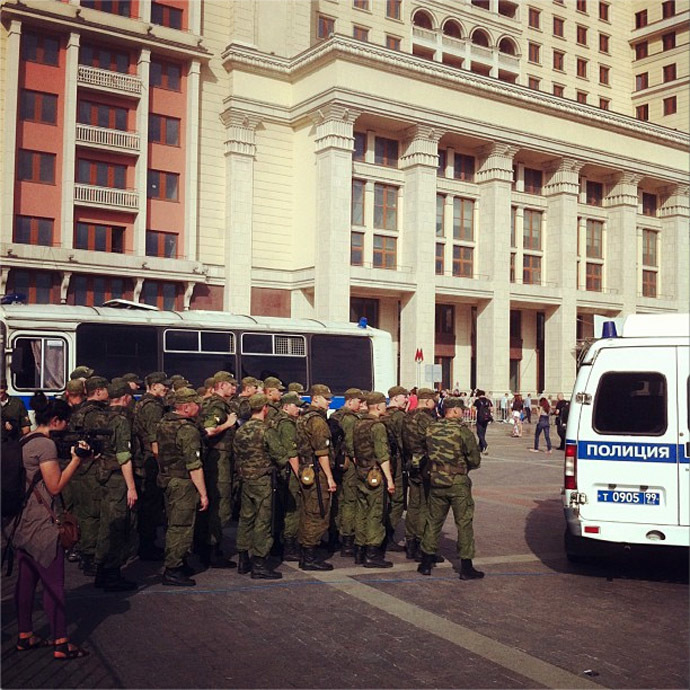 13:14 GMT: A heavy police presence has been reported in Moscow's central Manezhnaya Square where an unauthorized protest is set to take place.
Trucks of soldiers ahead of #Navalny protest down the street from #Manezh square pic.twitter.com/k80hZLjrac

— Simon Shuster (@shustry) July 18, 2013
12:45 GMT: Police cordon off the area around Manezhnaya Square, where today's protest against the Navalny vedict will be held.
ПЕРЕКРЫВАЮТ #18июля #Навальный #Манежная #НародныйСход #ЗаНавальногоpic.twitter.com/WSfIFarfiE

— Philipp (@mynameisphilipp) July 18, 2013
11:15 GMT: British Foreign Minister William Hague condemned the ruling on Twitter.
Concerned by conviction of Alexei Navalny, selective justice in #Russia and lack of adherence to international human rights obligations

— William Hague (@WilliamJHague) July 18, 2013
10:49 GMT: The US ambassador to the Russian Federation, Michale McFaul, tweeted America is "disappointed" with the court's decision.
We are deeply disappointed in the conviction of @Navalny and the apparent political motivations in this trial.

— Michael McFaul (@McFaul) July 18, 2013
10:39 GMT: Several of Navalny's supporters have been taken into custody in Kirov where the opposition figure is currently being held at a detention facility. Among those arrested was one of the leaders of Navalny's support team, Nikolay Lyaskin. Local police said they had detained just two activists.

Задержали Николая Ляскина #маршвкировеpic.twitter.com/Q5GCZob4Wt

— Андрей Быстров (@bystrov_a) July 18, 2013
10:32 GMT: The Russian stock market has plummeted into minus points following the Navalny ruling. At 12:45 pm Moscow Standard Time, minutes after the verdict was delivered, Moscow's main index MICEX nose-dived 1.04 percent to 1,416.97 and the dollar-based index RTS dropped nearly 1 percent to 1,378.23 points.

"The fall of the Russian stock market index is undoubtedly connected to the ruling against Navalny, the individual the West views as the strongest critic of the current government. Moreover, the danger of a new wave of protests and a greater political risk may lead to the withdrawal of foreign investment from Russia," said the co-director of the analytical department of Investkafe, Grigoriy Birg to Rossiyskaya Gazeta.
10:30 GMT: 
We are deeply disappointed in the conviction of @Navalny and the apparent political motivations in this trial.

— Michael McFaul (@McFaul) July 18, 2013
9:53 GMT: Both Aleksey Navalny and Pyotr Ofitserov have been transported to a detention facility in Kirov.
9:45 GMT: Catherine Ashton, EU High Representative for Foreign Affairs and Security Policy, has expressed her concern at Navalny's ruling.
#Ashton concern at #Navalny guilty verdict. Verdict raises serious questions about state of rule of law in #Russiahttp://t.co/weTTQ2JNQw

— Maja Kocijancic (@AshtonSpox_Maja) July 18, 2013
9:34 GMT: The followers of opposition figure Aleksey Navalny are planning a mass protest against the guilty ruling in Moscow's central Manezhnaya Square. In response, the head of the Moscow Department of Security warned activists the demonstration had not been granted authorization.
9:26 GMT:  The head of Navalny's mayoral electoral campaign, Leonid Volkov, has called for a mass boycott of the elections as an act of protest on Russian television channel Dozhd.

9:13 GMT: Navalny may withdraw his candidacy from the Moscow mayoral elections in September, said Leonid Volkov, head of Navalny's election campaign team.

"The candidate has the final word, but we had agreed that if he was given a jail sentence, his candidacy would be withdrawn," said Volkov. "The decision will be made as soon as we get in contact with Aleksey, probably in the next couple of days."
8:51 GMT: The opposition figure has called on his followers to gather in Manezhnaya Square on Thursday in the center of Moscow to protest the court ruling.

8:34 GMT: Navalny was arrested by police in the courtroom after being found guilty of embezzlement.

На Навального надевают Наручники #судвкировеpic.twitter.com/PujlqzTOTj

— РАПСИ (@rapsinews) July 18, 2013
8:28 GMT: Judge Blinov has sentenced Navalny to a 5-year jail term on charges of embezzlement, while his accomplice, Pyotr Ofitserov, was sentenced to four years in prison.

8:17 GMT: The court has ruled that Aleksey Navalny and his accomplice, Pyotr Ofitserov, caused 16 million rubles ($500,000) in damages to the state-owned Kirovles timber company where Navalny worked as a volunteer in 2009.

7:58 GMT: Navalny's allegations that his trial is politically motivated are "unfounded," Judge Sergey Blinov has ruled.
7:48 GMT: The full reading of Navalny's verdict could take up to three hours. Navalny tweeted early into the court proceedings that "there's still a huge pile of papers. We're going to be here a long time."
7:02 GMT: US ambassador to Russia Michael McFaul has tweeted to Navalny that he is following the trial.
@navalny privet. smotru

— Michael McFaul (@McFaul) July 18, 2013
6:56 GMT: The Russian opposition figure could get a potential 6-year jail sentence as well as a one million ruble fine ($31,000).
"The court, having examined the case, has established that Navalny organized a crime and ... the theft of property on a particularly large scale," Judge Sergey Blinov told the court.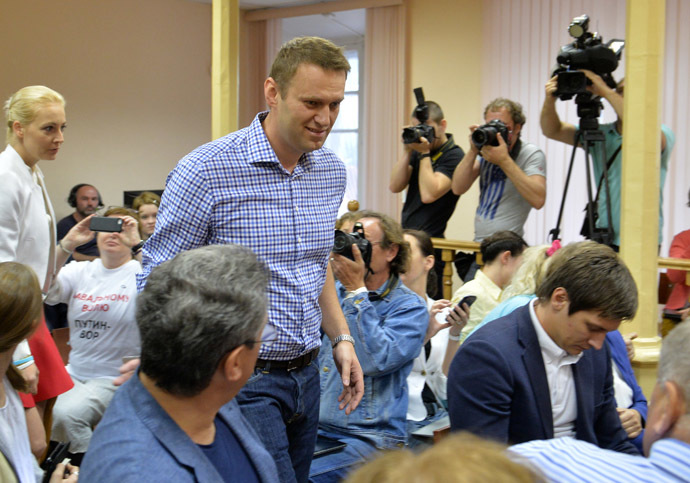 6:52 GMT: The supporters of the opposition leader have gathered outside the court, holding banners criticizing the Russian authorities and slamming the verdict.
Вот вам лук Ленинского суда г. Кирова на 8:00 сегодняшнего дня #судвкировеpic.twitter.com/N0f2LMxoxi

— Андрей Быстров (@bystrov_a) July 18, 2013
6:46 GMT: Navalny joked on Twitter that those sitting in his row should start a Mexican wave like at a stadium. "No one has agreed yet," he tweeted. Navalny also urged his followers to send him funny tweets, so that he could laugh in court and they could watch his reaction live.

@navalny Хипстеров судить - только суд портить pic.twitter.com/bYgadv7xEe

— Agonych (@Agonych) July 18, 2013
6:44 GMT: Navalny's lawyers have resolved to appeal the verdict. They will have a ten-day period to prepare the application.

6:40 GMT: Opposition figure Aleksey Navalny has been found guilty of embezzlement on "a large scale," a Moscow court has ruled.

You can share this story on social media: