Opposition blogger Navalny to take part in mayoral election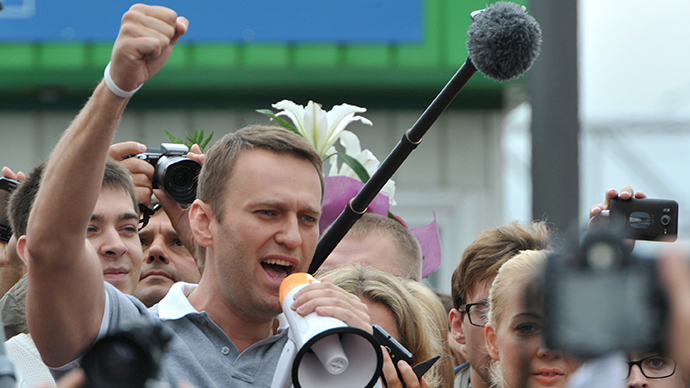 Opposition activist Aleksey Navalny will run in Moscow's September mayoral elections despite being convicted of embezzlement. Navalny returned to Moscow on Saturday after being released pending appeal along with co-defendant Pyotr Ofitserov.
About a hundred supporters welcomed him at the train station upon his arrival from Kirov, about 950 kilometers from the Russian capital.

Navalny has pledged to push ahead with his Moscow mayoral bid, stressing, "We are going to run and we will win."
The opposition activist also thanked his co-defendant Ofitserov, and the crowd chanted, "Ofitserov!"

Before Navalny's arrival, security had been stepped up at the train station, with riot police deployed in and outside the building. Police also announced a bomb threat has been delivered, though Navalny's supporters refused to leave the station. However, no explosives were found.

"What just happened at the Yaroslavsky train station, and the people who were there is the best inspiration for me. Thanks to everyone, and we'll never give up… You can't imagine how happy I am to see you all, really… So many people have come to the train station, at 8 am, just to say "Hello," Navalny said.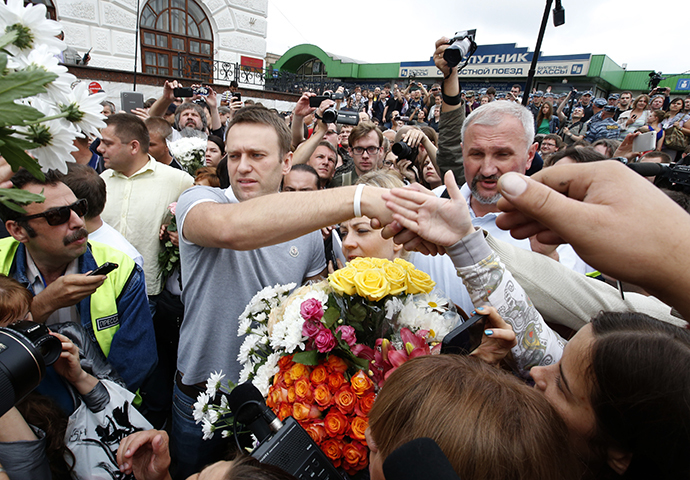 Navalny was released from custody on Friday morning, a day after he was sentenced to five years behind bars after being found guilty of embezzlement on a large scale. The prominent anti-corruption blogger and protest leader plans to appeal the verdict.

Upon his release, Navalny was greeted by a crowd of supporters outside the courtroom.

According to restrictions imposed by the court, Navalny will not be permitted to leave the Russian capital.

Navalny's electoral team had previously said he might drop out of Moscow's mayoral race if convicted.

After Thursday's ruling, about 2,500 Navalny's supporters, according to police estimates, rallied in central Moscow to protest what they called a politically motivated trial. Protest organizers put the number of demonstrators at 10,000.

The gathering was unauthorized, but largely peaceful. Police detained dozens of people, who were freed next morning.

The security forces' statement stressed that around 200 people had been detained in total.

You can share this story on social media: