NATO starts negotiating its forces' status in Afghanistan after 2014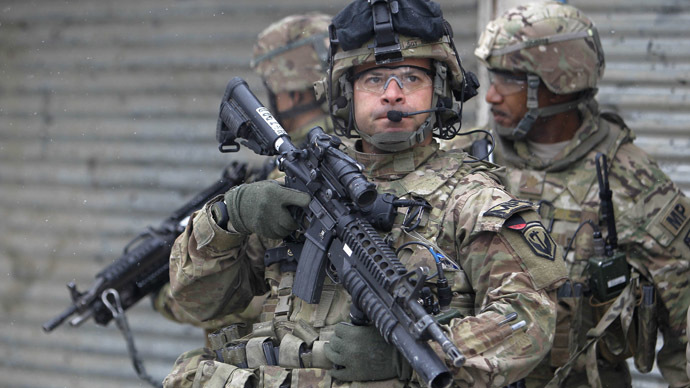 NATO has begun negotiating a Status of Forces Agreement with Afghanistan without waiting until the Karzai government signs the security deal with the US, the Pentagon and NATO have announced.
NATO Secretary General Anders Fogh Rasmussen confirmed that negotiations have begun between NATO senior civilian representative Maurits Jochems and Afghan national security adviser Rangin Spanta.

"I welcome the start of these talks today... while stressing that the NATO Status of Forces Agreement will not be concluded or signed until the signature of the Bilateral Security Agreement between the governments of Afghanistan and the United States," Rasmussen said in a statement.

NATO's chief added that SOFA is vital for NATO's "mission to train, advise and assist" the Afghan army and police after 2014.

The alliance's decision demonstrates "the international community's willingness to support Afghanistan after 2014," Pentagon spokesman Rear Admiral John Kirby said in a statement.

"But, as both the NATO Secretary General and Secretary Hagel have made clear, the Alliance won't finalize their agreement with the Bilateral Security Agreement still hanging in the balance."

Announcing that the US Secretary of Defense Chuck Hagel was "pleased" with the development, Kirby also stressed that the "message of the United States and its allies in Europe is clear: the Bilateral Security Agreement should be signed without any more delay."
A status of forces agreement establishes the rights and privileges of foreign personnel in a host country and usually comes as part of a broader security arrangement. According to an unnamed Reuter's source, NATO's agreement would include some provisions similar to those in the US security agreement with Afghanistan.

NATO's declared objective in Afghanistan for 84,000 soldiers, 60,000 of whom are Americans "is to enable the Afghan authorities to provide effective security across the country and ensure that the country can never again be a safe haven for terrorists." The alliance plans to leave a training and advisory mission, expected to number 8,000 to 12,000 soldiers after 2014.

Earlier this week NATO Supreme Allied Commander Europe, US Air Force General Philip Breedlove, said that if Afghanistan fails to sign a new security pact, NATO will start planning a complete withdrawal by early next spring. Breedlove also stated that planning for the last rotation of forces would need to happen in April, and the decision on whether to leave a training force or go to a "zero option" of pulling out all its forces would have to be taken then. "That timeline I don't think is well understood by President Karzai," Breedlove said.

For months the US has been negotiating the signing of the security agreement with Afghanistan. But so far Karzai has been stalling the process saying it can wait for the presidential elections in April and should depend on US willingness to help restart a peace process with the Taliban and stopping raids on Afghan homes.
NATO starts negotiating its forces' status in Afghanistan for post 2014.