British parliament to discuss bringing back national service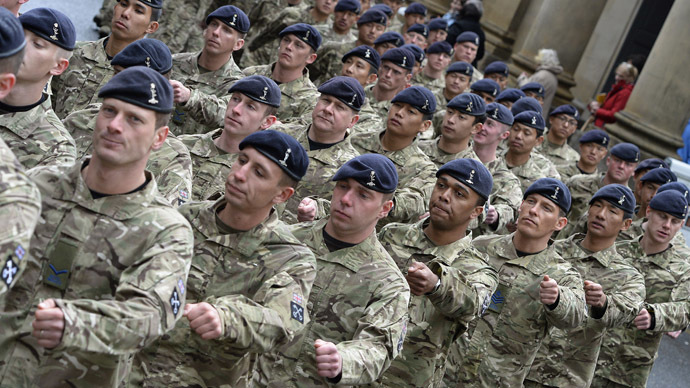 A bill reintroducing national service, or conscription, in the UK has been put forward for discussion in parliament. The legislation would make it mandatory for 18-26-year-olds to participate in military or charitable service for a period of one year.
The bill was brought to parliament by Conservative MP Philip Hollobone, who has championed the legislation as a way to inspire young people in Britain with "self-respect, personal reliance, discipline and behavior."
"I believe that the introduction of a modern form of national service would prove popular with the public and be of immense benefit to the young people who take part," Hollobone said.
The year of charitable or military service could range from care for the elderly or disabled to work with the emergency services or the armed forces. Those who do not participate would be guilty of a criminal offense.
Hollobone brought the bill to parliament to be debated last Friday, but discussion was postponed until February next year.
"Unfortunately, the arcane nature of parliamentary procedures surrounding private member's bills and the lack of time they have for debate will mean that the merits and demerits of the bill are unlikely to be debated and voted upon," Hollobone said in response to the decision.
A petition has been started opposing the proposed bill, however, branding it "unacceptable."
"We do not want our children and grandchildren to fight and die in wars, or in training that they or we have no control over," wrote activist Debbie Sayers, who launched the petition.
Hollobone has earned a name for himself as a controversial MP, having previously suggested legislation that would ban the public wearing of facial coverings in public, and the UK's withdrawal from the European Union.
National Citizenship Service
The idea of reinstating UK national service, which was abolished in 1960, is not a new one. Upon assuming office as Prime Minister in 2010, David Cameron put forward a pilot scheme called the "National Citizenship Service" that would address the "tragic waste of potential in this country."
The initial proposal called for 16-year-olds finishing school to take part in community projects that would instill young people with a sense of "civic responsibility."
Cameron described the initiative as "a kind of non-military national service" designed to encourage people from different backgrounds to interact with one other.
"But too many teenagers appear lost and feel their lives lack shape and direction. National Citizen Service will help change that," Cameron said at the time.
However, with the onset of the financial crisis and rising unemployment, the initiative has done little to improve young people's prospects. According to figures from the National Office of Statistics unemployment among those aged between 16 and 24 has grown over the past few months by 15,000, reaching a total of 973,000.
The number of people out of work in the UK for over two years has grown by 10,000 to 474,000 which is the highest number in 16 years.