Hezbollah to accept Syria arms 'to break power balance' with Israel – Nasrallah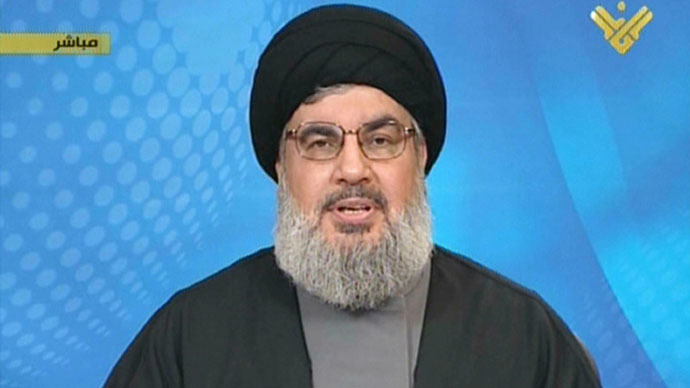 Hezbollah chief Sheikh Hassan Nasrallah says Syria will supply his forces with "game-changing weapons" despite alleged Israeli airstrikes aimed at stemming the flow of arms across the Syrian border with Lebanon.
Nasrallah made a TV appearance after Israeli warplanes reportedly launched strikes within Syrian territory on Friday and Sunday. In carrying out the attacks, Israeli fighters flew over Lebanon and allegedly fired air-to-ground weapons at their targets.
The airstrike were targeting Iranian-supplied missiles that were en route to Hezbollah, anonymous Israeli officials later told media, a claim which Syrian deputy foreign minister Faisal Muqdad dismissed on Thursday.

"They absolutely did not achieve their objective and they lied when they said they are targeting Hezbollah," he said in an interview with AFP.  He further promised that Syria would "respond immediately" to any future Israeli attacks against its territory.
The Hezbollah chief in his Thursday remarks did not confirm directly the incident, but dwelled on topic of the Lebanon's party stand-off with the Jewish state.

"You Israelis say your objective is to stop the capability of the resistance [against Israel] from growing... but Syria will provide [Hezbollah] with game-changing weapons it has not had before," Nasrallah said.

He further added that his forces were prepared to receive such armaments even if "it breaks the power balance" with Israel and pledged that Hezbollah would use them to defend "our people and our country."

He further vowed that his Lebanese militia would provide both "material and spiritual support" in any effort to help Syria "liberate" the Israeli-occupied Golan Heights.
"If you [Israel] see Syria as a corridor of arms to [Hezbollah], Syria will provide the resistance with those arms. This is a highly strategic decision," Nasrallah continued.
He added that such a response would be "more strategic" than launching a rocket or "carrying out an air raid" on Israel.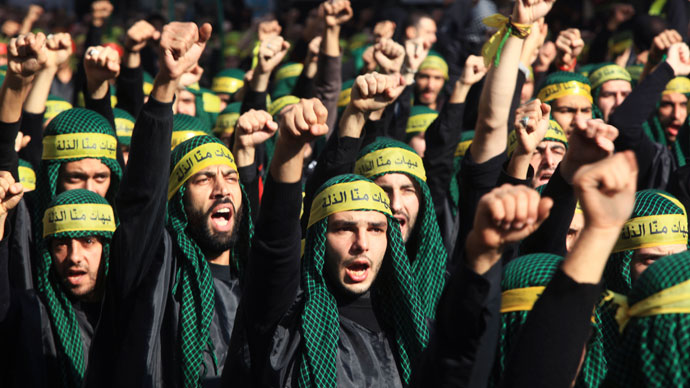 Following the Israeli airstrikes, Syrian state media quoted unnamed sources as saying that Damascus was prepared to carry out military operations against Israel from the Golan Heights after decades of relative calm on the border, Reuters reports.
Nasrallah for his part described the mobilization of fighters from the Golan as the "second strategic answer" to the Israeli strikes.
Hezbollah fought a six-week long war with Israel in 2006, and Nasrallah has recently acknowledged that members of the Lebanese were backing Syrian government forces in the 2-year long conflict which has claimed over 70,000 lives.
Amidst the heightened tensions, Russian Foreign Minister Sergei Lavrov and US Secretary of State John Kerry reiterated their commitment to bringing all sides to the negotiating table in the Syrian conflict at a press conference in Moscow on Tuesday.
"Russia and the United States will encourage the Syrian government and opposition groups to come to a political solution to the conflict," Lavrov stated.
Lavrov continued that an international conference set for the end of May would be organized on the basis of the Geneva Conference, which outlined steps for an end to the violence in Syria and the establishment of a transitional government free from foreign interference.
Russian and European politics expert professor Richard Sakwa at the University of Kent in England sees the alleged Israeli airstrike in Syria as an attempt to get the US and its Western allies directly involved in the conflict.

"There are some genuine concerns about the dangers of this whole conflict spilling out into a larger regional war," he told RT. "We saw with Israel's intervention last week – the bombing within Syria, which was an attempt, ultimately, to push the Western powers into more active intervention, which, I think, is an extremely dangerous way of going forwards. The intervention of the West will perhaps have some short-term effect, but in the long term it'll destabilize the viability of the Syrian state and promote into ethnic conflict, impede the development of some sort of political solution."