Future covered: NASA developing space-bound submarines and printable spacecraft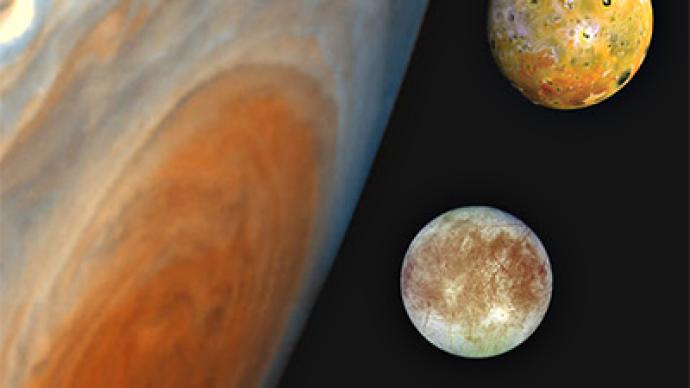 As Curiosity takes its first steps on the surface of Mars, NASA has already decided what comes next after the rover, namely a submarine to explore Jupiter's ice-covered moon, Europa, and a robot to land-sail across Venus.
These are among 28 futuristic projects selected by NASA's Innovative Advanced Concepts (NIAC) Program. The ambitious projects are split into the categories of Phase I, which has gathered brand new ideas to be developed from scratch, and Phase II, the survivors of 2011's program. The 18 winners of Phase I have been awarded $100,000 each to develop their ideas for one year. This category boasts the boldest projects including a Venus-bound craft which would "sail" the planet using electromagnetic fields. As NIAC studies all aspects of space exploration, a certain number of its projects cover hazards of planetary missions, such as the abnormal radiation that spacemen may encounter at an on-ground station. Thus, "Water Walls", another ambition under NIAC's Phase I, is a concept where undesirable material like urine or fecal matter is removed from a station's waste water and processed to act as a radiation shield. Ten more projects, coming under the code name Phase II, have emerged from Phase I of the previous year's contest. The researchers will be sponsored to the sum of $500,000 each to go on with their research for two more years. A noticeable project in Phase II is a spacesuit set to answer the dangers that zero- or micro-gravity pose to astronauts' health, including to their muscles, blood circulation and digestion. The V2Suit, stuffed with dozens of gyroscopes and accelerometers, applies resistance to the astronaut's movements through flywheels. This replicates Earth-like gravity even in conditions found on other planets or in space.Printable spacecraft, a Phase II project of apparent simplicity, builds an unbelievable picture of uploading a designed spacecraft from your laptop to a printer and collecting it later in the day from the output tray. The engineers behind the study want to make use of flexible printed electronics such as the ones used in cellular phones and PDAs."These selections represent the best and most creative new ideas for future technologies, which have the potential to radically improve how NASA missions explore new frontiers," says Michael Gazarik, director of NASA's Space Technology Program, commenting on the awards. "NASA is taking the long-term view of technological investment and the advancement that is essential for accomplishing our missions."NASA's "long-term view" means the 28 projects selected last week will take at least ten years to mature and get anywhere near an actual mission.