UN: More than 20,000 displaced in new surge of Myanmar sectarian violence (PHOTOS)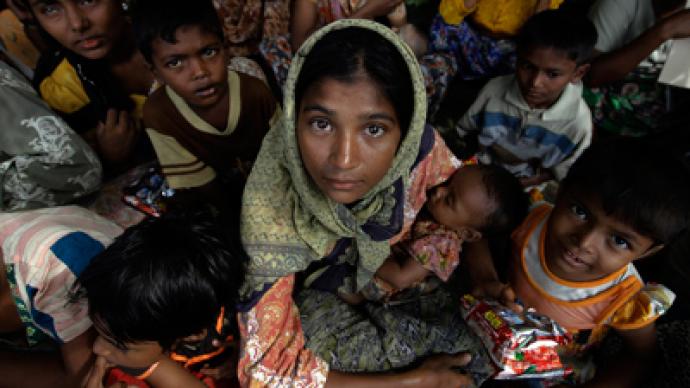 The UN has reported that over 22,000 people were displaced in a week of renewed sectarian fighting between Buddhists and Muslims living on Myanmar's west coast. The total number of displaced since violence erupted in June is now around 100,000.
­Around 22,500 people, most of them Muslims, were forced to flee the recent outbreak of ethnic violence in western Myanmar's Rakhine state. Satellite images from Human Rights Watch showed the coastal town of Kyaukpyu razed to the ground. Over 800 building were destroyed, adding to the roughly 4,500 houses demolished throughout this period of internal violence.
.The UN chief in Myanmar, Ashok Nigam, called for "urgent action" to stop the spread of sectarian conflict in the country. New clashes erupted between Rakhine Buddhists and Rohingya Muslims erupted on October 21 and have lasted for the past seven days. The government reported 67 people dead from the violence, and another 95 injured.Myanmar's estimated 800,000 Rohingya Muslims are a religious and linguistic minority who claim origins in western Myanmar. The country's government, however, classifies them as recent migrants from Bangladesh, and has denied them citizenship for generations. Bangladesh has refused to take in the Rohingya, even as refugees, claiming their refugee camps cannot hold any more people.
People collect pieces of metal from the rubble of a neighbourhood in Pauktaw township that was burned in recent violence October 27, 2012 (Reuters / Soe Zeya Tun)There is an outspoken public hostility in Myanmar towards Rohingya Muslims, media reports show. The reason behind the recent resurgence of tensions, which has now engulfed six townships, remains unclear. The Muslims claimed they were attacked by their Buddhist neighbors and were forced to flee after their homes were set ablaze. The Buddhists alleged that the clashes were limited to sticks and stones, and that the Muslims set fire to their own homes while escaping.The UN called on the Myanmar government to end the ethnic strife. "It is critically important that the government ensures that the rule of law prevails, prevents any further spreading of this violence and continues to communicate strong messages of harmony," Ashok Nigam said Sunday. Nigam said that it will be challenging to get humanitarian aid to the new wave of refugees, since many fled by boat while others sought shelter on isolated hilltops. "The situation is certainly very grave and we are working with the government to provide urgent aid to these people," he added.Nigam said he expects the number of displaced to increase. The main refugee camp outside Sittwe, the capital of Rakhine state, is overcrowded and may soon close its doors to new refugees. Sunday saw more arrivals to the camp from the devastated areas, mostly from Kyaukpyu.
People displaced by the recent violence in the Kyukphyu township carry their belongings as they arrive by boats to Thaechaung refugee camp, outside of Sittwe October 28, 2012 (Reuters / Soe Zeya Tun)Though the UN names the Royinga Muslims among the most prosecuted minorities in the world, the sectarian conflict in Rakhine state only entered the international spotlight in June. Then, local Buddhists accused the Rohingya of raping and killing a Buddist woman back in May, and lynched the person they thought to be behind the crime. This set off a chain of frequently deadly religious clashes, which have continued intermittently for the past four months.The government was forced to impose curfews in several areas and declared a state of emergency so that, if the unrest were to spiral out of control, the military could take over the affected regions.­
People displaced by recent violence in the Kyukphyu township reach for aid donated in Thaechaung refugee camp, outside of Sittwe October 28, 2012 (Reuters / Soe Zeya Tun)
People displaced by the recent violence in the Kyukphyu township carry their belongings as they arrive by boats to Thaechaung refugee camp, outside of Sittwe October 28, 2012 (Reuters / Soe Zeya Tun)
A girl joins others collecting pieces of metal from the rubble of a neighbourhood in Pauktaw township that was burned in recent violence October 27, 2012 (Reuters / Soe Zeya Tun)