6.8-magnitude quake rocks northern Myanmar, 12 feared dead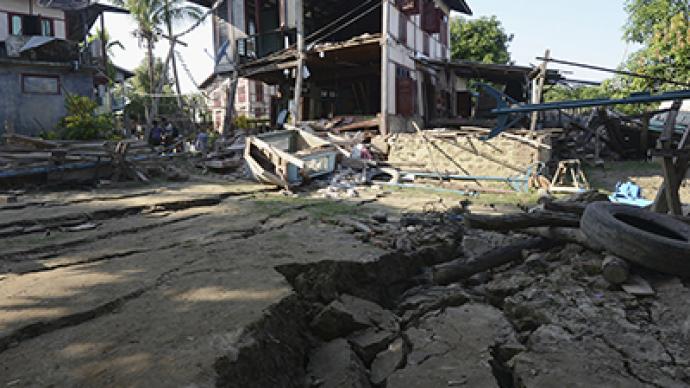 A strong earthquake rattled northern Myanmar on Sunday morning, killing up to 12 people and collapsing a bridge, a gold mine. Several historic Buddhist pagodas were also damaged by the tremor.
­The earthquake struck at around 7:42am local time, with an epicenter roughly 117 kilometers north of the country's second-largest city Mandalay. No damage was reported in the area
The most significant damage was apparently a collapsed bridge under construction across the Irrawaddy River, near the town of Shwebo.
Local reports said that four workers died under the rubble, and as many as 25 others were injured.
However, an anonymous Shwebo police officer said that only one death had been confirmed, with five still unaccounted for.
Mines in the area were also reportedly damaged, and several miners feared dead. Two monasteries in the town of Kyaukmyaung also collapsed, killing two.
Damage to centuries-old Buddhist temples is a common result of Myanmar's earthquakes, and is regarded by locals as a bad omen.
The epicenter was in a region frequently hit by small temblors that usually cause little damage.
While no other damage has been reported so far, the quake was strong enough to be felt in the capital of neighboring Thailand, Bangkok.
The quake came a week ahead of US President Barack Obama's scheduled visit to Myanmar. He will be the first US president to visit the former pariah nation, which is emerging from decades of military rule.
A damaged road is marked with flags after an earthquake struck an area near Kyauk Myaung November 11, 2012. (Reuters)
The Radana Thinga Bridge over the Irrawaddy River, still under construction, after it collapsed following an earthquake near Singgu Township November 11, 2012. (Reuters)
A man walks near a Buddhist pagoda that was badly damaged by an earthquake in the village of Ma Lar at Kyauk Myaung township November 11, 2012. (Reuters)
People sit in the shade of a temporary shelter after an earthquake struck their village at Kyauk Myaung township November 11, 2012. (Reuters)