'Fed-up' mother made two attempts to murder her sons on the same day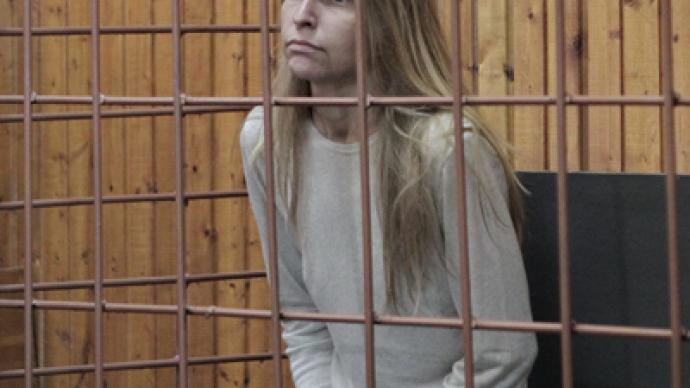 A 27-year-old mother attempted to electrocute her four- and seven-year-old sons earlier in the day she threw them out of a 15th floor.
The investigators say Galina Ryabkova tried to drop a hairdryer into a bath while bathing the boys. Some reports suggest she was taking the bath with them too. But the short circuit cut the power, and it is then the police say she decided to throw her sons off the balcony.She invited them to fly paper planes and they went upstairs to a shared balcony on the 15th floor. Witnesses say after throwing her children she attempted to jump too. But apparently she changed her mind and went down the staircase. Prosecutors say during interrogation Galina behaved oddly, but calmly, saying that nobody needed her. She claimed that her children were now "angels in heaven," said the investigators. Her state-appointed lawyer claimed the woman is in a trance. After the tragedy her somewhat wry smile was captured on the CCTV tape in the porch of the apartment building when she came downstairs, says online news tabloid LifeNews. The woman has been arrested and is to undergo a psychiatric examination.The police say Ryabkova will soon be charged with the murder of two children. If convicted, she could face the maximum punishment – life imprisonment.
'My husband has left. The children are hungry'
Witnesses have revealed more details of the family life of the woman. Some say Ryabkova often left her children at home alone, locking them in and leaving for 3-4 hours to go roller-skating.Others say she often complained she did not have any money. "What shall I do?" she used to question. "My husband has left. The children are hungry, no food to eat. What shall I do?"Some people recall however she never beat her children or shouted at them. Some of her neighbors say she desperately wanted her children to go to a kindergarten and wanted to work there to secure a place for them, as the nursery school was full – and this could have triggered the tragedy. Kindergarten authorities argue they granted her kids a place but she refused. Ryabkova's family life has also sparked concerns. According to one report, she suspected her husband of having an affair and the couple was on the edge of divorce. Others say, he worked a lot and was spending little time with his wife and kids.  Psychiatrists believe the woman must have been in deep depression. "Her actions resemble that of a so-called "extended suicide" when a person in depression first kills their children and then kills themselves," an employee of a Scientific Center for Social and Forensic Psychiatry said. He also explained the fear of adults is the main cause of violence against children. And only qualified psychiatric aid can prevent a tragedy. "A weak person attacks only those who are weaker – that's the law of nature," he added. "The main problem is a lack of a defense mechanism: children have little rights against their parents."Meanwhile, reports suggest Ryabkova's husband Sergey nearly collapsed when he learnt what had happened. Since the incident he has not talked to his wife.
You can share this story on social media: