Israel pays dead Mossad agent's family $1mn 'hush money'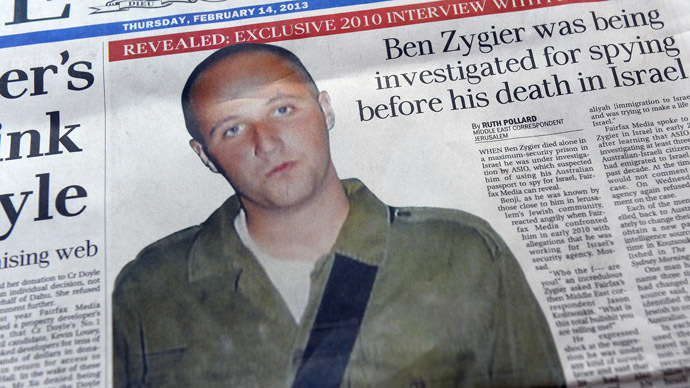 Israel will pay $1 million in compensation to the family of a Mossad agent who committed suicide in custody. State prosecutors insist the deal, which contains a confidentiality clause, is not an "admission of alleged wrongdoing."
The family of Australian-born Ben Zygier, also known as "Prisoner X," will receive 4 million shekels ($1.1 million) in various payments over the next four years. In exchange, Zygier's family will not pursue legal action against the Israeli government regarding his suicide in an Israeli prison in 2010. 
"The reasons the state agreed to pay this ($1.1 million) sum stemmed from its desire to avoid a court hearing in which details that could harm national security might be revealed," the Israeli Justice Ministry said in a statement, adding that the settlement did not amount to an "admission of alleged wrongdoing."
The case was kept a secret until February 2012, when an expose by the Australian Broadcasting Corporation (ABC) revealed the circumstances of Ben Zygier's death, sparking uproar in both Zygier's native Australia and Israel. Zygier's family had lodged a lawsuit against the Israeli government, alleging negligence had led to his suicide. 
A judicial inquiry into the circumstances of Zyiger's death found that guards had been negligent in Ayalon Prison. They reportedly did not check his cell properly and at least one security camera was not working. Moreover, the report said Zygier had received "distressing news" from his wife just hours before hanging himself and the officer responsible for monitoring him was away in the moments leading up to his death.
In spite of the inquiry's findings, Israel maintains that there is not enough evidence to push ahead with a case. 
"While the technological shortcomings 'allowed' the prisoner to more easily carry out his plan, it cannot be said that his plan would not have succeeded if those failures had not occurred," Central District prosecutor Orly Ginsberg Ben-Ari said.
The motives behind Zygier's imprisonment remain unclear, but ABC claimed that the 34-year-old had been sentenced to 10 years in jail for sabotaging a spy operation in Lebanon in a report in April. 
The Israeli government did its utmost to keep the story of Zygier's suicide under wraps, calling on editors of Israeli newspapers not to report on the incident.

The Israeli Prime Minister's Office summoned the Editors Committee, consisting of all of the editors and owners of major Israeli media outlets, for an emergency meeting with security officials to ask them not to report on the story – effective implementing a nationwide publishing ban.
You can share this story on social media: