Giving hope to Moscow's homeless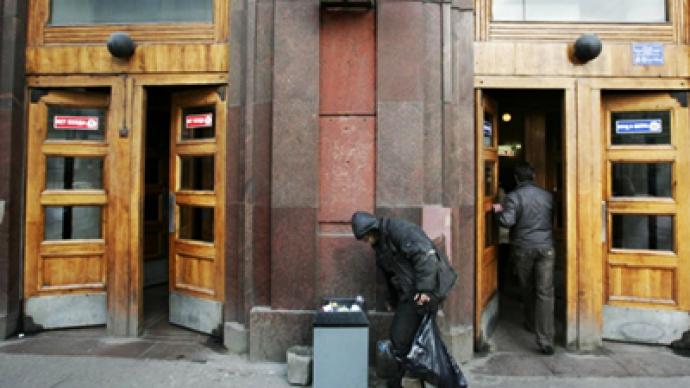 There are thousands of homeless in Moscow living day to day, and with winter closing in their chief concern is how to get through the night. But with the help of renowned charity activist Dr. Liza, there will always be a helping hand.
Backed only by volunteers and donations, Elizaveta Glinka, or Dr. Liza as she is fondly known, battles with a lack of financing and medical equipment to treat the city's poorest people. While Dr. Liza takes medical treatment to them, she takes away their stories and shares them with the internet masses.One of her main tasks is distributing food for the homeless, with hundreds lining up to get their daily ration."Well, people come here to eat," said one of them, Sergey Arkadyev. "You see, this food here, I'm not eating it now. I'm taking it away, for my kids. I've got kids, you know."Sergey is just one of the thousands of homeless in Moscow simply trying to get by. "I live under a railway platform," he told RT. "There are like 40 of us there. There are two openings there, so 20 people fit in one of them, and 20 fit in the other. I've been living there for one year."Recognizing a need, Dr. Liza regularly sets up a makeshift clinic and distribution center near Paveletskaya train station in central Moscow. She has also started a blog to let people know the problems Moscow's homeless face. "We help some people to return home," she told RT. "The priority here is people who are seriously sick with cancer and TB. Those who were beaten up, if we can, we find their relatives. I also try to help those who have come out of prison.""In the summer we lack t-shirts, in the winter we don't have enough food, because they need to stay warm in the winter, which is impossible without food," Dr. Liza stated. "We need more room, it would be good to have a place where they could stay at least when it is really cold."Though she is facing a daunting task with limited resources, those who know her say their lives are better because of Dr. Liza's influence. "I met Elizaveta in 2006," said Tatyana Petrova. "Here I help anywhere I can. We met when we were in difficult places in our lives. Her mother was sick, and my daughter was also at the same hospital. One of my daughters died in a car accident, the other one barely made it. She noticed me, and asked what was wrong. That's how we met. Everything I have now is thanks to her.""I don't know what we would do without this help," confessed Sergey Arkadyev. "Were it not for these charity organizations, we would be done for."Dr. Liza's fear is that politicians with the power to make real changes do not understand the problems."I don't know why this issue is being ignored, because these are active people who could be returned to normal life," she claimed. "We need hospitals that could solve many problems related to prolonged deaths or chronic disease. It is not just the patient himself who is handicapped, but the people around him who are the caregivers also become emotionally handicapped. They have nowhere to go for help."That is the dilemma that gives Dr. Liza the inspiration to continue to help – even if it is just one person at a time.
You can share this story on social media: