Moscow: where the streets are paved with gold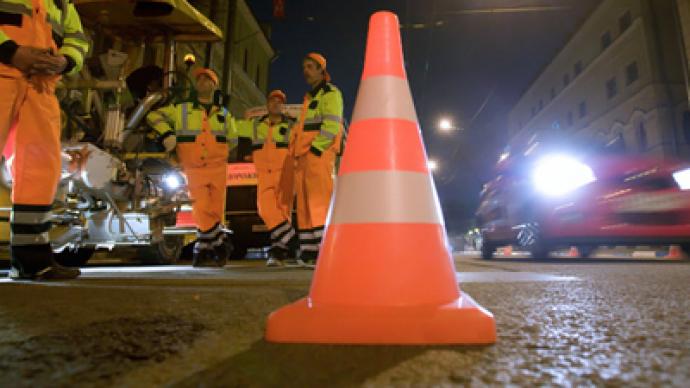 Moscow roads are considered some of the worst in Europe, yet the bills for road construction in Moscow are among the highest in the world, and thus a source of corruption – a fact which the new mayor intends to fight.
Some observers even say that road construction in Russia is more profitable than pumping oil."It costs about eight million euros to build a kilometer of highway in Germany, or nine million euros in the Czech Republic. But in Russia the price could go up as high as 135 million euros per one kilometer – that is exactly what was paid to build the St. Petersburg ring road last year," reported Anton Belyakov, of the State Duma Anti-corruption Committee.Yet, despite the high profits, Russian roads remain in a critical condition. Two thirds of them are regarded as unsafe. Thus notorious Russian roads become a source of frustration for the majority and a cash cow for the selected few.This is something that Moscow's new mayor is resolved to change. Sergey Sobyanin has ordered a sweeping inspection of the road construction industry, aimed at rooting out corruption.The results are expected by the end of December but a disproportionate difference between what it costs to build a road in Russia and in other countries is already noticeable, said Sergey Ryabikhin, an auditor. "I think the main reason for such a gap is the flawed organization of tenders," he told RT. The government introduced tenders as a means to foster competition among contractors, but instead, according to analysts, they have become an easy vehicle for pumping money out of the state coffers."A company winning a tender would be expected to pay ten to 20 per cent of the contract to the officials calling the shots," said Belyakov. "If the bureaucrats don't take the kickbacks, the company could ensure it's chosen by colluding with its competitors and paying them up to six per cent when they get the contract."However, with these schemes having been known for years, analysts are skeptical as to whether the new mayoral inspection will change anything.For some hard-done-by drivers, the only way to cheer themselves up on a nasty road is to spend a wad on their wheels.Erik Davidovich is a successful businessman, whose life motto is "striking gold". Not only did he buy one of the fastest cars in Moscow, but he covered it in gold, bringing its total value to over 270,000 dollars."Look around: everything is so grey and brown, so dirty, so depressing," he said. "I wanted to change it. And besides, other drivers always give this car to have a right of way [sic], not because it is extremely expensive but because it's bright." Erik has nine cars, half of them covered in gold. He may be taken for a bragging nouveau riche in some European capitals, but he thinks in Moscow he is just a regular guy. The Russian capital boasts one of the highest concentrations of luxury cars in the world. It is no secret that wealthy Russians are fond of luxury cars: sales of Jaguar, Ferrari and other costly four-wheelers increased by 30 per cent in the first half of this year.And it seems that as long as Russian roads are in chronic need of repairs, there will never be a shortage of cash to spend on luxury cars.