Moscow election protest: LIVE updates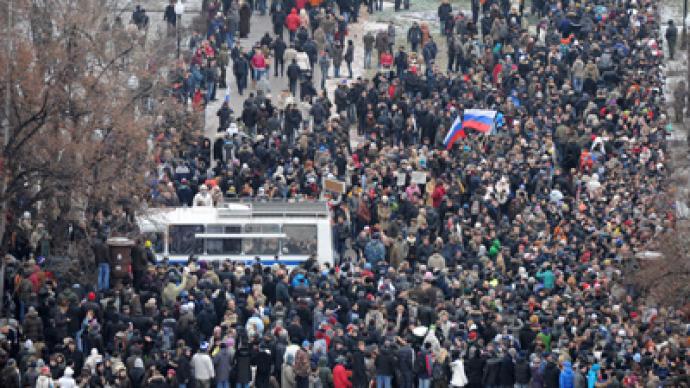 18:00 MSK: RT ends its live feedback on Saturday's protests in Russia. Have a nice day.

17:42 MSK: The ambulance service says their services were not required at Bolotnaya Square. Three emergency crews were on standby at the rally.

17:30 MSK: A senior United Russia official has pledged that the demands voiced by the protesters will be heard by both the state and society.

17:20 MSK: The Moscow rally at Bolotnaya Square is over. Organizers have called for another protest gathering on December 24 at the same location.

17:11 MSK: The Interior Ministry says 7,000 people have gathered at Pioneer Square in St. Petersburg for a protest demo.
17:10 MSK: It's almost dark in Moscow. Fewer and fewer demonstrators remain at the rally. A declaration listing protesters' demands, including the dismissal of the head of the Central Election Commission and fresh elections, has been read out to the crowd. The event is about to wrap up.

16:49 MSK: Rally in St Petersburg continues without any incidents. Organizers say 10,000 people are attending the event. No police estimates are immediately available, reports Interfax.

16:35 MSK: Despite calls from police and organizers not to cross the dangerous bridge near Bolotnaya Square, many people are still using it. Two rescue boats are on alert on the Moscow River close by.

16:26 MSK: The police say many protesters have left Bolotnaya Square, but estimate that some 15,000 people remain at the location.

16:22 MSK: Russia's human rights ombudsman praises police professionalism in handling the opposition rally at Bolotnaya Square, says the event is a lesson in democracy.

16:17 MSK: The last group of radical opposition protesters has left Moscow's Revolution Square, reports RT's Peter Oliver.

16:03 MSK: Many demonstrators are leaving Bolotnaya Square, according to RT's crew.
16:00 MSK: More fire torches have been lit among the nationalist contingent at the rally. One has been thrown at the crowd. Protesters have booed the provocation and handed over some of the perpetrators to the police. Otherwise the rally is peaceful.
15:52 MSK: A group of nationalists at Bolotnaya Square has lit a fire torch.
15:50 MSK: Organizers of a protest rally in St. Petersburg's Pioneer Square report a 5,000-strong presence.  One man in a crowd walking towards the square was detained by police for calling on the crowd to block the city's central Nevsky Avenue.

15:41 MSK: Between 300 and 500 people took part in an opposition rally in Ulyanovsk on the Volga River. The event lasted for about an hour. No incidents have been reported, according to Interfax.

15:23 MSK: Reporters say mobile networks are not working properly at Bolotnaya Square. It appears they are failing to handle the large number of users in the location.

15:18 MSK: Organizers are claiming a 40,000-strong turnout at the Bolotnaya Square rally. Police estimate the number of protesters at half that figure – 25,000.

15:11 MSK: Protest rally in Voronezh has ended almost without incident. The only arrest was of a drunken man who tried to force his way onto the speakers' platform. Some 300 people attended the event, reports Interfax.

14:52 MSK: Police warn that a bridge leading to the island where Bolotnaya Square is located may collapse under the moving crowds. They may close the crossing and redirect traffic to other bridges.
14:47 MSK: A protest march has started in St. Petersburg. The protesters are moving from Vosstaniya Square, where an unsanctioned rally was held, to Pioneer Square, where a sanctioned event is being held.
14:44 MSK: Police are relocating fences around Bolotnaya Square to accommodate a larger number of protesters, reports Interfax. Police says 15,000 people have gathered there so far.
14:27: MSK: Police estimate the number of protesters at Bolotnaya Square at 7,000.
14:11 MSK: Organizers of the rally say activists will start delivering speeches at Bolotnaya Square later than expected, because many of the protesters have yet to arrive, reports RIA Novosti.
14:08 MSK: The majority of opposition leaders have left Revolution Square and are leading protesters towards Bolotnaya Square, reports the Russian news website lenta.ru.
13:59 MSK: Police are allowing the protesters into Bolotnaya Square. Earlier, the process was slowed down as people had to go through checkpoints where they were screened for concealed weapons and alcoholic drinks.
13:48 MSK: Police have cordoned off Moscow's Triumfalnaya Square, where the Russian opposition have traditionally held their protest rallies. As many were unauthorized, they ended with police detaining protesters.
13:46 MSK: The Interior Ministry reports that a total of 45 people have so far been detained across Russia for taking part in unsanctioned rallies and violating public order on Saturday.
13:40 MSK: People are flocking en masse to Moscow's Bolotnaya Square.

13:34 MSK: Protests in Perm saw minor public disturbances which ended with 15 people being detained. Police say they will charge five of them and the rest will be released. The demonstration attracted several dozen people, reports Interfax.

13:33 MSK: A rally in the Siberian city of Tomsk has gathered up to 3,000 people so far, according to estimates. Local police say more protesters are arriving.

13:26 MSK: Some 4,000 people have gathered on the banks of the Moscow River in proximity to Bolotnaya Square, RT's crew reports.

13:22 MSK: Protests in Orenburg and Izhevsk attracted about 200 people each, police said. Again, there were no reports of civil disturbances.

13:20 MSK: Other Russian cities also witnessed protest action on Saturday. In Novosibirsk, which is three times zones ahead of Moscow, between three and four thousand people took part in a sanctioned rally in the city center. The rally, which is almost over, passed off peacefully and no clashes with police have been reported, according to Interfax.

13:10 MSK: An RT crew of 30 people is covering the protests. You can follow us on Twitter.

13:08 MSK: The rallies are scheduled to start in less than an hour, at 14:00 Moscow Time.

13:01 MSK: Protest organizers just signed protest "bill of rights" for rally with Interior Ministry officials, RT's Anissa Naoui reports.
13:00 MSK: The smaller of the two is being held at Revolution Square. It's expected to number 300 people tops, because it would not be safe to hold a bigger event there. Bolotnaya Square will accommodate the rest of the protesters, with an estimated 30,000 expected to turn out.
13:00 MSK: Hello. It's Saturday, December 10. Two simultaneous protest demos are taking place in Moscow. Participants are demanding an investigation into alleged fraud during last Sunday's parliamentary election.