Moscow authorities suggest bigger space for opposition rally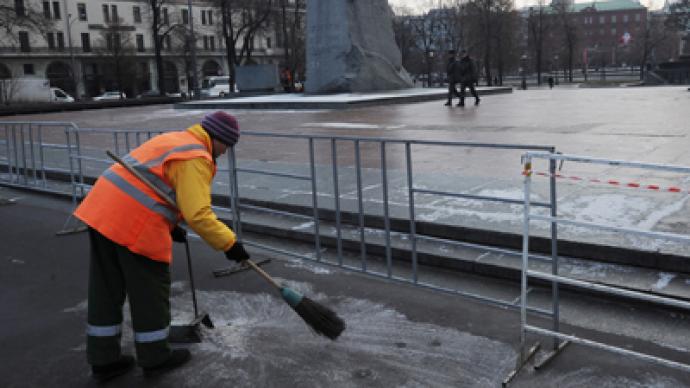 Authorities and opposition in the Russian capital have agreed to move a protest rally planned for Saturday from Revolution Square next to the Kremlin to a location which can hold more people.
Initially, organizers of the demonstration secured permission from city authorities to hold a 300-strong meeting in one of Moscow's central squares. However, due to security reasons, the authorities have suggested a difference venue – Bolotnaya Square – which can host up to 10,000 people and is also in Moscow's downtown area, but further from the very center. Organizers were also offered their choice of any other place for the demonstration – as long as it would be possible to ensure the safety of the participants, said deputy Mayor of Moscow Aleksandr Gorbenko, according to Interfax.Opposition leaders are divided over the decision to move the demonstration. Boris Nemtsov, one of the leaders of the Solidarity movement, and Green activist Yevgeniya Chirikova, said they had agreed to hold the meeting at Bolotnaya Square, though Chirikova promised to be at Revolution Square in order to guide those who did not know about transfer to the new venue. Other members of the Solidarity movement said that Nemtsov had secured an agreement without consulting them and called the politician a traitor. A group of protesters wrote a letter to Moscow Mayor Sergey Sobyanin in which they said that it was impossible to warn all participants of the planned rally that the location had changed and asked him to simply allow a bigger space for the meeting at Revolution Square. The left wing of the opposition has bluntly rejected the offer, according to one of the leaders of the "Left Front" movement, Anastasia Udaltsova. She also said too many people had already been notified about the rally on Revolution Square and there would not be enough time to inform all of them about the relocation.Earlier, on Thursday, the Moscow government reminded about the potential consequences of not respecting the registered number of protesters, which is 300 for Saturday's rally. Now, opposition leaders expect at least 10,000 people to turn up at the square on December 10.Eduard Limonov, another opposition leader and the head of the unregistered Other Russia party, is also against the change of location.Opposition supporters have been staging protests since Monday against what they believe to be an unfair parliamentary election. They want the results to be annulled, and a fresh vote to be held.