Moscow opposition protest in Spring March of Freedom: LIVE UPDATES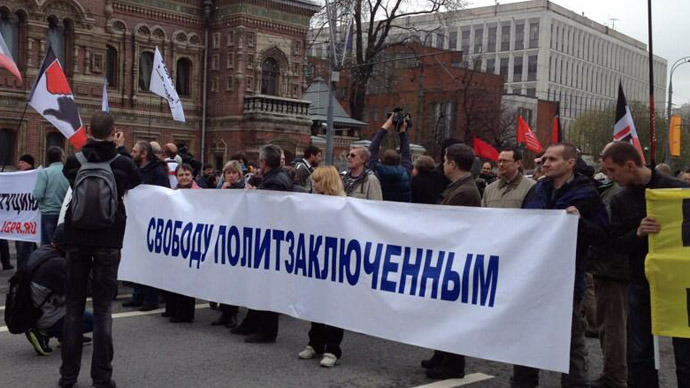 Thousands of opposition protesters are taking part in the rally 'For Freedom' on Moscow's Bolotnaya Square. They demand a release of all 'political prisoners.'
The May 6 sanctioned protest marks a year since the so-called 'March of Millions' rally on the same square a year ago ended with violent clashes between opposition protesters and police. Twenty-eight people faced criminal charges following the unrest and two protesters have already been sentenced to jail term as part of the 'Bolotnaya case.' 
9:02 GMT: The event was marred by a tragic accident during the preparations for the protest: a 25-year-oldworker died while assembling the stage for the meeting when an audio speaker fell on him.
May 5: The Spring March of Freedom, organized by the so-called opposition's Expert Council, was allowed by Moscow authorities but attracted only several hundred of protesters. Police say the event was attended by some 400 people. It comes ahead of what is expected to be a much bigger anti-government rally on Monday evening.

The march started at 5pm local time (11:00 GMT). Demonstrators marched from Yakimanka Street toward Bolotnaya Square.
It comes just a day before Russian Opposition Coordination Council's rally at Bolotnaya Square to mark the first anniversary of last year's mass protests that was held on the eve of Vladimir Putin's inauguration to a third presidential term and turned violent.  

Many people have been charged for their participation in the riot, and for injuring police officers. The investigation have been called and known since then as 'the Bolotnaya case'.

Leftist opposition activist Konstantin Lebedev confessed to being among the organizers of last year's violent clashes between protesters and police.
17:57 GMT: The rally ended at 20:00 Moscow time (16:00 GMT) as was scheduled, with no arrests made. Police said that no violations took place.

13:25 GMT: Police have arrested one man carrying a pneumatic gun. He tried to get to Bolotnaya Square without passing through metal detectors, Interfax reports.

12:02 GMT: Almost an hour after the march started, protesters were arriving at Bolotnaya Square, where the rally will take place, followed by a concert.

12:00 GMT: Police have deployed nearly 5,000 law enforcement officers to ensure security at the rally.

11:54 GMT:
Шествие... #5мая #ШествиеЭСО twitter.com/marusia_bell/s…

— marusia_bell (@marusia_bell) May 5, 2013
11:52 GMT: According to witnesses tweeting from the protests, there are up to 1,500 people gathered for the rally so far. Some report about nearly 3,000 people. Police have put the number of protesters at 400 people.

11:43 GMT: As protesters start marching towards Bolotnaya Square, they are chanting anti-Putin slogans "Mother of God chase Putin, chase Putin out" (referring to the lyrics of the punk prayer by Pussy Riot members sang in Christ the Savior Cathedral) and "Putin - thief".

The banner reads 'Putin, Pilate, crucified constitution'.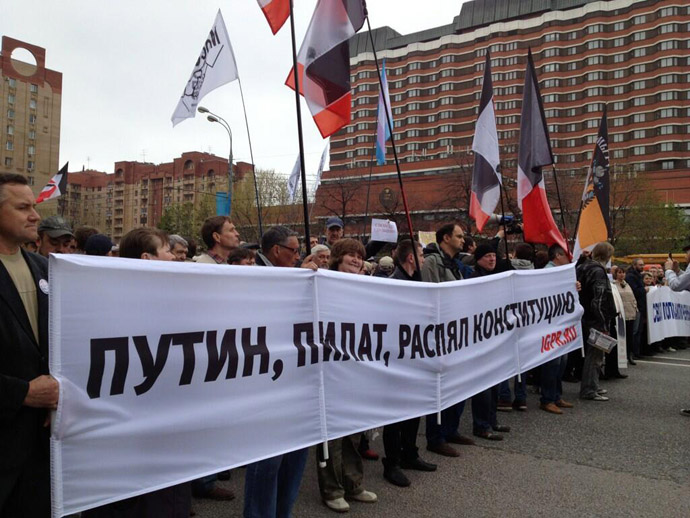 11:25 GMT: The first protesters have unfurled a banner reading 'Free political prisoners'.

— Рассерженные (@gd_rg) May 5, 2013
11:23 GMT: Around 500 people gathered outside Oktyabrskaya Metro station half an hour before the march was scheduled to start from there.

You can share this story on social media: