FSB: 140 detained in Moscow for connection to 'Islamist extremist groups'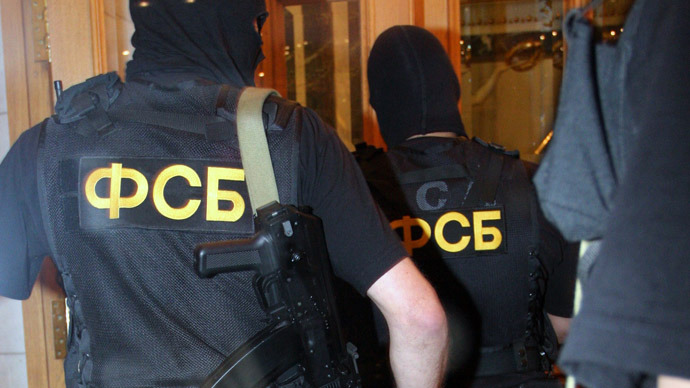 Russia's Federal Security Service announced that 140 people have been detained in the Russian capital for suspected membership in extremist Islamist organizations.
More than 30 of those detained are reportedly foreign nationals, the FSB said in a statement.
According to law enforcement, the chapel in southern Moscow, Dar al-arkam, where the suspects were detained was often visited by people who later "converted to radicalism and joined militant groups active in the North Caucasus, as well as participated in preparing and perpetrating terrorist acts in Russia."
The investigation that resulted in mass arrests was aimed at finding people who have been wanted for extremist activities and terrorism.
Thus, a student of one of Moscow universities Ibragim Pliev also attended this Muslim prayer house. Under the influence of radicals in May of 2011 he joined the militant organization that was acting in the North Caucasus. He was killed resisting arrest during a law enforcement operation in 2011.

In July 2011, four people were detained in Moscow on suspicions of plotting bomb attacks on the subway and police department. At the time, it was revealed that the four, all from the North Caucasus, repeatedly visited Dar al-arkam.
Russia's North Caucasus is considered to be one of the country's most troubled regions, with frequent reports of terror attacks and anti-terror operations in the area.
In April 2009, Russia announced the end of its decade-long counter-terrorism operation against militants in Chechnya. However, sporadic terrorist attacks inside the region and beyond still continue.

Russia's most wanted fugitive is Islamist Chechen warlord Doku Umarov. He claimed responsibility for the most notorious terrorist attacks in Russia during the last decade -  the bombings at two Moscow metro stations in 2010 and blasts in Moscow Domodedovo airport in 2011. It's believed that a terrorist group controlled by Umarov is also responsible for blowing up the Moscow to St Petersburg Nevsky Express train. It was derailed in the Novgorod region on August 13, 2007, injuring sixty passengers.

He was one of the main suspects in the deadly 2004 siege at a school in Beslan, North Ossetia.
Another Russian southern republic, Dagestan has seen a low-level Islamist insurgency for over a decade, with the majority of the terrorist attacks targeting officials and security forces.

The North Caucasus, including the Russian republics of Chechnya and Dagestan, has been in the headlines since authorities in Boston confirmed that the two Tsarvaev brothers, who carried out the Boston Marathon bombing, were ethnic Chechens. The elder brother, Tamerlan, is said to be a follower of radical Islamism. It has since been revealed the Russian authorities repeatedly warned the FBI about the potential threat Tamerlan Tsarnaev posed, "at least once since October 2011."

You can share this story on social media: