Army abducted Egypt's ousted President – Morsi's family
Published time: 22 Jul, 2013 11:41
Edited time: 22 Jul, 2013 18:12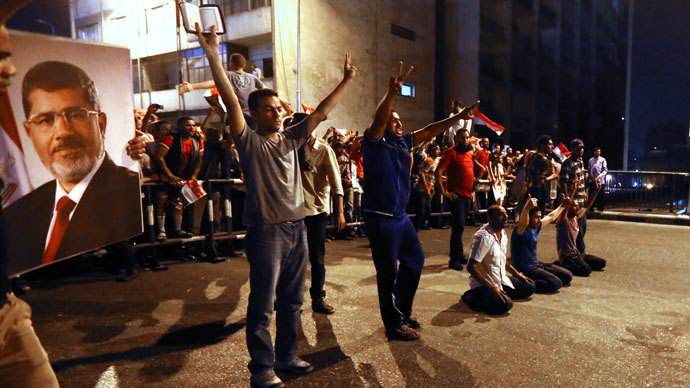 The family of the ousted Egyptian President Mohamed Morsi has claimed the army abducted the former leader. The allegation comes from Morsi's daughter Shaimma, who was speaking at a press conference in Cairo.
Ousted from power on July 3, Morsi has been held at an undisclosed location since then.  Government officials have said he is safe and is being held for his own protection.

However, his son told RT that his father was arrested in a "strange unconstitutional manner" and that he is "worried about him and I fear for his life". 

Morsi's son says they will appeal to International Criminal Court over president's ouster

— Sharif Kouddous (@sharifkouddous) July 22, 2013
"We still don't know where my father is kept," Morsi's son Osama Morsi has told RT's Sophie Shevarnadze in an exclusive interview. "The leaders of this coup are war criminals. They detain the president without any charges, and he is the lawfully elected president who spoke the will of the people." 

The secretary-general of the doctor's union, Gamal Abdel-Salam, who was speaking at the same press conference, said it has asked the military to grant doctors access to check Morsi's health as he suffers from diabetes and liver problems. However, Morsi's son denied that his father has health problems. 
"We are taking local and international legal measures against Abdel Fatah al-Sissi, the leader of the bloody military coup, and his putschist group," Shaimaa Morsi told reporters Monday.

EU foreign policy chief Catherine Ashton, who met with officials from Morsi's Muslim Brotherhood party in Cairo, has called on Egypt's military to release the deposed President.

"I believe he should be released.  I was assured he is well.  I would have liked to see him," Ashton said.

European Union foreign ministers also condemned the role of the armed forces in Egypt, calling for the release ''of all political prisoners, including Mohamed Morsi."

The Muslim Brotherhood – from which Morsi is a part – has also accused Sisi of deliberately staging a coup to remove Egypt's first freely elected president from power. Muslim Brotherhood members believe the military action amounted to an undemocratic coup.

The situation across Egypt remains unstable after it significantly deteriorated following Morsi's ousting, as both his supporters and opponents continue to clash on the streets. July 8 was one of the deadliest days as a police crackdown left 51 of Morsi's supporters dead.

On Monday further violent clashes took place in Tahrir Square in which one was left dead, and at least 26 reported injured.

In recent clashes that took place in Suez, 70 people were injured, the Health Directorate said on Monday.
At the same time, the army has fiercely defended its actions to remove Morsi and the Brotherhood from power, saying its decision served the popular will of Egyptians, and that Morsi had become incompetent and partisan.

The military has installed an interim cabinet, which does not include any Brotherhood members or people from other Islamist parties.

After removing Morsi from power the Egyptian army suspended the constitution vowing to hold democratic elections and maintain an interim government, although a timetable has yet to be released.