Unification Church founder Sun Myung Moon dies at 92
Published time: 2 Sep, 2012 19:27
Edited time: 3 Sep, 2012 02:31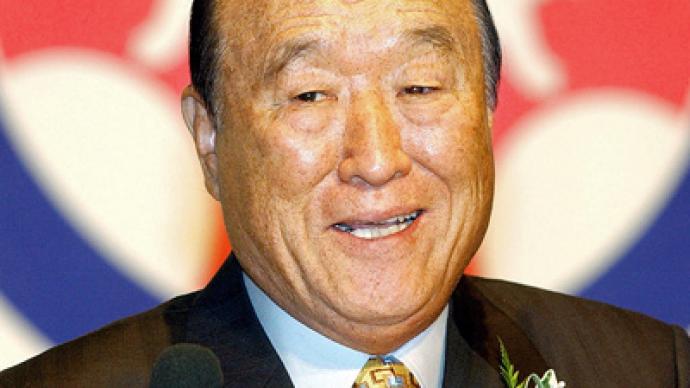 Self-proclaimed messiah Rev. Sun Myung Moon, who turned his Unification Church into a worldwide religious movement, has died aged 92 due to complications from pneumonia.
Sun Myung Moon was born in 1920 in a town now located in North Korea. He claimed he was 16 when Jesus Christ called upon him to complete his unfinished work. During World War II, he moved to Japan, where he studied electrical engineering at Waseda University.
Moon returned to the Soviet-occupied part of Korea after the war was over and began preaching his teachings. That soon landed him in jail, and he was given a five-year prison sentence at a labor camp in the newly-independent communist country of North Korea. However, the Korean War cut short his prison sentence as UN troops took control of the camp and set him free.  
Moon founded his religious movement, officially known as The Holy Spirit Association for the Unification of Christianity, in Seoul in 1954. In 1957 he published Divine Principle, which laid out the foundations of his religious movement and attained scripture status among his followers.
In 1971, Moon moved to the United States. In the following years, his church came into the media spotlight as Moon held mass weddings of thousands of followers.
He also organized a number of mass gatherings. An estimated 1.2 million people gathered for a rally in the South Korean city of Yoido, while some 300,000 supporters flocked to the Washington Monument for another one of his public meetings.  
Later, Moon and the church transformed into a kind of business empire. This included the Washington Times newspaper, the New Yorker Hotel in Manhattan and Bridgeport University in Connecticut. In South Korea, a ski resort, a professional soccer team and other businesses were acquired. In North Korea, the church owns a hotel and a fledgling automaker.
Grooms and brides cheer while taking part in a mass wedding organized by Reverend Sun Myung Moon Unification Church, 16 February 2002, at an indoor Seoul stadium. (AFP Photo/Youn Jae-Wook)
World peace movement or extremist religious sect?
The leader of the Unification Church, just as the movement itself, proved to be a highly controversial figure.
Accusations were soon voiced that the church was bilking followers out of money, and that its adherents, many young people among them, were brainwashed into joining. The church only said in response that all religious movements faced these kinds of accusations in their early stages.
Moon's political ventures were also somewhat controversial. In 1974, as Richard Nixon faced increasing pressure to resign in the wake of the Watergate scandal, Moon told his followers to pray and fast in support of the president under fire. This was at a time when most of the public, and even some of Nixon's own appointees, had ducked him.
A number of other right-wing politicians appeared to be on very good terms with Moon. He set up the News World Corporation, which was responsible for resurrecting the New York Tribune in 1976, and starting The Washington Times in 1982. Both of these papers were perceived to be right of center, and were often accused of the furthering the agenda of the Reagan administration. A House committee chaired by Democrat Donald Fraser also investigated links between the Unification Church and South Korean intelligence.
Moon's increasingly warm relations with the Republicans who took control of the Oval Office in the 1980s did not help him avoid jail, however. In 1982, the religious leader was sentenced to 18 months in prison for improperly filling out tax returns. He was released after 13 months for good behavior. During his stay in prison, he found support in televangelists such as Jerry Fallwell, who accused the jury that sentenced him of prejudice.
Nevertheless, his jail sentence did not hamper his relations with the neoconservatives in power. Both Ronald Reagan and Margaret Thatcher eventually extolled Moon and his media empire for helping bring down the Soviet Union.
Moon's closeness with fierce anti-communists the likes of Reagan did not prevent him from traveling to North Korea for a meeting with the country's longterm leader Kim Il-Sung. Moon reported having a friendly chat about common hobbies and noted that the two had many similarities.
Although Moon returned to South Korea in the 1990s, he continued to run his multibillion-dollar business empire, which by that time had extended its reach across dozens of countries. Operating under the auspices of Moon and his subordinates were hospitals, charities, colleges, sports clubs, think tanks, TV channels and even ballet companies.
And despite being one of the most prominent capitalists and anti-communists of the world, Moon continued to receive birthday gifts, including Rolex watches and pricey flowers, from North Korean leader Kim Jong-Il. In turn, Moon sent condolence delegations to the funerals of Kim Il-Sung in 1994, and Kim Jong-Il in 2011.
In the late 2000s, Moon largely ceded control of his media empire and other ventures to his wife and sons.
In 2009, Moon returned to his matchmaker roots by marrying some 45,000 people in ceremonies worldwide. He also joined up some 7,000 people the following year in South Korea. However, these ceremonies did not spark the controversy they had brought thirty years earlier.    
A number of other practices the church preaches have also generated controversy throughout the years. Followers are reportedly told to swear blind devotion to the True Father – Moon – and the True Mother – Moon's wife Hak Ja Han Moon, meaning that they have to give up their lives for their faith if necessary.
Moon's Russian foray
In 1990 Moon visited the Soviet Union and met with President Mikhail Gorbachev, praising him for his political and economic reforms. Soon after the Communist empire was dissolved in 1991, branches of Moon's church started putting down roots in the post-Soviet area, most notably in Russia and Central Asia.
At first, Russian authorities tolerated and even endorsed some of the church's initiatives. In a number of regions, the movement supplied textbooks to schoolchildren and organized seminars for students. However, by the end of the 1990s the Moscow began to grow increasingly wary of the church's meddling in the education process.
Most of its branches were shut down for breaching the registration process, while the Russian government, just as many of its counterparts in Europe, classified the Unification Church as a sect. And just like in the United States, the churches were also accused of meddling in politics in an effort to cajole lawmakers to adopt favorable legislation.