At least 28 immigrants shot at Greece strawberry plantation after not being paid for six months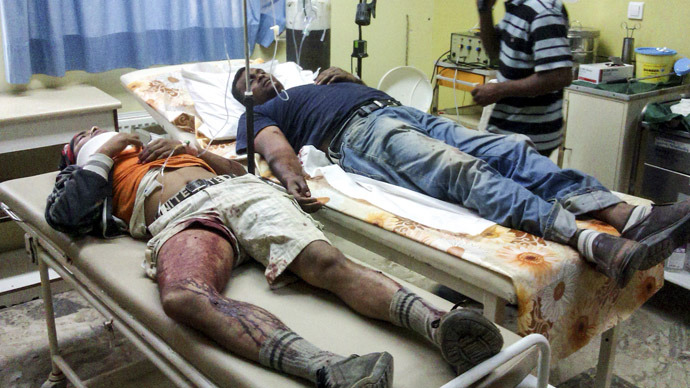 Greek police are hunting three strawberry plantation foremen, who are suspected of shooting nearly 30 workers, mostly Bangladeshi, after immigrants demanded wages they had not been paid for six months.
Officials have promised "swift and exemplary" punishment for the three foremen who disappeared after the incident that took place on April, 17 in Nea Manolada, about 260km (160 miles) west of Athens.

So far police arrested the owner of the farm, in the rural south of the country and a local man on suspicion of hiding the three foremen.

The violence allegedly occurred when one of the supervisors opened fire on a crowd of about 200 foreign workers gathered to request their unpaid salaries.

According to one of the immigrants, they were promised wages of 22 euros ($28.70) a day.

"They keep telling us that we will get paid in a month, and this has been going on for more than a year," Reuters quoted a man who refused to be identified.

The conflict resulted in at least 28 people being injured. Seven Bangladeshi workers are still receiving treatment in local hospitals, but none of them has life-threatening injuries.

The Greek government has condemned the "inhuman, unprecedented and shameful" shooting.

"This unprecedented and shameful act is foreign to Greek ethics," government spokesman Simos Kedikoglou said.

At the same time, the country's main labor union, GSEE, has accused the government of failing to properly investigate conditions at Manolada.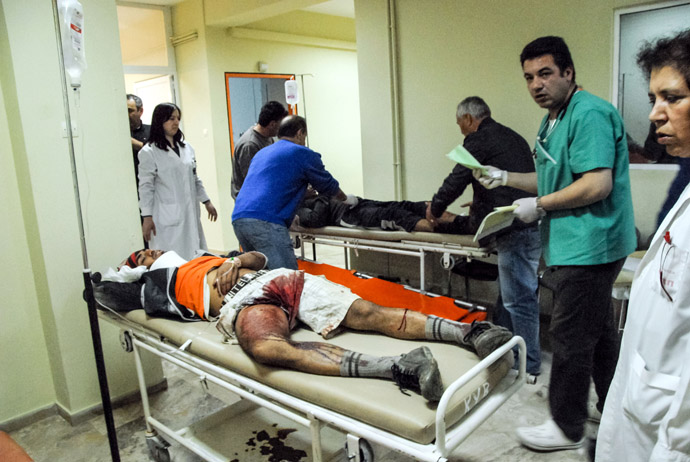 "The criminal act in Manolada ... shows the tragic results of labor exploitation, combined with a lack of control" [by the government labor inspectorate]", a GSEE statement said. "In Manolada, and particularly in the strawberry plantations, a sort of state within a state has been created."

Wednesday's attack has been called the worst of all recent attacks on migrant strawberry workers in Greece, the country that mostly Asian and African asylum seekers see as a gateway to the European Union.

The Greek department of the Doctors of the World medical aid group suggested the shooting should be treated as a case of racist violence, a felony which carries more severe penalties.

"The protracted financial crisis, combined with a constantly growing mood of xenophobia and tolerance for racist violence, is leading to incidents of barbarity and brutality that ... insult Greece," the group said.  

Following the violence, local supermarkets, Vasilopoulos and Chalkiadakis, announced that they would stop selling strawberries from the company that employed the alleged shooters.

Activists are now calling for a boycott of what they call slavery, by not buying Manolada berries.  

"By boycotting #Manolada's #bloodstrawberries you're sending a clear message that you do not condone slavery," reads the statement on Twitter.

However, there are some who believe that illegally hired immigrant workers should be deported from crisis stricken Greece.

With unemployment hitting a record 27 percent, anti-immigrant sentiment has been rising in the country.

Right-wing extremist political party, Golden Dawn, which holds 18 seats of the 300-member Parliament, said in a statement Thursday that they "condemn those who illegally employ illegal immigrants, taking the bread away from thousands of Greek families."

"All illegal immigrants must be immediately deported," it said.
However, the Party did condemn the shooting as well.

You can share this story on social media: