Moldovian labourers look for money & opportunities in Russia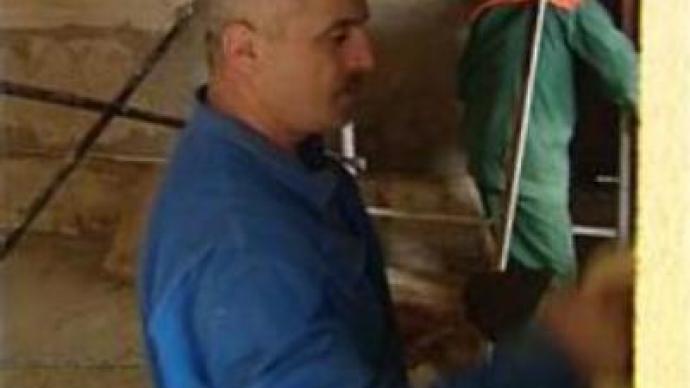 Russia attracts thousands of workers from neighbouring CIS countries. Some 700,000 Moldovians are currently working in Russia, looking for what their home country lacks – money and opportunities.
In a farm outside Moscow almost 30% of the staff have come from Moldova. A company, owned by former Moldovian citizens but based in Moscow, bought several farms and now employs about 50 workers from Moldova. Managers say they are cheaper and happy to get this work.
"I had my grandchildren to feed, and in Moldova I was paid between 50 and 100 dollars. This is miniscule, simply ridiculous. Here on good days I can earn up to 25 dollars a day. And I send back to Moldova everything I earn,"
says Ivan Topal, Moldavian guest worker.Moldovian guest workers say they saw in this abandoned farm near Moscow an opportunity to improve their lives. Today this farm, now privately owned, is being brought back from the dead by these Moldovian workers, who seem to be much more motivated that local Russians.Former Moldovian police major Ilya Karaiorgu was paid just $US32 and his salary was regularly delayed by three to four months. So he moved to Russia to work as a construction worker.
"The only way to feed my family was to grow vegetables of my own. In my region, all the villages are half-empty. You'd go to weddings, and you'd see only men in one village – all the women have gone to work as maids in Turkey. In another there are only women – all men have gone to Moscow to work on farms or in construction,"
says Ilya Karaiorgu.Now his salary is 40 times higher and is paid on time. It is more than enough for living and he sends money home to his mother. But he says he had a hard time looking for job, obtaining residency and work permits, bribing police not to be deported.When the Moldavians first came to village they experienced tension and even clashes with locals and the living conditions aren't exactly enviable.But Moldavian Mikhail Byzykchi who has a diploma in agriculture is proud of his apartment.
"When we first came from Moldova we feared something worse. But we got two-room flat for two families, renovated it, and now it's fine. My wife works in the fields. Don't judge us by the furnishings, we've just moved in. One day we'll have it all: curtains and rails, and probably even a one-room flat of our own,"
says Mikhail Byzykchi.Mikhail, Ilya and Ivan are all sending part of the money they earn back to Moldovia. So do the other 700,000 Moldovian workers who live in Russia. With the republic's population of 3,6 MLN people that is a big help for its economy.
"Moldovian GDP is about 3.4 billion US dollars. So the capital inflow from people outside Moldova is almost 17% of the country's GDP,"
says Olga Belenkaya, "Finam" analyst.For now they are just guest workers. But many of the Moldovians in Oktyabrsky want to become residents and one day – who knows – even Russian citizens. It is not about loving or not loving their home country or Russia. It is just about opportunities.
You can share this story on social media: