Mixed reaction to plans for Putin as PM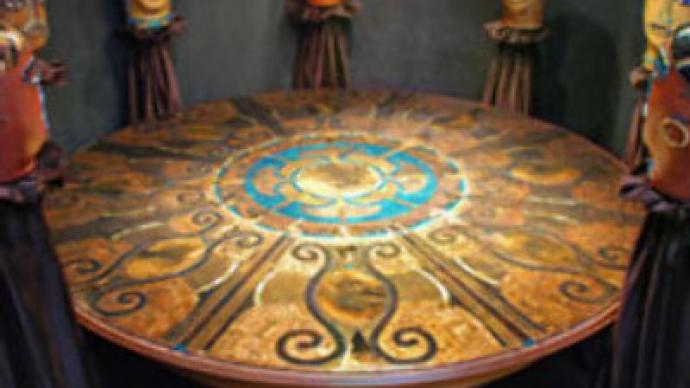 Russian presidential contender Dmitry Medvedev says if he becomes the country's leader, he wants Vladimir Putin to become Prime Minister. Political analysts have been reacting to the news that comes just a day after Putin said he'd back Medvedev in the el
Political analyst Aleksandr Pikaev says some time ago Putin expressed his interest in becoming Prime Minister.
"He is a leader of the ruling party and if he decides to be Prime Minister – it might not be good news for the West, which does not hide its desire to replace Mr Putin with somebody else or retire, but for Russia it is probably good news, for this nomination will help to create a more balanced system on institutionalised power," Pikaev said.
"Probably, Medvedev thinks that in the present conditions he will not manage to have the full power structure – the vertical power which Putin built in the country – under control and he needs a kind of tandem to rule together with Putin and to conduct the necessary politics,"Alexander Rahr, German council on Foreign relations said.
Dmitry Babich, a political analyst for the Russian Profile magazine, recalled the October convention of United Russia where Putin said that he didn't exclude the possibility of him being a Prime Minister. The president said it was too early to talk about it then.
"In fact, with Putin, and two thirds of the State Duma behind him, this parliament will have more influence than on the president than nay other parliament in Russian history," Babich said.
However Sergey Medvedev, an analyst from Moscow's Higher School of Economics, says the move to install Putin as Prime Minister could present problems for the country.
"I think the clear message here is that Putin will stay in power in one or different capacity. Although, there is a possible conflict here in the sense that Russian power cannot be a double-headed eagle – there should be just one person in Russia. That's how the Russian system was functioning for the past 500 years at least. So, there should be only one president," he said.
The analyst says he doesn't see how Putin will report to Medvedev about, for instance, the state of the harvesting.
One the other hand, he said, there is good news for Russia.
"We have now the preservation of the Constitution. That's a constitutional way to continue the power and this is very important," Medvedev said.
Irina Kobrinskaya, from the Institute of World Economy and International Relations, says the worst thing for Russia in the eyes of the West is unpredictability, so a lack of drastic changes will be welcome.
«[Putin's nomination] means that power in Russia, the political regime and the policy will be predictable and sustainable. Even if it is done too early, even if it's the first step, even if there will be other intrigues, but still there is a message of sustainability,» Kobrinskaya said.
"Then again, now we know what President Putin will do after March 2008," she added.
Evgeny Satanovsky, the President of the Institute of Middle Eastern Studies, also believes that Russia has a situation of stability, with a predictable future.
"As the Chinese say, God save you from living in a time of great changes. And nobody needs to change a team that had a success and bring in another, unpredictable one. If Medvedev gets elected – now he has much more chances then anyone else – and Putin agrees to become the Prime Minister, their team will be strong and professional," Satanovsky said.
Putin's nomination as the Prime Minister gives political analyst Tatyana Malkina an expectation of a healthier, slightly impersonal government system, operating regardless of who is sitting in the Kremlin.
"The good outcome of the new development will be that the government may become more independent and have more executive power then it is now. Because the centre of the power will be spread between the White House and the Kremlin," Malkina said.
A more divided system of government is what Vyacheslav Nikonov, the president of the fund 'Politika', expects.
"With Medvedev becoming likely a strong President – since the President is the strongest political figure by definition – Putin becomes a strong Prime Minister, because he cannot be a weak figure, and it looks like we are getting quite a strong legislative branch, headed by the United Russia faction, which has got more votes then ever in the parliamentary election. So in the next four years we are going to have more centres of power," Nikonov predicted.
The market will react warmly to Putin's continued involvement, says Yaroslav Lissovolik, a chief economist at Deutsche United Financial Group.
"The fact that Putin may become Russia's Prime Minister in 2008 is both well for the continuity of the policy that worked during his presidential term and a signal for the market that Putin is still very much involved in the decision making process after 2008 in Russia. This is essentially is something that removes the bulk of uncertainty about Russia's political landscape. This was about the last question that the investors had in regards to Russia in the coming years. President Putin's involvement is something that I think will be taken positively by the market. It is a signal of greater continuity after the presidential election," Lissovolik said.
Aleksandr Lebedev, a State Duma Deputy until recently, says he expects other presidential candidates to also offer Putin the place as Prime Minister.
"I've expressed my desire to see Putin as Prime Minister back in May. Whether we will see him as a Prime Minister and he'll become the first party Prime Minister – that's who he'll be. In Medvedev's case I can see the reason, why he is actually offering this position to Putin. That thing is that this is a bit premature for Medvedev. We may as well see people like Zhirinovsky, Zyuganov and Kasyanov also offering this position to President Putin," Lebedev said.
Gerhard Mangott, Professor of Political Science from University of Innsbruck thinks that it's highly unlikely that Putin will accept the offer to become the Prime Minister.
One of the reasons for that, he says, is that's an 'electoral ploy': If you vote for Medvedev you will get Putin as well.
"Of course, that helps Medvedev to win the election to the Presidency in the first round," Mangott said.
The second reason the expert sees "is that it's a signal to the camp that lost the race for power yesterday – it's the Chekists and Siloviki – who actually don't support Medvedev". "They have different persons that they have supported, but they've lost the struggle for the Kremlin," he said.
Today's announcement, Mangott said, may be a signal to this camp – security, law enforcement and defence circles representatives - that Putin is still there, Putin will stay and they will keep their privileges.

Quentin Peel, the FT International Affairs Editor says he's not sure how there can be two power centres in Russian politics.
"I'm not sure that we can be quite certain that Putin will take up the job of Prime Minister. I think people here are quite worried at the thought of Russia with two power centres. The feeling is from Russian history going the way back it seems that country has never worked with two power centres. One power centre in the Kremlin is a natural form of government of Russia," he notes.

Andrey Kortunov, President of the New Eurasia Foundation says a Medvedev-Putin "dream-team" might bring about changes in Russia's political landscape.
"I think it might mean a shift of power from the Kremlin to the government. And that would definitely be a new development for Russia because right now it's just the Kremlin that's in charge of major decision making, and the government is more or less a technical body. Plus, the State Duma, the Russian parliament, might play a more active role in shaping the development of Russia," he said.