Russia's first Mistral-class ship stern launched (PHOTO, VIDEO)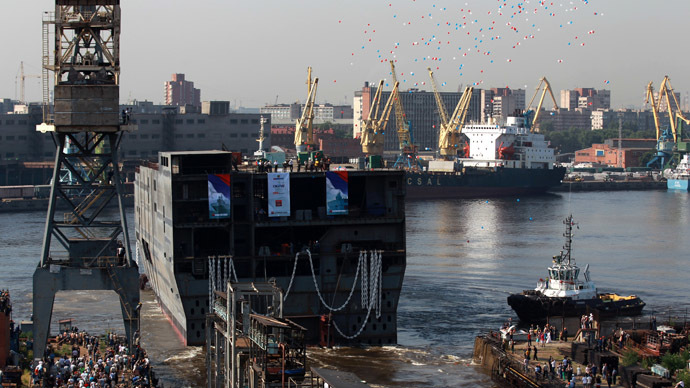 The stern portion of the first Russian Mistral-class helicopter carrier has been launched in St. Petersburg and will sail to France, where its body is to be assembled. It is due to be completed in October, and its twin will be delivered in 2014.
A bottle of champagne was smashed on Wednesday on the new helicopter-carrying amphibious assault ship 'Vladivostok' to celebrate the timely launch of its stern part, RT's Maria Finoshina reports from St. Petersburg's Baltiysky shipyard.
The launch follows the pledge by Russia's Deputy Prime Minister Dmitry Rogozin that the ship "will be ready on time," and return from France fitted with its bow this October. By this he refuted the earlier remarks by a defense official that the stern might not be completed within deadline.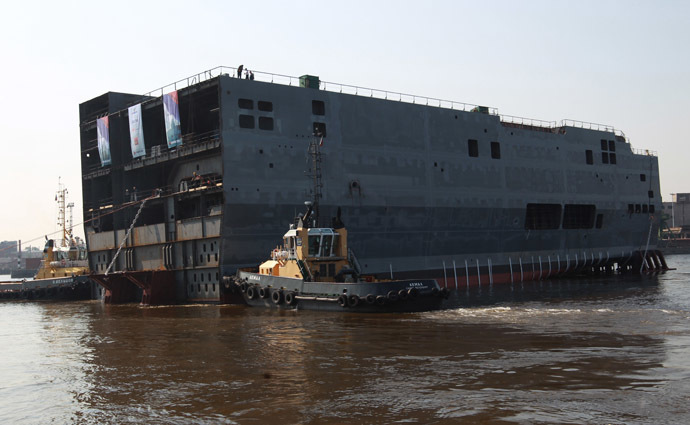 In October 2014, the second Mistral-class ship will be delivered to Russia, Rogozin added, referring to the helicopter carrier 'Sevastopol', which was laid at the DCNS shipyard in France's Saint-Nazaire on June 18.
The Mistral-class multipurpose ships have enough capacity to carry 16 helicopters, up to 40 tanks and some 600 troops. With addition of their operational range of nearly 40,000km, the new-generation vessels are said to be of a strategic importance for the Russian navy.
"This ship is like a Swiss knife, it can be used both for military and civilian purposes. It's a hospital, it's a command point, it's an assault ship, and it's a headquarters. It would be great for each of our four fleets to have that ship," military expert Ruslan Pukhov told RT.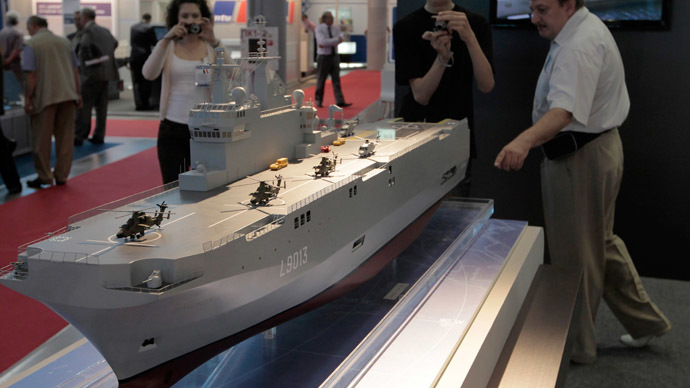 The 1.2-billion-euro contract for two Mistral-class ships was signed between Russia and France in 2011. Although the bilateral project has been subject to criticism for being 'political', rather than beneficial, its proponents argue that as well as strengthening the country's ties, it would also give Russia access to the latest naval technology.
"Paris promotes our interests in some areas, and incidentally is being heavily criticized for it," Pukhov said, adding that the deal has shown that Russia "is not a political outsider, but a part of the European family."
At least one of the Mistral-class ships is said to be intended for Russia's Pacific Fleet, which has already prompted concerns in Japan.
Japanese Defense Minister Itsunori Onodera claimed that delivering such ships to Russia would "upset the balance of powers" in the region, as he spoke with his French counterpart Jean-Yves Le Drian at the June IISS Asia Security Summit.
Russia planned to purchase four Mistral-class ships from France, but later halved the order. According to Rogozin, the final decision for the further purchases will depend on operational experience of the first two helicopter carriers.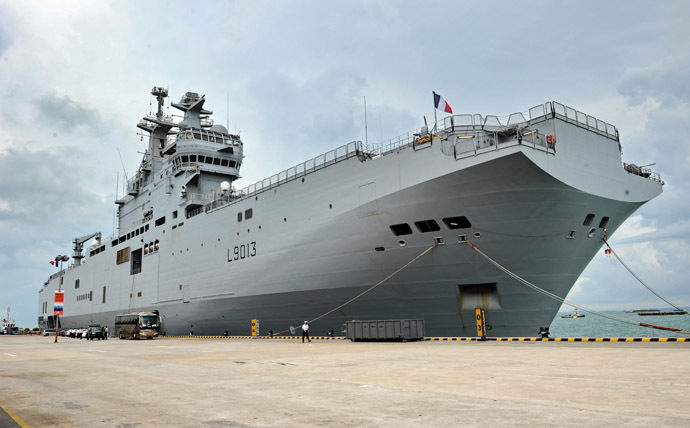 You can share this story on social media: