'Future Soldier' to watch over Russia and France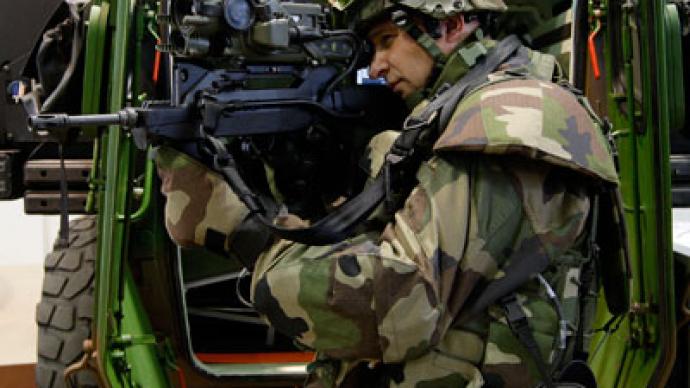 Russia is set to purchase French advanced "future soldier" equipment FELIN, which provides infantrymen with improved close-combat capability and includes body armor, bullet proof vest, ballistic helmet and other hi-tech devices.
The sides have already reached an agreement on the matter, Russia's Defense Minister Anatoly Serdyukov said on Thursday. For a start, Russia plans to buy a pilot batch of "soldier of the future" sets to test the system and "feel it," the defense chief noted, as cited by RIA Novosti. Currently, Russia is developing its own hi-tech system Ratnik (Warrior) as part of the Soldier Military Equipment (BES) program. It incorporates more than 40 modules, including body armor, firearms, optical, communication and navigation devices, life support and power supply systems, and knee and elbow pads. As announced earlier, the kit has performed well in recent tests. Compared to the French "future soldier" – which weighs 26kg – the Russian ammunition is lighter, weighing about 20kg maximum. Several other countries – including the US, Germany, the UK, Spain and Sweden – have similar "soldier of the future" equipment programs in progress.Moscow decided to purchase FELIN (Fantassin à Équipements et Liaisons Intégrés) system to get an idea of what has already been achieved in other countries and to avoid "re-inventing the wheel," Serdyukov explained. The point is to find out whether Russia should produce such equipment jointly with foreign partners or stick to its own developments, he pointed out. "We would like to carry out a comparison study and see which of the countries has moved further," he added. Serdyukov's comments come a day after his trip to France to discuss military and military-industrial cooperation. Initially it was unclear if French policies would change after François Hollande came to power, the Russian defense chief observed. "In general, everything is quite positive," he added. In particular, Serduykov referred to the Moscow-Paris deal on the construction of Mistral-class helicopter aircraft carriers, sealed back in June 2011. Under that agreement, France is building two such vessels for the Russian Navy. The minister underlined that the project – which also includes transfer of technology – is progressing "normally".
You can share this story on social media: