Israel to deploy missile interceptor on Egyptian border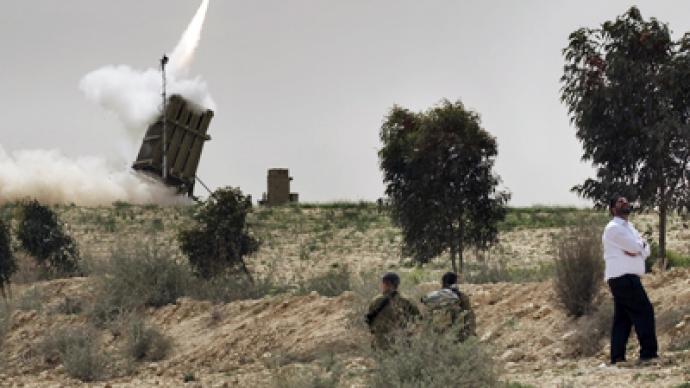 Israel is to install a mobile air defense system at the Egyptian border, following cross-border attacks in the area, reports the Israeli media.
The Iron Dome system is designed to defend against rockets fired from anything up to 70 kilometers away. The radar allows the system's operators to pinpoint the targeted site of the enemy rocket.  Each interceptor costs between $50,000 and $100,000.The system has been used against Palestinian rocket attacks from the Gaza Strip in the past and this time "will be placed near Eilat as part of an operational deployment program which includes changing the locations of the batteries from time to time," according to an Israeli military spokeswoman.
Israeli-Egyptian ties go sour
Israeli relations with its neighbor have grown tense since the popular Egyptian revolution and the ousting of the President Hosni Mubarak last year.Since then there's been an increase in the number of cross-border attacks. Israel has laid the blame on Egypt when two rockets fired across the frontier struck Eilat recently. Egypt has denied the accusations. In June, unidentified gunmen crossed Egypt's Sinai border and murdered an Israeli worker.  Israeli Defense Minister Ehud Barak called the incident "a disturbing deterioration in Egyptian control of security in the Sinai" reports the Washington Post.Last month's Muslim Brotherhood victory in the Egyptian presidential elections has raised concern in Israel that its strategic 1979 peace agreement with Egypt could be in jeopardy.Israel's peace deal with Egypt, which ended decades of hostilities, is believed to be one of the cornerstones of Israeli security.So far, Egypt has endorsed the deal by keeping the Sinai Peninsula essentially demilitarized.  Meanwhile the newly-elected Egyptian President Mohammed Morsi stated his desire to befriend Israel's arch enemy – Iran by reconsidering the peace accord with Israel, a move that raised eyebrows in Jerusalem.
You can share this story on social media: