Tempering Iron Dome: US may spend $680 million on Israeli missile shield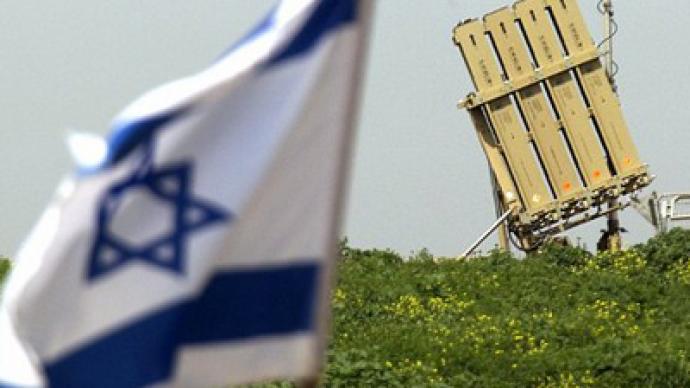 The US could fork out $680 million on strengthening the Israeli Iron Dome rocket shield. To help Israelis defend themselves, the Republicans are seeking to stretch an already enormous US military budget a little bit more.
The plan to push for funding for Israel's Iron Dome was disclosed by two congressional staff members, Reuters reports. The Obama administration earlier announced that an "appropriate" level of funding will be provided for this program, but did not request any specific sum for 2012, and thus Congress has not appropriated funds for it. Top Republicans criticized Obama for his lack of support for this "vital defense cooperation program," as it was called by Howard McKeon (R-CA) and Ileana Ros-Lehtinen (R-FL).The Iron Dome is Israel's most modern and efficient short-range anti-rocket interception system. It has reportedly intercepted over 80 per cent of an approximate 300 targets in March. Mobile units were moved around the country to bring down the rockets fired by Gaza militants at Israeli-populated areas. At the moment Israel has three of these systems deployed and by 2013 is expected to have at least nine units in operation. The Israeli military says the country needs up to 15 of these locally-manufactured units to adequately protect the largest urban areas.The US has already spent over $200 million co-financing Iron Dome deployment in 2011. However, for the election year of 2012, the US only approved $235 million to finance the lesser-known Israeli anti-missile systems "Arrow" and "Magic wand"(or David's Sling) types, leaving the Iron Dome behind.US military help to Israel would come as part of a $30 billion 10-year military-aid agreement signed by the Bush administration back in 2007. From 2009 till 2018 the US is granting Israel approximately $3 billion per year, 26 per cent of which Israel can spend on locally-manufactured equipment. Moreover, Israel is the only recipient of US military aid granted permission to use the funds on local development and the procurement of military hardware.About 60 per cent of total US foreign military financing in 2012 (excluding spending on "the global war on terror," or Overseas Contingency Operations) will be received by Israel. The Obama administration, as well as its predecessors, considers Israel to be the protector of peace in the Middle East, whose "strength and superiority in the region is critical to regional stability.""Israel is a long-term democratic ally and we share a special bond," the US assistant secretary of state for political-military affairs, Andrew J. Shapiro, said in November 2011, expressing the cabinet's commitment to preserving Israel's military superiority. "We don't just support Israel because of a long standing bond; we support Israel because it is in our national interests to do so."Besides the annual money transfers and hardware supplies, the US has established munitions stockpiles in Israel, which are not part of the military aid agreement. But although they are intended for use by and belong to the US military, in emergency situations they can also be used by Israel. The overall cost of the US munitions stored in Israel is estimated at around $1 billion in 2012.US aid represents about 20 per cent of Israel's total military budget. The aid is spent mostly on US-built military hardware and inventory build-up of cluster munitions, smart and bunker-buster bombs. Israel also announced it would spend $2.75 billion of US aid on 19 notorious F-35s, the fifth-generation stealth aircraft, whose development had already cost the US taxpayers some $382 billion.The National Defense Authorization Act (NDAA) for Fiscal Year 2012 authorized $662 billion in funding "for the defense of the United States and its interests abroad." With the "Overseas Contingency Operations," Department of Defense spendings will exceed $700 billion. And with all indirect expenses and interest on debt incurred in past wars the total military budget will exceed $1 trillion.Responding to the nation's anxiety about debt and deficit problems, US President Barack Obama has vowed to stop the frenzied rise in military spending. The defense budget is expected to grow by some $487 billion over the next decade. And even defense secretary Leon Panetta believes the budget can be reduced without posing a risk to national security.
You can share this story on social media: