Syria's Reconciliation Minister evades assassination attempt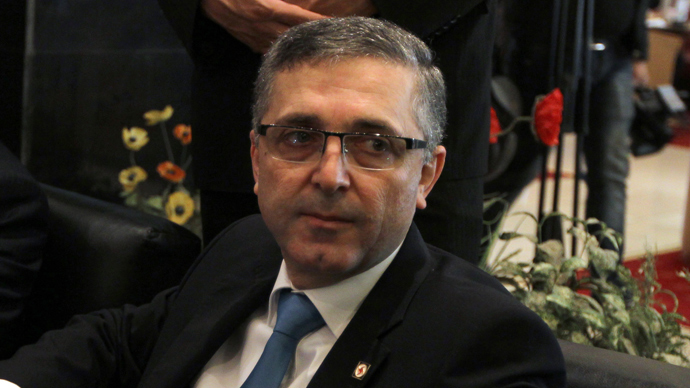 An attempt to assassinate Syria's National Reconciliation Minister failed after a convoy he was supposed to be traveling in was ambushed, state-run TV reported Saturday. His driver was killed but Haidar was not in the car.
Haidar's convoy came under crossfire on the Misyaf-Qadmous highway in central Syria.

In an interview to Syria TV station following the assassination attempt, Haidar said that "whistling bullets cannot drown out the voices of truth."
"Those who were shooting at my car, wanted to silence me. Obviously, they sought to neutralize me. But there comes a period, when the word is stronger than bullets, because people are tired of war," he said.
Haidar said the assassination attempt came at a "tipping point" for the country in its quest for a political settlement to the country's 2 1/2-year civil war, which has claimed more than 100,000 lives.
A number of Syrian government officials have been killed or targeted during since the revolt began in March 2011.
The 51-year-old Haidar, a former political prisoner under the Assad regime, was the leader of the Syrian Social Nationalist Party before becoming minister for national reconciliation in June 2012. Haidar belongs to the so-called "patriotic opposition," which has not supported the armed uprising but stands in opposition to President Assad's Baath Party.
The radical fighters in Syria now see Haidar as a stooge of the regime. One of his sons, Ismail, was killed by armed rebels in Hama in May 2012, shortly before he was appointed minister.

It was reported Saturday that a commander of the so-called Free Syrian Army (FSA), Colonel Riad al Asaad, had been reportedly missing for 10 days in Turkey, where he allegedly was planning to hold a number of meetings, Fars news agency reported.
Social media sites say that the news of him going missing was announced by his family.
Meanwhile, the main Western-backed Syrian opposition group says that all Syrian opposition groups willing to attend the Geneva-2 talks will be united under the umbrella of the National Coalition of Opposition and Revolutionary Forces (NCSROF), the coalition's vice president, Suheir al Attasi, told ITAR-TASS.
Another opposition heavyweight, the Syrian National Council (SNC), has already agreed to attend the proposed Geneva-2 peace conference.
In November, NCSROF announced that it would be represented at the Geneva-2 conference on the condition that the West provides aid and ensures humanitarian corridors for their strongholds. It has also agreed to the participation of a delegation from President Bashar Assad in the long-awaited talks, something the opposition has refused to consider in the past.
Russia, which along with the US is brokering the Geneva-2 peace conference, has long insisted that the Syrian opposition should formally agree to attend Geneva talks without any preconditions. Russia has argued that it is the West's responsibility to persuade the armed opposition to take part in the talks, while Russia will ensure the Syrian government's participation in the conference.
UN chief Ban Ki-moon announced Monday that the Geneva-2 conference will now be held in mid-December. UN and Arab League envoy to Syria, Lakhdar Brahimi, will try to fix an exact date during a meeting between US and Russian diplomats in Geneva on November 25.