Millionaire farmer seeks rent discount over heat and smog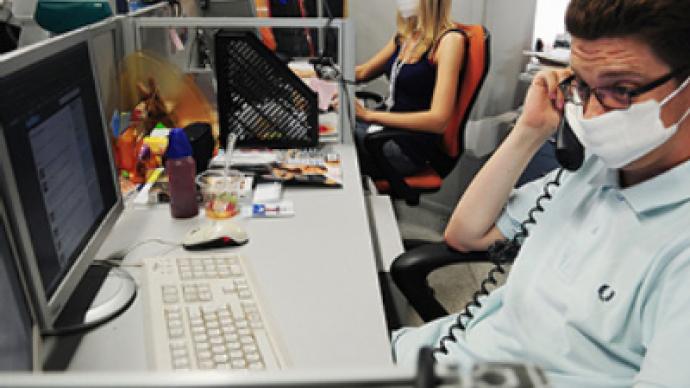 Citing the President's decree, a Moscow businessman has filed a complaint about the smog that hindered his company's work during the city's hottest summer ever.
German Sterligov, a former oligarch who sold most of his business and retired to a farm in the Moscow Region with his large family, is demanding through court that his landlord gave him a discount on an office lease for August. The office that Sterligov rents for one of his companies is also in the smog-hit Moscow Region.
Considering the exceptional heat in Russia this summer, and the wildfires that filled Moscow Region with heavy smog for several weeks, Sterligov, like several other business-owners, decided to put the activities of his company on hold. Starting August 4th, he sent his employees on 21 days' leave to prevent damage to their health.
In his claim, Sterligov emphasizes that President Dmitry Medvedev pronounced the Moscow Region a zone of emergency, which in his opinion qualifies as a solid basis for emergency waiver.
The amount sought by the plaintiff is 73,759 rubles, which is roughly equal to US$2,400.
Lawyers say that there is a chance of Sterligov winning the case, RIA Novosti wrote, which is likely to pave the way for a heavy flow of similar claims.
The Arbitration Court of Moscow has postponed the consideration of the claim until September 17th.
As several Russian regions beat temperature records this summer, forest fires raged, destroying whole villages and paralyzing life in Moscow. The wildfires claimed more than 50 lives and left several thousand people homeless. The state of emergency was ended on Monday, and so far the damage to Russia's budget is estimated at $400 million.
German Sterligov was one of the businessmen who made their huge fortunes building capitalism in Russia after the collapse of the Soviet Union. The owner of Russia's first commodity exchange, after around 15 years in business he sold his assets and holed himself up at a farm deep in the forests of the Moscow Region to practice subsistence farming and strict Orthodoxy. Later he resolved some of his business activities and was shortly afterwards accused of fraud by his business partners, although his firm survived. Sterligov openly advertises his nationalistic views and has joined one of Russia's nationalist movements.
You can share this story on social media: