Military Kicks Europe's Cocaine Habit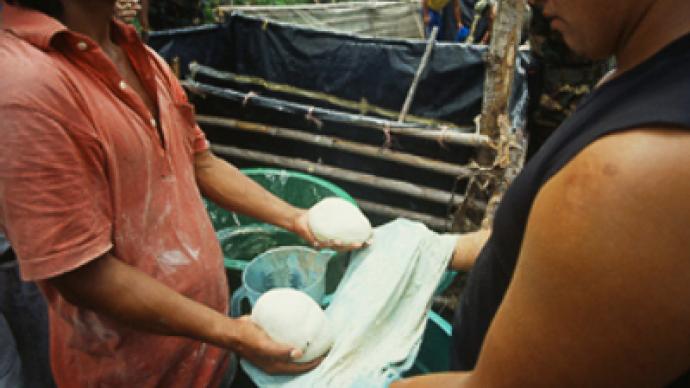 Most Europeans aren't interested in Guinea, but those who fancy cocaine may be interested to know that the new government has targeted their supply.
"A sniff here and a sniff there in Europe are causing another disaster in Africa," said Antonio Costa of the United Nations Office on Drugs and Crime. "Europeans looking for coke stimulation are destroying entire nations."
Guinea is one example. Although the West African nation is one of the poorest in the world, it was rich in opportunity for South American drug traffickers looking to fulfill Europe's cocaine desires.
Captain Moussa Dadis Camara appointed himself president. At the top of his presidential agenda are plans to bring down those "whose greed weakened the state of Guinea, especially those who tried to 'Columbianize' it."
A Perfect Environment
Almost every element that makes a country appealing to drug traffickers – location, poverty and corruption – was taken advantage of when Lansana Conte was President.
Guinea lies almost straight across the Atlantic from the tips of Columbia and Venezuela, meaning that a boat can deliver two tons of cocaine in about three days and a plane can deliver even faster.
The entire region is so poor that patrols and border guards don't require any real attention.
Mr. Costa said Guinea's neighbor, Guinea-Bissau, is so bad off that policemen don't even have paper or pencil to take witness statements.
Poor governments and impoverished people are easily enticed and attracted to illicit sources of income. Involvement in the cocaine trade became somewhat of an epidemic in Guinea. Members of the public and of the government were readily infected.
"Even public and private institutions found themselves directly or indirectly affected by this extremely powerful network," says a government statement.
Most notable of all is the complicity of former President Conte's family members, who were major players in what the current government calls an obscene business.
Under Conte Cocaine Flourished
In Conte's days, evidence of the cocaine trade was flagrant and protected by an umbrella of corrupt officials.
In a country where more than half of the population suffers poverty in shacks, huts and little houses with tin roofs held down by old tires and rocks, sumptuous villas emerged.
Although it's common to survive on less than $1 per day, South Americans drove around in gleaming 4-wheel drives with tinted windows carrying colossal sums of dollars and Euros. The roads became packed with others driving Infinitis, Acuras, Q7s and X5s.
Only about 16% of people have access to electricity but big offices opened and small planes from South America are regularly seen crossing the sky to and from rural areas.
Police Commissioner Moussa Camara reportedly told the BBC that some of his staff started reporting to work in limousines.
People knew and discussed openly the involvement of former President Conte's son, Ousmane Conte, who was an Army major but who owned several villas.
Undemocratic but Necessary
Now, the scene has changed. President Camara has set out full-force to crush the trafficking business.
Since those involved in the drug trade were so flamboyant and carefree about their wealth and activities, President Camara has spent hours interrogating them on national television, forcing them to admit their sins to the public.
Deceased President Conte's brother-in-law Saturin Bangoura was one to publicly admit his guilt. He also implicated Ousmane, who in turn, admitted his participation from a hospital bed with IVs in his arm.
Another of former President Conte's sons is still in hiding.
"Men who thought they were untouchable in Guinea have found their freedom taken away," the government statement says.
President Camara seized power the day after Conte's death. He announced that the Constitution was suspended and said:
"The Armed Forces of Guinea have decided to put an end to disorder, restore the authority of the state, fight against corruption to reinforce democracy and fight against poverty."
As a result of this undemocratic move, the United States suspended all non-humanitarian aid to Guinea. The West African Community of Economic States and the African Union suspended the nation. President Camara is continuing his operation despite these sacrifices.
Guinea's cocaine party is over. Europe will have to find another supply route.
Michelle Smith for RT
You can share this story on social media: