US heads 41-nation war games in Gulf, Iran fears conflict in volatile region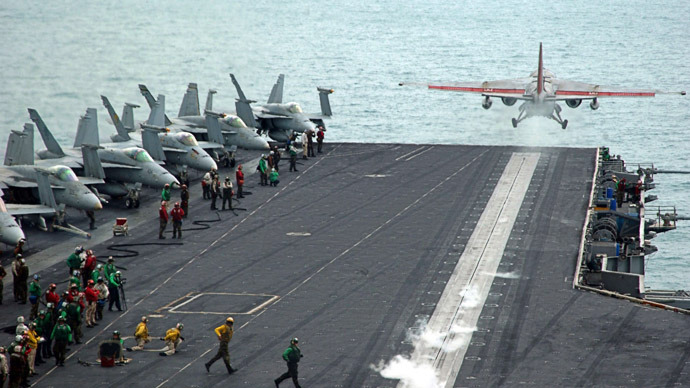 Massive US-led military drills began in the Persian Gulf in a second such show of maritime might in under a year. The US says the exercises are not aimed at Iran, who earlier vowed to close the Hormuz Strait, and now expresses concern over the drills.
The US Navy has issued a statement that the mass exercises are aimed at "enhancing capability to preserve freedom of navigation in international waterways." The drills will reportedly focus on mine-sweeping and search-and-seizure operations, and some on-shore training.

The Pentagon is directing the maneuvers, which will reportedly involve 35 ships, 18 unmanned submarines and unmanned aircraft. The 40 other countries participating in the drills have not yet been named; Britain, France, some Middle Eastern states, and nations as distant as New Zealand have previously participated in similar exercises.

The Obama administration has stated that the maneuvers are not a warning to Iran, and are intended solely to secure a key oil route in the region.
Tehran has said it will be monitoring the exercises, and voiced concerns about how the maneuvers come in the run-up to the Iranian elections.

Iran has previously threatened to close the Hormuz Strait, through which 40 percent of the world's oil is transported by ship, if "its interests are in serious trouble".  The US condemned the threats and warned that such a move would provoke US Military action.

The last drills of this scale were held in September 2012 in the Gulf, with 29 nations participating. At the time, Israel was pushing for a strike against Iran over its alleged nuclear weapons program.

Iran has also been building up its military presence in the area, and plans to deploy submarines to bolster its defenses. In January, Iran's Islamic Revolutionary Guard (IRGC) conducted military exercises in the Strait, stating that it was "prepared for any threat."

"Our present capabilities are incomparable to the past. Today, our youth, banking on the past experiences and modern science, have managed to show their capabilities to the world and be prepared for any threat," IRGC Navy Commander Rear-Admiral Reza Torabi was quoted as saying.

The US has punished Iran with heavy economic sanctions for its supposed atomic weapons program. Tehran has denied that it is producing nuclear weapons on a number of occasions, and maintains its atomic program is purely for civilian purposes.

Israel called on the US last year to strike at nuclear sites in Iran, but the Obama Administration refused, preferring to pursue sanctions as a means of curbing Tehran's supposed nuclear ambitions.

You can share this story on social media: