6.9 quake in Gulf of California - another strong tremor to shake Earth in 24 hours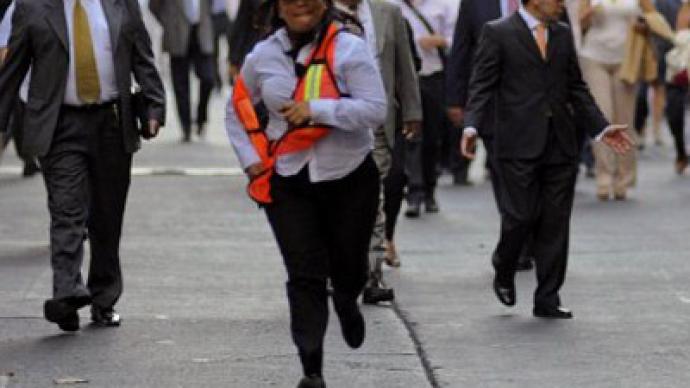 A 6.9 magnitude earthquake has jolted Mexico's California peninsula. The tremor's epicenter was 10.3 kilometers below the surface, and 133 kilometers from the town of Guerrero Negro.
No data about the quake's consequences is available at the moment.The shock follows a less powerful 6.4 tremor that shook the mountains of western Mexico on Wednesday. It made tall buildings sway in Mexico City, 322 kilometers away, sending people rushing out of buildings on to the streets.This was the latest strong earthquake to jolt the planet in the last 24 hours. On Wednesday, an 8.6 quake off Indonesia was followed by a series of powerful aftershocks up to 8.2 in magnitude. Five people died as a result. The tremors off Sumatra's Aceh province put the entire Indian Ocean region on tsunami alert, prompting people in coastal cities to rush for higher ground.A tsunami that followed a similar earthquake off Aceh in 2004 killed nearly 230,000 people, most of them in Indonesia.Mexico has been no stranger to quakes in recent weeks.On March 20, a powerful 7.4 shock struck the country's southwest, killing two and injuring 13 people. Thousands of houses were damaged. The quake was followed by hundreds of aftershocks, ending with a 6.3 magnitude jolt that rocked southwestern and central Mexico on April 2.
Oleg Starovoit, PhD, deputy director of the Geophysical Service of Russia's Academy of Sciences, stressed to RT that the earthquake off Sumatra was extremely powerful."Had it happened in a densely populated area, the resulting damage would have been catastrophic," he said.Fortunately, the feared tsunami never happened, because the subplates of the seabed dislocated in a horizontal direction, not a vertical one. Otherwise, the devastating tsunami of 2004, which wrecked the same region, could have been repeated."The region we are talking about (the earth's crust near Sumatra) has come alive and will be shaking for a long period of time. There have been repeated aftershocks of up to 5.6 in magnitude. My estimates are, it will take a month or even longer for this process to calm down," Starovoit estimates.The scientist also pointed out that the Indonesian earthquake consisted of two very powerful shocks, 8.5 and 8.2 in magnitude, with further tremors after just a couple of hours. "This is definitely a phenomenon out of the ordinary, that needs profound research and examination," Oleg Starovoit concluded.
You can share this story on social media: