Yankee, come here: Mexicans want US to clean up War on Drugs mess
Published time: 16 May, 2012 14:12
Edited time: 16 May, 2012 18:12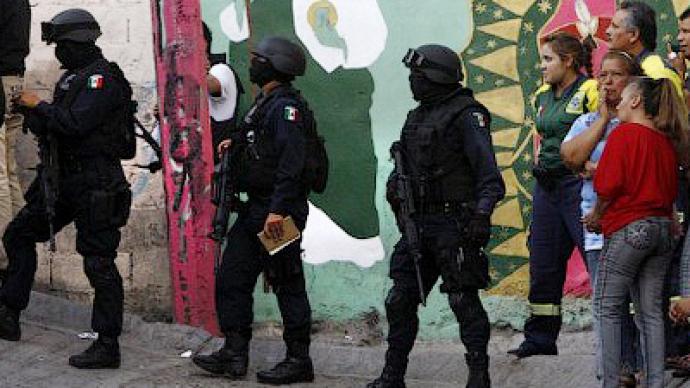 More than half of Mexican voters want America take a bigger role in fighting against Mexican drug cartels, a pre-election poll shows. They want the US to take more responsibility for the violence, which they partially blame on the northern neighbor.
­As many as 28 per cent are even willing to see American troops or anti-drug agents deployed in Mexican territory – a surprising result in a strongly nationalistic country with a record of grudges against the US.
The number of those who would oppose such presence is also surprisingly low, says Jorge Buendía, president of Buendía & Laredo, an independent Mexico City firm that conducted the poll for The Dallas Morning News, its Spanish-language publication Al Día and the Mexican newspaper El Universal.
"That tells you that Mexicans are really, really tired of this drug war, and they would rather see an end sooner than wait years fighting this by themselves. Because they see that the United States is much to blame for the problem, Mexicans are becoming that much more pragmatic and tolerant about alternatives," Buendía explained.
Some 74 per cent of those polled say America is not doing enough to stop the flow of weapons across the border, which contributes to the street bloodshed. Since 2006, when President Felipe Calderón took office and launched a military-led offensive against drug lords, more than 50,000 people have died in the violence.
In the latest such occasion on Sunday, the Mexican military discovered 49 headless bodies dumped on a highway connecting the border city of Reynosa to the northern metropolitan city of Monterrey.
"The United States can do a lot to help. They can stop consuming drugs, sending so many weapons," Rosa Leonor Valladares, 38, told the Dallas Morning News. She added that the US should send troops or drug agents "to work side by side with our people, because there is so much corruption on our side that they are easily corrupted by drug traffickers."
Mexican laws prohibit foreign troops or police from operation in Mexico. They also have many restrictions for foreign nationals, which would, for example, make it difficult for them to carry weapons. Nevertheless, some US agents and civilian employees are assisting Mexico's military in the war against cartels, serving as advisors.
Skeptics, however, point out that no Mexican politician would actually allow American troops to be deployed in the country.
Mexicans' support of the war on cartels is "not an argument that the US should have large numbers on the ground in Mexico," blogged Latin America security analyst James Bosworth. "That would be a disaster. Those numbers would quickly reverse to enormous opposition once the troops were actually there."
The poll was taken as Mexico is heading to presidential election coming summer. The ruling center-right National Action Party (PAN) is expected to lose to the moderate Institutional Revolutionary Party (PRI), which held power in the country for seven decades until 2000.