Merkel demands clarity on NSA's role in Germany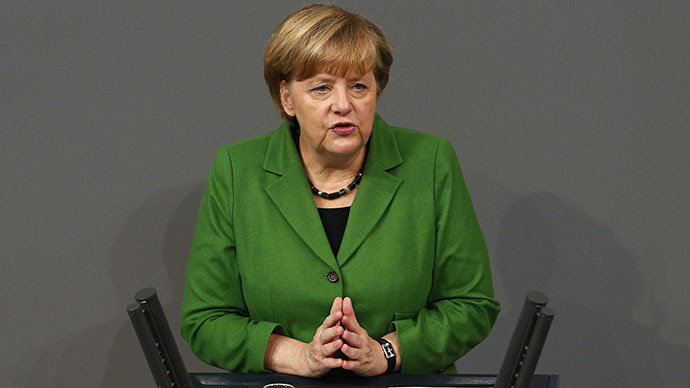 German Chancellor Angela Merkel has demanded that Washington give Germany clarity over the future of the NSA in the country, stating that the practice had put transatlantic ties "to the test." "The allegations are grave," she said.
Merkel kicked off the session by tackling the controversial issue of the US tapping her personal phone calls and the "millions" of associated NSA data intrusions on German soil. She labeled the clarification as "the basis for the creation of a new transatlantic confidence," speaking in the Bundestag on Monday.

Merkel continued to state that "therefore also the negotiations for a free trade agreement are presently, without doubt, being put to the test," adding that "new confidence must be built" in the future. 

"The silence means there are all sorts of conspiracy theories," added Interior Minister Hans-Peter Friedrich.
The Bundestag address was intended chiefly to address EU relations with eastern European states – specifically Ukraine. Germany and Ukraine have arranged to sign a deal towards the end of November, in what would be seen as a major step for Ukraine to enter the bloc. However, Elmar Brok, chair of the EU's Committee on Foreign Affairs has told Deutsche Welt that without the release of Yulia Tymoshenko for medical treatment there wouldn't be an agreement.

However, the speakers focused predominantly on German relations with America, the role of NSA whistleblower, Edward Snowden, and whether he should be offered asylum in Germany.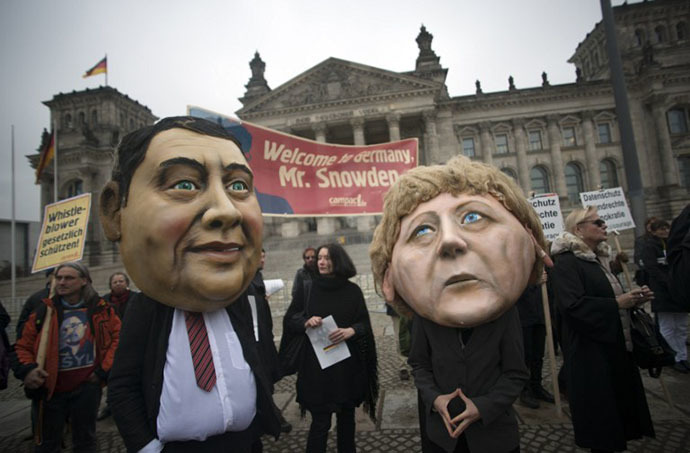 Revelations that Merkel's phone may have been tapped by the NSA emerged in October. A German poll conducted within the last two weeks indicated that Germans' confidence in the US as a trustworthy partner has plummeted following the NSA scandal.
Edward Snowden, who exposed America's spying on its allies, is considered a hero by 60 percent of the population, according to a survey conducted by public broadcaster ARD and Die Welt daily.
As Merkel made her speech, protesters gathered outside the Bundestag, many of whom were there to demand that Edward Snowden be granted asylum in Germany.

They have handed a petition to the chairman of the relevant parliamentary group, with over 150,000 signatures in support of their demand. They say Snowden should be welcome on German soil after his actions.
Shortly afterwards in the Bundestag session, opposition leader, Dr Gregor Gysi, called for Snowden to be given the Nobel Peace Prize, declaring that "he earned it." Gysi also lambasted Merkel's timid stance towards the US, stating that: "Moral cowardice is no good basis for friendship."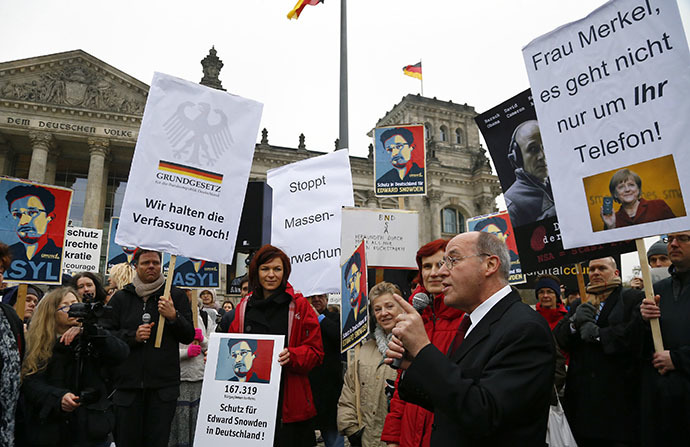 The Green Party's Hans-Christian Ströbele, who met with Snowden in Russia contributed to a New York Times editorial on Sunday, saying that "Without him, Ms. Merkel would still be a target for monitoring… We Germans owe Mr Snowden thanks and appreciation — and a safe and permanent residence in Germany."
"Why should the NSA tell the truth to the German government when they repeatedly tell lies to their own Congress?" asked Social Democratic Party politician, Thomas Oppermann. 
German NDR public broadcaster and the Süddeutsche Zeitung newspaper reported on Friday that US agencies have managed to run global anti-terrorism programs – including tortures, kidnappings and drone strikes from German bases. The US still has some 30,000 troops stationed in the country. Additional concern was generated last week when it emerged that US intelligence agents could conduct arrests at German airports.

"An American intelligence contract firm, which works for US NSA and planned kidnapping flights for the CIA, still receives contracts worth millions from the German government," the NDR 'Panorama' investigation stated.

Interior Ministry spokeswoman, Mareike Kutt later told reporters that they "are not allowed to make decisions regarding sovereign measures in Germany, such as arrests."

You can share this story on social media: