The memoirs of a prisoner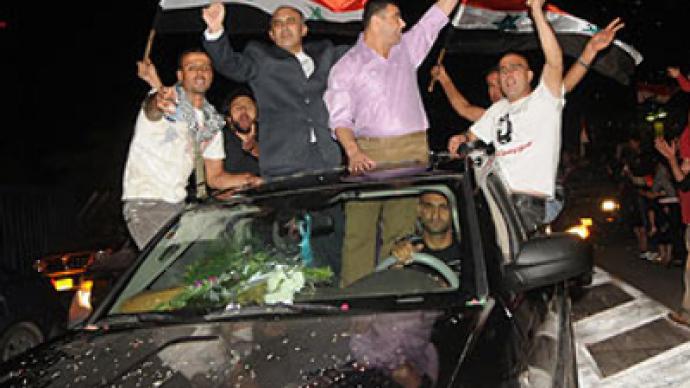 Stuck in between two states and unwittingly linked to a conflict with a third one – two Druze security prisoners have returned to the Golan Heights after the airing by Hamas of Israeli prisoner Gilad Shalit's video.
"Prison was a school of life," says Bisher Suleiman Ahmad Maqt, 44, who spent more than half of his life in Israeli prisons. Above him is a photo of him with his brother, smiling, with a background of waterfall wallpaper taken by an Israeli prison photographer. It took them 15 continuous days of hunger strikes for this photograph and others to be allowed, he says.
"Most of the prisoners' rights were won by hunger strikes!" said Bisher, who recalled the most memorable one in 1992 when all prisoners in Israeli jails went on a hunger strike for 15 days. Beside the photograph is a needlework of the Syrian flag. His brother Sedky is still behind bars.
Assem Mahmud Ahmed Wali, remembers the longest hunger strike in 2005, which was for 18 days. "You take salt and water only in the beginning, and if the conditions don't change, you stop taking salt and just stay on water." Bisher told, "We asked for stoves, fans, open education, to extend the period of family visits, we did succeed to increase it from 30 minutes to 45, fifteen minutes extra! We arranged to be photographed in jail for our families since 1993 through these hunger strikes. There were no photographs of prisoners from 1967 to 1993, you could die in jail and your family [in Syria] would not even recognize you."
Assem, 42, loves painting. He is adept with colours in his symbolic paintings, which have a certain naïve charm. "The horse is red, symbolizing revolution," he says of his painting where Hafez Al-Assad, the late Syrian president's spirit is carried by an eagle to space, eternity, leaving a rainbow and a small planet Earth behind him. It was one of the works that Assem did while inside.
A month ago, Bisher and Assem walked out of Gilboa prison gates after 25 years of imprisonment.
As he waited in his army base in the Golan Heights for his parents' visit, 19-year-old Gilad Shalit had little idea of how his life would become linked to Bisher, Assem and hundreds of Palestinian prisoners in Israeli jails. At the time of that visit, in late 2005, Gilad was a raw recruit. Some months later he would be posted to the borders of Gaza, and on a sunny morning at the end of June 2006 he would be captured by Hamas in a rare cross-border raid, in which four people died. Gilad's family received only three letters as proof that he was alive since his captivity. The International Committee of the Red Cross (ICRC) has been trying in vain to provide him with the rights accorded to prisoners of war under the Third Geneva convention, which defines humanitarian protection for prisoners such as health checks and correspondence with families. Shalit became Israel's obsession – posters, books, and newspaper articles.
The Gilad Shalit video was released by Hamas on October 2. The 23-year-old spoke of his memories in the Golan Heights with his family and his hopes of being freed. In exchange for this video, the Israeli government freed 20 Palestinian women and two Druze security prisoners – Bisher Suleiman Ahmad Maqt and Assem Mahmud Ahmed Wali, both sentenced for 27 years. Osama al-Muzaini, a senior Hamas member responsible for the prisoner exchange negotiations, said that the Druze prisoners were on the list for the videotape deal. However, the Israeli government explained it as a "goodwill gesture".
Backroom negotiations are being held between Israel and Hamas sponsored by Egypt and mediated by Germany to release Gilad Shalit in exchange for 1000 Palestinian prisoners, including West Bank Fatah leader Marwan Barghouti and Ahmed Saadat, secretary general of the Popular Resistance for the Liberation of Palestine. However the deal is pending the agreement of prisoners names. Israeli MP Daniel Ben Simon said that a prisoner swap deal could go ahead in the next "week or two". "The whole matter is about a struggle in politics," concluded Assem.
"The media balances the scale." The media alters the prisoner exchange "scale" by its attitude toward Shalit's symbolism he said, adding that, "Thousands of Palestinian prisoners do not equal Shalit!" Assem explained that it is not that Israel needs the return of Shalit – more that it is the serious pressure on Israel to recover Shalit at any cost.
Assem drew a caricature of Nicolas Sarkozy holding the Eiffel Tower in one hand and Gilad Shalit in the other, Shalit is heavier. Israel holds around 7,000 Palestinian security prisoners in its jails, according to the Israeli human rights group B'Tselem. There are currently eight Druze prisoners still in Israeli prisons, according to the ICRC.
Bisher and Assem received a heroes' welcome in the Golan village of Majdal Shams riding in an open roof car, Syrian flags and crowds lined each side of the road. The Syrian media heaped praise on their patriotism and their loyalty.
Bisher was born in the Syrian Golan in 1965, while Assem was born in the Israeli occupied Golan in 1967. Both men attended the same Elementary school in Majdal Shams watching their families fighting for the return of the occupied Golan. They saw their land ruled by Israel, cutting them off from what they knew as a motherland – Syria. Bisher and Assem joined the Secret Movement for the Liberation of Golan while high school students. They grew up on insurgency, patriotism and the smell of gun powder.
In the Golan office of the Red Cross (ICRC), which arranges family visits to prisoners, Assad Safady explained why there were more prisoners in the past: "After the Oslo accords, people started to think that negotiations will lead somewhere."
But back in the 1980s, it was a turning point for the Golan Druze political and military resistance; the annexation of the Golan to Israel in 1981 and the public strike of 1982 against Israeli citizenship. The end result was that Golan Druze are to this day ruled by Israeli law, but for the most part refuse Israeli citizenship.
Bisher's father, Suleiman Ahmad Maqt, lived in both countries – Syria and Israel – without leaving his village, Majdal Shams. "We are Syrians and under Syrian law even though being here [in Israel]," he proudly declared from under his thick white mustaches – a sign of Druze sheikhs.
Bisher's father has his own lengthy security file with the Israeli security services and five sons, including Bisher, with prison numbers. "My wife didn't see her relatives and homeland for 42 years," Suleiman points at a woman graced with age sitting beside him, who he married in 1960, prior to the 1967 war when the Golan was Syrian. Most Druze families in the Golan are separated from their relatives in Syria. The state of war between the two countries makes family reunions next to impossible, except in special cases – education, pilgrimage and medical emergencies.
And prison cells do nothing to quench feelings of rebellion. Sameh Auby, who was in and out of Israeli prisons in the 1970s and 1980s for his involvement with the Syrian secret service, talked about a so-called "prison literature". He explained that the literature which bloomed in Israeli prison cells was by the Popular Front for the Liberation of Palestine (PFLP), a Marxist, secular political party, starting from 1972. The prison literature focused on political sciences, foreign languages, and Marxist philosophy. "In the prisons, it was more of an intellectual resistance," Sameh said.
Assem said that he used to read a lot in jail on philosophy, politics, literature and languages: "Now I want to continue my studies. I want to study philosophy. I would like to explore the world, meet different people, paint and learn languages."
Assem is eager to catch up with the quarter of a century he spent behind bars, watching the world change in front of him through television and newspapers. Bisher still does not have definite plans for the future. He is thinking of starting up his own apple business, as apples are the prime source of income for the Golan Druze.
"I don't feel that Majdal Shams has changed after 25 years of separation. People's patriotism and pride is still the same," Assem reflected. Both Bisher and Assem feel that only the appearance of Majdal Shams has changed, but not people's spirit. They feel that prison was a school of life. They had their own resistance behind bars, they adapted, they went on hunger strikes, they learnt literature and languages and they kept on growing up. Now they want to catch up with the world that went on without them.
Mona Abouissa for RT
You can share this story on social media: