Libya's crisis can be settled only if both sides lay down arms – Medvedev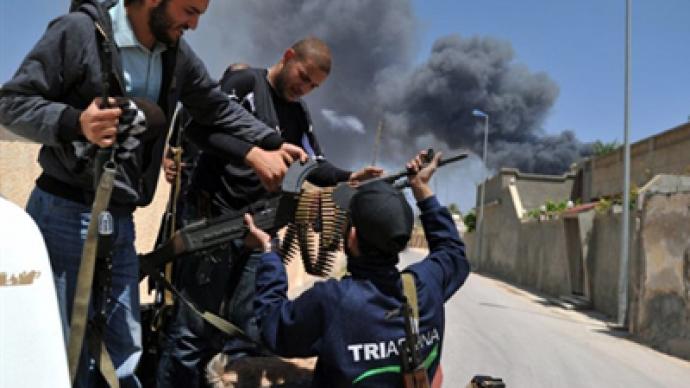 Russia's President Dmitry Medvedev criticized NATO's extensive use of force in Libya at the joint press conference with Austrian President Heinz Fischer in Moscow. Fischer replied in his speech that the UN resolution on Libya had been misapplied.
"There are still ways to resolve the existing deadlock – I mean the situation in Libya – which I believe can be settled only peacefully, through the renunciation of the use of military force by both sides," Medvedev said. He reminded that Moscow had proposed itself as a talking ground to negotiate an end to this conflict.President Fisher, in his address, replied that the main purpose of the UN resolution 1973 on Libya was to protect civilians. "I believe it was a right decision to adopt the resolution, but it should be applied properly," Fischer said. "Military force should be used only if sanctioned by the UN Security Council and strictly in accordance with definite tasks set by the UNSC."Their statements come on top of NATO Secretary General Anders Fogh Rasmussen briefing in Slovakia the same day. Speaking at the joint press conference with Slovakian President Ivan Gasparovic, Rasmussen said Gaddafi's military power has been significantly degraded, which would lead to the eventual collapse of his regime and promised to continue pressing the regime until its eventual collapse."We will keep a strong military pressure on the Gaddafi's regime, and I'm confident that a combination of strong military pressure and increased political pressure and support for the opposition will eventually lead to collapse of the regime," Rasmussen said as cited by Agence France-Presse news agency.Rasmussen also specified the goals NATO is pursuing in the North African country. The goals included the end of attacks on the civilian population, the return of regime forces to their bases, and enabling the establishment of humanitarian operations for civilians, he said, according to Deutsche Presse-Agentur news agency.Moscow bureau chief for Britain's 'Times' newspaper Tony Halpin, referring to President Medvedev's personal press conference on Wednesday, remarked that Medvedev appeared to somewhat regret Russia's support of the resolution on Libya. "He [President Medvedev] was quite strong in saying that the actions are currently going beyond what he thought he was voting for. So I think, internationally, people will take a note of that, because it will signify Russia's increasing unease at what is going on in Libya and, more broadly, in the Middle East. But I did not detect a sense from Mr Medvedev that the Security Council was not the proper forum in which these things should be discussed," said Halpin.
You can share this story on social media: