Assad not crazy, needs guarantees – Medvedev
Published time: 1 Nov, 2013 09:32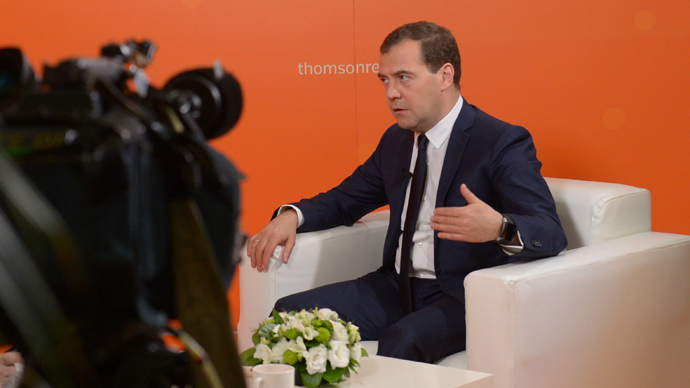 Proposals to end the Syrian conflict that ignore President Assad are not feasible, Russia's Prime Minister says. Hailing the success of the chemical weapons plan, Medvedev stressed the international community needs to keep working for a peaceful solution.
In an interview with Reuters, Prime Minister Dmitry Medvedev urged Russia's international partners "not to let the situation spiral out of control."

He accepted that significant progress had been made on the chemical weapons front. Damascus met its deadline of destroying "the critical equipment which is needed to run their chemical weapons production facilities" on Wednesday, according to the UN Watchdog.

Recognizing the breakthrough, Medvedev said it was important to get up the diplomatic pressure and reach a practical solution to the conflict that involved President Bashar Assad.

"The proposals to find an arrangement by ignoring President Assad are not feasible while he remains in power," noted Medvedev, adding that Assad "is not crazy; he needs to get some guarantees or proposals on the development of the political dialogue in Syria, possible elections and his personal fate."

Referencing the Arab Spring movement that led to the ouster of Egyptian President Hosni Mubarak in 2011, Medvedev said that Assad needed guarantees of his safety.

"You can't just tell him, 'Get out of here and we'll then sort it out.' It's a complicated process and all the sides, both the opposition and the regime, have to make concessions."

Representatives from the Syrian opposition refused to take part in the Geneva-2 peace talks last week. Members of the opposition have said they are not prepared to take part in negotiations to end the conflict unless Assad steps down immediately.

A total of 19 Syrian rebel groups stated they would not be attending and said that if any opposition figures participated it would amount to 'treason'.

Russian Foreign Minister Sergey Lavrov has urged those who wield influence with the opposition to persuade them to come to the bargaining table.


Chemical weapons

The deal for the destruction of Syria's chemical weapons stockpile marked a milestone in the battle to bring an end to the conflict. The Russian proposal has so far been hailed a success by the UN Watchdog, which says that 21 out of 23 chemical weapons sites across Syria have been visited.

Russia, along with a number of other nations, has offered its support in the destruction of Syria's weapons. The government has allocated around $2 million to help with the plan and will send military experts to Syria, reports Russian newspaper Kommersant. In addition, Russia may offer vehicles to transport some of Syria's chemical weapons arsenal out of Syria.