North Korea imposes martial law, orders troops to 'be ready for war' - report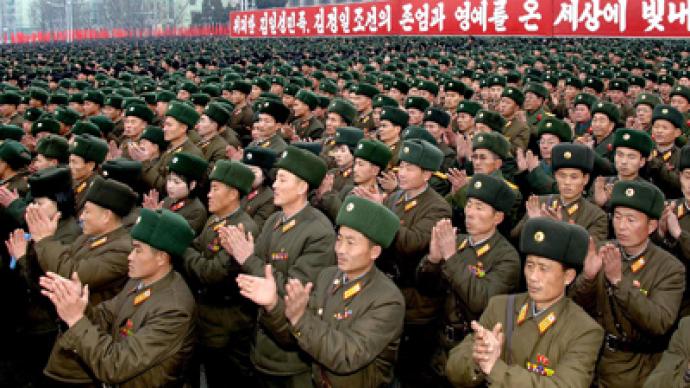 North Korea has allegedly been placed under martial law and its ruler Kim Jong-un has ordered the army to "prepare for war", a South Korean daily claims.
The North Korean leader issued a series of orders to his top defense and security officials on Saturday to conclude preparations for a new nuclear test, the Seoul based Korea JoongAng Daily alleges citing an unnamed source.The source reportedly said that Kim Jong-un issued a secret order to "complete preparations for a nuclear weapons test <…>and carry it out soon". According to the source, Kim Jong-un also said, "The country will be under martial law starting from midnight January 29th and all the frontline and central units should be ready for war."The source told the South Korean daily that the nuclear test could come earlier than expected. Other analysts have said it would likely be held on February 16th, the birthday of the former leader Kim Jong-il, who died in 2011. Another suggestion as to the test's timing included February 25th, the inauguration day of South Korean President-elect Park Geun-Hye, the Korea JoongAng Daily reported.   North Korean media also reported that Kim Jong-un told his top defense officials to take "effective, high-profile state measures" at a meeting on Saturday. The alleged measures come amid a new spike in tensions caused by a new round of sanctions on North Korean entities and individuals, including travel bans and asset freezes, which were passed unanimously by the United Nations Security Council in December 2012. The Security Council, including China, backed Resolution 2087, after Pyongyang carried out the launch of a long range rocket in December 2012. Pyongyang claimed it was for the peaceful launch of a satellite, but critics say it was a thinly veiled test-firing of an intercontinental ballistic missile. Since the resolution was approved North Korea has issued a number of warnings, including a statement on the day it was implemented, that there will be "no more dialogue or denuclearization."  It also threatened "all-out war" against Washington, which it said was its sworn enemy and blamed for leading the sanctions.  However, the source also said that Kim Jong-un is concerned about China's reaction to a nuclear test."China is still useful to us. We need to be careful of the relationship with China," Kim allegedly said at the meeting. A South Korean government official told reporters Wednesday that satellite images had discovered increased activity and movement of equipment near the Punggye-ri nuclear test site in the northwest of the country and that the mouth of the test shaft had been sealed in readiness for a nuclear test. According to the report in the Korea JoongAng Daily, the South Korean military, as of Tuesday, had not detected any movements in North Korea's frontline units.The President of South Korea, Lee Myung-bak, has ordered the military to make a "strong response" to any provocation from North Korea.The last time North Korea was placed under martial law was in March 1993, just days before it withdrew from the Treaty for the Non-Proliferation of Nuclear Weapons, and the regime also ordered its troops to be ready for war. North Korea carried out its first nuclear test in October 2006 and conducted a second underground blast in May 2009.There is also international concern about whether Pyongyang will use highly-enriched uranium to get better results in its third nuclear test. Previous tests used plutonium, were detonated underground, and had reportedly limited success.
You can share this story on social media: