Russian envoy in Tripoli with peace mission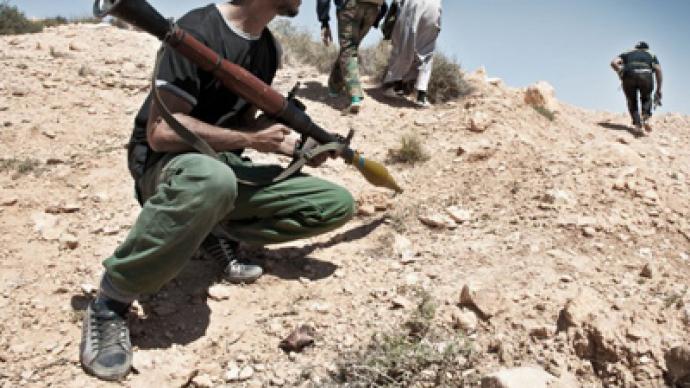 Russia's presidential envoy Mikhail Margelov has met Colonel Gaddafi loyalists in the Libyan capital to discuss the fate of Libya's leader and a political way out of the civil war.
Russia's help is welcome in trying to settle the situation in Libya, the Russian president's special representative for Africa, Mikhail Margelov, told journalists after his meeting with Libyan Prime Minister Baghdadi Mahmudi."Tripoli is expecting to see an immediate ceasefire, before a peace process can begin," Margelov told RT, summing up the results of his visit to the Libyan capital. "It's also refusing to discuss the departure of Colonel Gaddafi from the political scene. There is a dialogue going on between the warring sides, but for these talks to bring any result Tripoli says a ceasefire must be put in place, and international mediators need to keep regulating the process. One thing is clear – Russia is very welcome as a mediator, both in Tripoli and in Benghazi. We will keep working together."The Libyan government told the Russian envoy that there was an ongoing dialog between the opposing sides in the conflict."Direct contacts between Benghazi and Tripoli exist and the [Libyan] prime minister said that another round of consultations between Tripoli and Benghazi was held yesterday,"  Interfax agency quotes the Russian envoy as saying. "Muammar Gaddafi is not ready to leave the post of Libyan leader," Margelov told journalists after his negotiations with the Libyan Foreign Minister Abdul Ati al-Obeidi. "To my direct question whether Gaddafi is ready to give up political power at the moment of ceasefire or right after that, my interlocutor said to me that, according to him, Gaddafi is not ready to do that," Russian Itar Tass agency quotes Margelov as saying. Earlier on Thursday the Russian presidential envoy told reporters "Colonel Gaddafi does not fit with the Libyan future."  He also added that Gaddafi "has time to quit politics. The International Criminal Tribunal might soon make a judgment on the Gaddafi case."Libyan leader Muammar Gaddafi decided to stay away from a meeting with the Russian envoy, postponing the meeting until Margelov's next visit to Tripoli, reports TASS agency. "A meeting with Muammar Gaddafi wasn't scheduled in advance and there will not be any, in fact," Margelov said upon the completion of talks in Tripoli. "As we were meeting with Prime Minister Baghdadi Mahmudi, I was told the Libyan leader had made a request [for me] to have a meeting with him during my next visit to Tripoli," he added.During his visit, Margelov hoped to broker a ceasefire deal that will end the violence. He said he does not expect the negotiation talks in Libya to be easy, nevertheless, "they will allow us to establish whether there any minimal resources for a peaceful end to the conflict."The visit to Tripoli is part of the Russia's peace-mediating mission in the protracted conflict. Moscow has been insisting all the time that a non-violent negotiation is the only way out of the crisis. Margelov claimed that a compromise can only be reached if both parties agree to begin negotiation. Last week the Russian envoy met with the Libyan opposition and with Gaddafi's cousin, who represents the political elite of Tripoli. After these meetings, Margelov announced that both sides have a mutual understanding that the crisis should be resolved with peaceful means. It is too early to say whether or not Russia's efforts will help to bring peace and stability to Libya, but many people on the ground are hailing any attempts to end the war. People in Libya are exhausted after months of war that have taken many lives and seriously damaged the country's infrastructure. Due to fuel shortages, people have to spend hours and even days in lines at the gasoline stations.In the meantime, NATO continues to strike Tripoli, which has allegedly already led to some civilian casualties. As RT's correspondent in Tripoli reports, people are beginning to become frustrated and angry with the ongoing war, wanting to get their normal lives back. Frustration s high among the rebels as well as they fear NATO is taking control of what they consider a national uprising.
Investigative journalist Wayne Madsen has just returned from Tripoli and says the mood on the ground there is quite different to what the Western media is reporting. "There are actually some people who originally joined the opposition, but with the NATO attacks they figured 'OK, we may not be happy with Gaddafi but at least he is a Libyan national' and some of them have actually gone back to support Gaddafi," he states. "There has also been a general amnesty where some rebels have gone back to support Gaddafi. We saw spontaneous pro-Gaddafi demonstrations on the roads from the Tunisian border into Tripoli. You hear people say 'God, Muammar Gaddafi and Libya are all we need.' So this is what is spoken by people in the streets. These were not shields paid by the government. These were people you just meet in various places in Tripoli."
The former British ambassador to Libya, Oliver Miles, told RT the Russian special envoy has a difficult task in Libya:"The two sides are far apart at the moment, but there has got to be negotiation. If Russia can bring the two sides together, it will be fine."According to Miles, the trouble with the negotiating positions is that at the moment they seem to be contradictory. On the one hand there are rebels in Benghazi who want Gaddafi to go, and on the other hand Gaddafi himself who wants to stay. "But I am sure a compromise will come," said Miles. The former British ambassador believes Gaddafi will be very tough in defending himself from all kinds of attacks and it will not be easy to persuade him to go.Miles also stated that Gaddafi's support will melt away one day:"The tendency is sliding in the direction Gaddafi has to go. There will be a stand-off for some time and in the end his position will be weak and he'll have to go," maintained Miles.