Mali in crisis: Increasing numbers of French troops engage in direct combat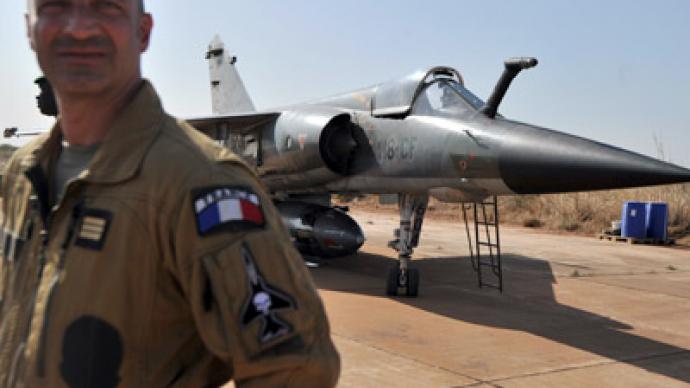 After a week of intense airstrikes, French troops engaged in direct combat with Islamist rebels in central Mali. Paris has continued to increase its military presence in the African country, despite Islamist threats to strike the "heart of France."
­On Thursday, French Defense Minister Jean-Yves Le Drian revealed that a French contingent in Mali has already increased to 1,400 personnel, from an initial deployment of 550. On Tuesday, Paris announced plans to deploy 2,500 troops – including French Foreign Legionnaires – into Mali, a former French colony.
Initial clashes between Islamist rebels and Malian and French ground troops erupted after they surrounded the rebel-controlled city of Diabaly, 400 kilometers from the capital Bamako, Xinhua reported.

About 200 French soldiers took part in the operation, a Malian security source told Xinhua. According to witnesses, women and children fled the town before the operation started.
Al-Jazeera has reported that fighting took place about two kilometers away from the center of the city, "away from the civilians." Rebel forces have also clashed with Malian troops "[supported] by the French army" near the central town of Konna, a source told Al Jazeera.
Nigerian troops are expected to arrive in Mali on Thursday, and forces from Niger will be deployed soon on the Mali-Niger border, said Aboudou Toure Cheaka, special representative for the president of the Economic Community of West African States (ECOWAS).
Senior diplomats of the EU's 27 member-states have agreed to send 200 instructors and some security personnel to train the Malian army in fighting Islamist militants.
­
In response to France's engagement in the conflict, the leader of the al-Qaeda-affiliated of Movement for Oneness and Jihad in West Africa announced that the rebels would strike the "heart of France" for their "attack on Islam."
On Wednesday, reportedly in retaliation to the ongoing French military campaign, a group of heavily armed militants raided a BP oil plant in Algeria, killing three foreigners and taking 41 hostage.
Michael Maloof, a former Pentagon official, told RT that al-Qaeda plans to use Northern Africa as a launch pad to gain access to Europe.
"This demonstrates how the al-Qaeda in the Maghreb, in the Islamic Maghreb, basically are coordinating their activities," Maloof said. "And this is part of the overall al-Qaeda plan to basically take that northern part of Africa as a stepping stone into Europe itself – and there have been threats in Paris already by Malians."
These "Malian rebels" are very well trained, Maloof explained, as they've been prepared for and involved in operations not only in Mali but in Libya as well.
"And what is really tragic is the fact the US trained the now-terrorists who basically defected from the government and know many of our activities, and know how we operate from a special forces standpoint and can use them against us," he said. "Now they've joined forces with AQIM, which is al-Qaeda in the Islamic Maghreb."
 "So this is a very dicey situation," Maloof added. "It also represents a potential long-term Afghanistan-like effect for France itself, and inadvertently it could suck the United States back yet into another war."

A French army officer stand guard on January 16, 2013 while Malian president welcomes service at the military airbase in Bamako. (AFP Photo/Issouf Sanogo)
A French Army Land Rover and pallets of rations are seen on a Royal Air Force C17 cargo aircraft as it prepares to leave for Bamako in Mali from Abidjan in the Ivory Coast, January 16, 2013. (Reuters/Andrew Winning)
French soldiers prepare their ammunitions on January 16, 2013 at the military airbase in Bamako, before their deployment as part of the "Serval" operation against Islamists occupying northern Mali. (AFP Photo/Issouf Sanogo)
French troops from the 21st Rima (French Navy Infantry Regiment) arrive near the town of Markala to secure a strategic bridge on the Niger river on January 16, 2013 after leaving the capital Bamako Bamako the day before. (AFP Photo/Michel Moutot)
A French army helicopter arrives on January 16, 2013 at the military airbase in Bamako, as part of the "Serval" operation against Islamists occupying northern Mali. (AFP Photo/Issouf Sanogo)
This handout picture released and taken on January 15, 2013 by French Army Communications Audiovisual office (ECPAD) shows French soldiers carrying munitions at Bamako military airport as part of the "Serval" operation in Mali. (AFP Photo/Jeremy Lempin)
An Ivorian officer (sitting at R) and other ECOWAS army officers prepare a document during a meeting of chiefs of staff on January 16, 2013 at the Mali peacekeeping traning center in Bamako. (AFP Photo/Issouf Sanogo)