Mali forces accused of myriad abuses in Western-backed fight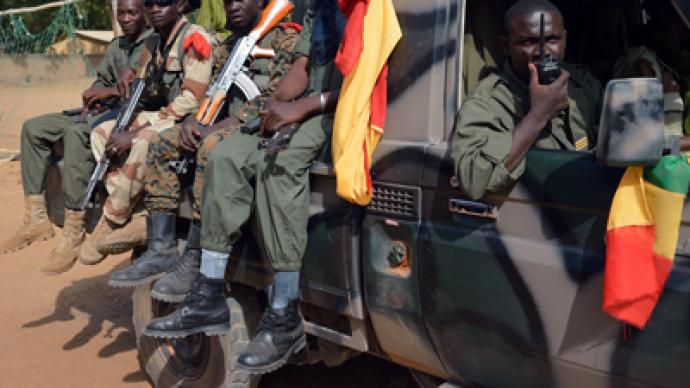 Mali's army has been carrying out summary executions in its war with Islamist rebels, an international human rights group claims. Meanwhile Russia's FM says Mali's insurgency is made up of groups that got NATO backing in its 2011 Libyan excursion.
The International Federation for Human Rights (FIDH) says Mali's army has been killing people it accuses of being "infiltrators" or rebel "accomplices" – but also those who are seen carrying weapons, or who are simply unable to produce identification. Summary executions have been documented in at least three towns, while ethnic Tuaregs in the capital Bamako have had their houses raided by Malian troops, the group says."In Sévaré, at least 11 individuals were executed in the military camp, near the bus station and near the hospital. Reliable information report close to 20 other executions in the same area where bodies are said to have been buried very hastily, in particular in the wells," the FIDH said in a statement."Other allegations of summary executions continue to come from all areas of the west and center of the country," it continued. Malian Army Captain Modibo Traore called the allegations "completely false," as quoted by AP.The Malian and French forces are fighting the same rebels Western powers armed in the Libyan uprising that ended in the ouster of Muammar Gaddafi, Russian Foreign Minister Sergey Lavrov told a press conference Wednesday. "Those whom the French and Africans are fighting now in Mali are the people … our Western partners armed so that they would overthrow the Gaddafi regime," he said."Terrorist acts have become almost daily in the region, arms are spreading in uncontrollably, infiltration by militants is taking place," Lavrov continued.He denied claims that Russia had offered France help in transporting its forces to Mali earlier in the month. The Kremlin notes the aftermath of the Libyan revolution, which saw arms delivered by Western powers funneled to foreign extremists – a charge confirmed by US Secretary of State Hillary Clinton in her testimony to the Congress Wednesday – as an example of what may follow the conflict in Mali. "The situation in Mali feels the consequence of events in Libya. The seizure of hostages in Algeria was a wake-up call.""This will be a time bomb for decades ahead," he said.
Ready for talks?
Mali's Ansar Dine rebel organization has fragmented and formed a new movement, claiming it wants to reach a solution to the crisis through diplomacy.Former Ansar Dine head Alghabass Ag Intalla told Malian radio RFI that the breakaway organization was looking for a "negotiated solution" to the conflict. He said the offshoot group would be called the Islamic Movement. Additionally, the group has stated that it "rejected all forms of extremism and terrorism."
You can share this story on social media: