37 foreigners killed in hostage situation - Algerian PM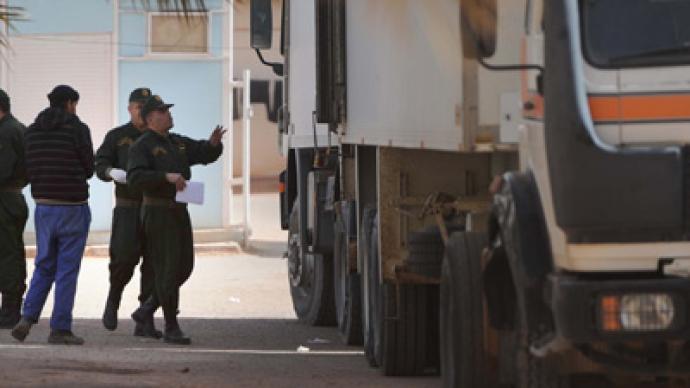 Algerian Prime Minister Abdelmalek Sellal has announced that 37 foreigners of eight nationalities have been killed in the hostage crisis at an In Amenas gas plant. Seven people are still missing.
The hostage takers included kidnappers from Egypt, Canada, Mali, Niger, Mauritania, and Tunisia, Sellal said in a statement."A Canadian was among the militants. He was coordinating the attack," Sellal said. The Canadian's name was given only as Chedad.A former driver at the gas complex was also among the hostage takers.Twenty-nine militants were killed when Algerian forces stormed the site on Saturday. Three kidnappers were captured.A US official says two more Americans were killed in the crisis, bringing the death toll to three US citizens. "It was very difficult to control the situation…they had a massive arsenal, and had explosive belts which they put on some foreigners," he said. Sellal said the jihadists who staged the attack had crossed into the country from neighboring Libya. Japan's Prime Minister said on Monday that seven Japanese citizens died in the hostage crisis. Three others are still missing."I was informed by Vice-Foreign Minister (Minoru) Kiuchi that as a result of identifications of bodies at a hospital in In Amenas, seven were confirmed to be Japanese employees of JGC," Mr Shinzo Abe told his ministers, as reported by AFP. Five Norwegians, three Britons, four Filipinos, and two Malaysians are among the missing. British Prime Minister David Cameron has confirmed that 22 British nationals who escaped or were freed in Algeria have been reunited with their families in the UK. The Islamist 'Mulathameen Brigade' has claimed responsibility for the hostage crisis. The group issued a statement warning that it will carry out similar attacks until Western powers end what they called an attack on Muslims in Mali, Reuters reported on Monday."We promise all the countries that participated in the Crusader campaign against the Azawad region that we will carry out more operations if they do not reverse their decision," the statement said.Militants seized the In Amenas natural gas installation in the Algerian Sahara on Wednesday. The group said it conducted the raid in retaliation for France's engagement in the Mali crisis.The militants also demanded the release of two terrorists held in the US in return for the hostages. One of the terrorists, Omar Abdel-Rahman, known as 'The Blind Sheikh,' helped in 1993 to plan the 9/11 attacks.Algerian President Abdelaziz Bouteflika has ordered an investigation into how security forces failed to prevent the attack, El Khabar newspaper reported.
You can share this story on social media: