Will France prevail in Mali elections?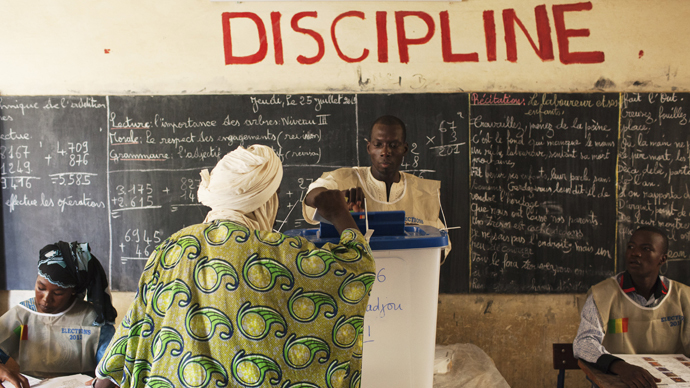 Malians took part in the country's presidential election on Sunday, but many experts say the rushed vote is not legitimate because many citizens were prevented from taking part due to security concerns. Many are also questioning France's role in the poll.
The voting took place at around 21,000 polling stations across the country, with news agencies reporting a good turnout despite Islamist militants' promises to attack polling stations.

The threats came although France has labelled its military campaign – which began in January against al-Qaeda-linked fighters occupying the north of the country – "a success." The campaign was launched shortly after an army coup ousted Malian president Amadou Toumani Tourea.

While there were queues outside polling stations in the Malian capital of Bamako, there were organizational problems in the north, with many people unable to determine the correct voting location.  

"Put it this way: if I was in northern Mali, I would be hesitant to go to the polling station," author and historian Gerald Horne told RT. "It was not long ago that those militants, so-called the Islamists, were actually ruling that part of the country. We recall the devastation and havoc they brought in terms of beating women in the streets, in terms of destroying valuable manuscripts stretching back centuries, which actually revealed the intellectual firepower that then existed in that part of Africa."

Nationwide polls were due to open at 08:00 GMT, although Reuters reported delays as election workers awaited last-minute deliveries of voting materials.

More than half a million Malian citizens were unable to cast their ballots because they were previously removed from their homes by violence and forced to move to other regions of the country or find refuge in neighboring states.

With so many people excluded, the election has turned into "a farce," investigative journalist Gearóid Ó Colmáin told RT.

"The ID cards, which they use as registration cards, were distributed in April. But normally it takes six months, maybe 12 months – particularly in a country like Mali – to distribute cards like that," he explained. "You have thousands of refugees in neighboring countries – they haven't been able to vote. There's been practically very little debate about this. This is only a few months, remember, after major war. This is absolutely impossible."

"The whole idea now is to legitimize the French intervention. There'll be trouble ahead because most likely we'll have a partition of the country in the next few months," Colmain added.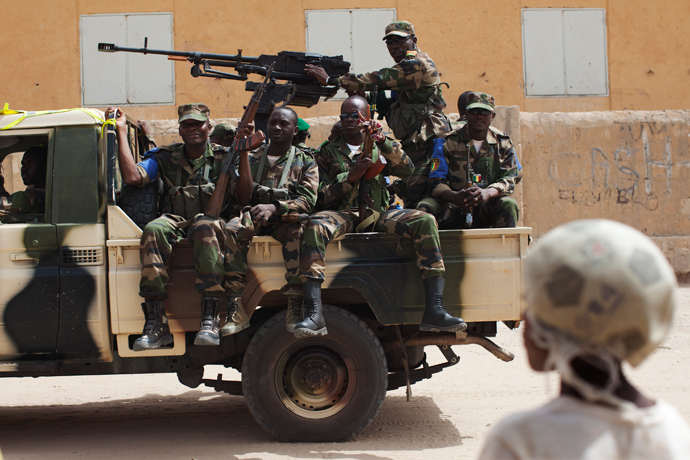 Twenty-seven candidates are hoping to become Mali's next president, most of whom are established figures that have been involved in the country's politics for around two decades.
The two favored candidates are believed to be Ibrahim Boubacar Keita – known universally as IBK - and Modibo Sidibe, both of whom are former prime ministers.
Colmain described both IBK and Sidibe as being pro-French politicians, saying that
"if one of these two candidates wins then the election would be a success"
for Paris.   
"The candidate they don't want to win is Dr. Oumar Mariko,"
he stressed. "
He represents national interests. He has a popular mass movement behind him, but hasn't had the time really to organize his supporters because the elections have been too rathe."   

Horne echoed Colmain's stance on the issue, saying that "the leading candidates are in the French sphere of interests, which seems to me to be the root of a problem – that is to say, the French neo-colonialism in that part of Africa."   
Prior to the invasion, French President Francois Hollande said that Mali's very existence was under threat from terrorists whose
"brutality and fanaticism is known across the world"
and stated the need to protect Mali's population and 6,000 French citizens living there.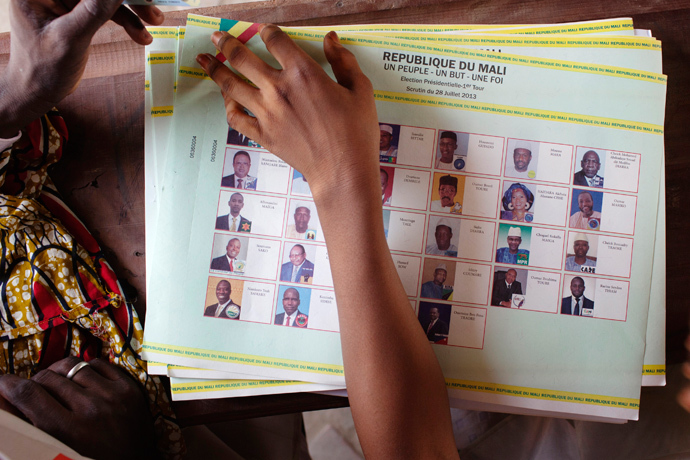 France counts on a successful win for Sidibe or IBK, hoping it will allow Paris to scale down its military presence in Mali - which was a French colony until 1960. There are currently around 3,000 French troops serving in Mali.
The UN has announced that it is ready to deploy a 12,600-strong peacekeeping contingent to Mali.
Before the turmoil which began last year, Mali had created a reputation for stability by becoming Africa's number three gold producer.
The EU has promised the nation three billion euros (US$3.9 billion) for reconstruction after it elects a new president.
But Horne believes that it's the European Union which is responsible for putting Mali into its current state in the first place.
"The EU should basically own up to its initial blunder in terms of many EU nations – Paris and London, not least – contributing to the fiasco in Mali by toppling the regime of [Muammar Gaddafi] in neighboring Libya. Basically toppling that regime contrary to the original understanding of UN resolutions of 2011,"
he explained.
If no candidate wins over 50 per cent of the vote on Sunday, a second round of the election will take place on August 11.