In God's name: Malaysian court bans non-Muslims from using word 'Allah'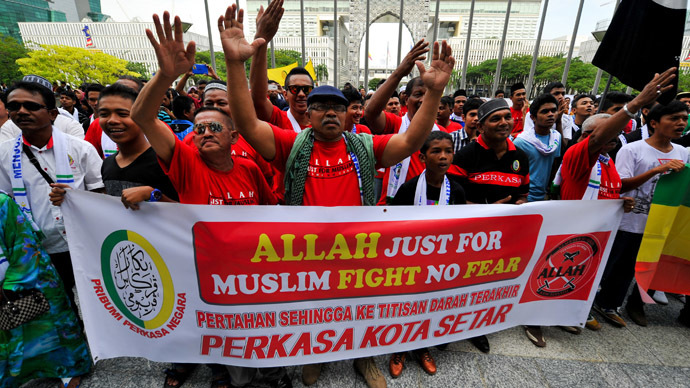 A Malaysian Court of Appeal has prohibited non-Muslims from using the word Allah to refer to God. Christians argue the ruling violates their religious rights as they have been using the word for decades.
"The usage of the word Allah is not an integral part of the faith in Christianity," Chief Judge Mohamed Apandi Ali said, adding that in court's opinion it "will cause confusion in the community."

The unanimous decision by three Muslim judges comes as the Malaysian government appealed a lower court decision in 2009, when it ruled that the Catholic Church had the constitutional right to use the word Allah when referring to God in the Malay-language edition of the Catholic weekly newspaper The Herald.

However, the government argues that a Catholic newspaper could not use the word Allah to describe the Christian God because of concerns that it would confuse Muslims and could be used to convert them to Christianity.

The Herald's lawyers, at the same time, insist that Malay-language Bibles have used the word when referring to the Christian God since its translation in 1731, centuries before Malaysia was formed as a federal state in 1963.

The Herald editor Reverend Lawrence Andrew said he was "disappointed and dismayed," and would appeal against the decision.

"In the Middle East and Indonesia, Allah is a term used by both Christians and Muslims. You cannot say all of a sudden that it is not an integral part," local English-language newspaper The Star Online quoted Andrew as saying. He then added that Malaysia Christians, as a minority, should be protected under the law.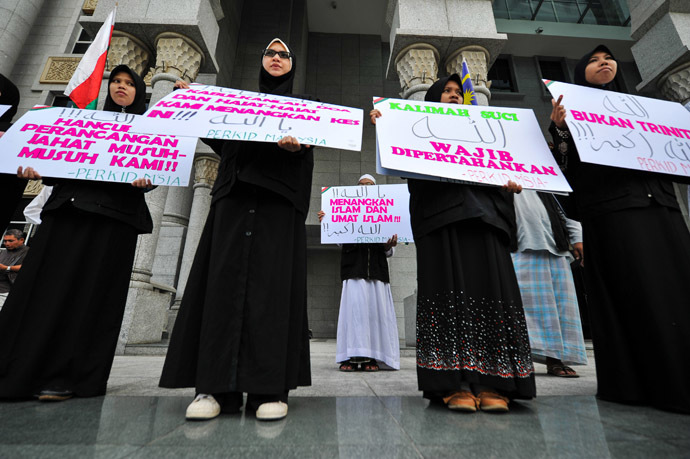 "We are saying we have a right as a minority in this country to live in freedom," he said.

"We have been using this word for nearly four or five hundred years, people have been living in peace and harmony. We have published The Herald for 19 years and we have not caused any trouble," said Andrew.

Although the case is largely a dispute between The Herald and the Home Ministry, it generally expands into a wider debate between Christians and Muslims.

On the eve of the hearing in the Court of Appeal Ultra Malay groups vowed to demonstrate at the Palace of Justice court complex.

Although they have promised a peaceful gathering, local media voiced concerns that with Christian groups also at the scene, the rally may turn violent.

Muslims make up about 61 percent of Malaysia's 28 million people. According to the Christian Federation of Malaysia, about 60 percent of the approximately 2.6 million Christians in the country use the word Allah to refer to God.

You can share this story on social media: