Tear gas for 25,000-strong Malay fair vote rally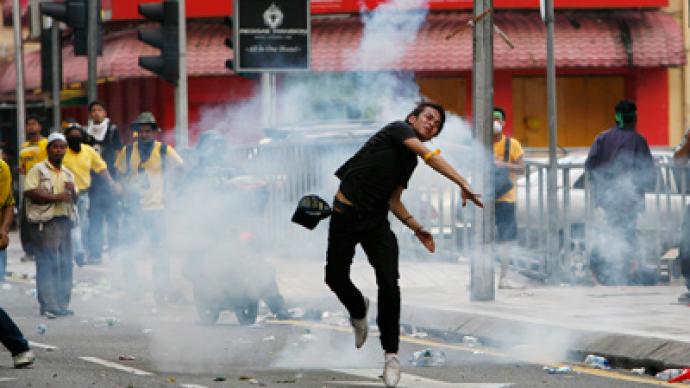 Police in Kuala Lumpur used tear gas grenades and chemical-laced water to break up what they say was a 25,000-strong demonstration for electoral reform in Malaysia. The mass rallies in the capital were the country's largest in a decade.
For several hours, the demo remained peaceful, with demonstrators waving banners, chanting slogans and singing the national anthem. Protesters dressed in yellow T-shirts reportedly made an attempt to access Independence Square, but were stopped by riot police and barbed wire. Authorities announced that demonstrators had no right to rally in the public square, reserved for military parades and national celebrations.
The organizers of the rally then announced the event a success and told supporters to head back home. Once the majority of demonstrators started to leave the scene, a small group reportedly made a sudden attempt to break through police ranks. Officers fired tear gas grenades, and cannons were used to pour water with chemicals on the crowd. The battle lasted for half an hour as police armed with batons chased fleeing demonstrators to neighboring streets. Some 20 protesters were detained.
Last July's 20,000-people demonstration in the Malaysian capital was brutally dispersed with tear gas and water cannon. Back then, police arrested 1,600 protesters.
Fears of rigged elections
The protests were sparked by concerns that the results of an upcoming election could be fixed by the country's ruling National Front coalition headed by Malaysia's Prime Minister Najib Razak. The coalition has held power in the country for over half a century.Opposition say the Prime Minister might dissolve parliament in May to hold an election in June. Activists claim the vote, seen as extremely close, is likely to be rigged. They allege voter registration lists have been flooded with cheaters.
The organizers of the rally declared they want international observers be present in the country during the election. They also demand fair access to national media for non-ruling political parties, and longer campaigning periods. Protesters insist changes must be made to ensure Malaysians working abroad can also cast their vote.Authorities however insist the protesters' demands are over the top.
You can share this story on social media: