Pakistani schoolgirl shot by Taliban receives human rights Politkovskaya Award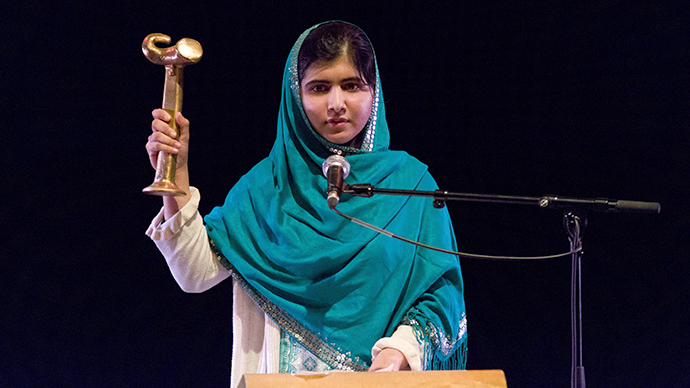 Malala Yousafzai, the Pakistani teen shot by the Taliban in 2012 for campaigning for girls' schooling, received a human rights award named after the slain Russian journalist, Anna Politkovskaya.
The group RAW (Reach All Women) in War said Yousafzai had been chosen for the Anna Politkovskaya Award "for her courage to speak out when nobody else dared," for giving a voice to many women and girls and for promoting female education.
The 16-year-old was presented with the award in London on Friday, nearly seven years after the Russian investigative journalist was shot dead in the elevator of her apartment building on Oct 7, 2006.
Malala said she hoped she could be as courageous as Politkovskaya was.
"I am extremely proud to have been chosen to receive an award, which bears her name and hope that I may be as brave as she was," AFP cites her as saying.
"I greatly admire Anna's dedication to truth, to equality, and to humanity," Malala added.
The award was presented by Nicholas Winton, now 104, who was dubbed the 'British Schindler' for his role in saving the lives of more than 600 Jewish children from Nazi-occupied Czechoslovakia in 1939.
Malala is among the favorites for the Nobel Peace Prize, which will be announced on October 11. She has also been shortlisted for the European Parliament's prestigious Sakharov human rights prize, named after the Soviet nuclear physicist, dissident, and human rights activist Andrei Sakharov.
On 9 October 2012, Yousafzai was shot in the head and neck in an assassination attempt by Taliban gunmen while returning home on a school bus.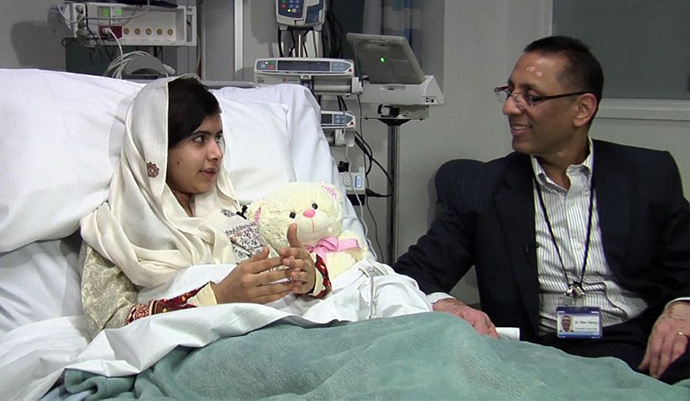 She incited the ire of the militant group after becoming an internationally publicized advocate for female education. The shooting sparked fierce condemnation at home and abroad.
Malala currently attends school in Birmingham, where she was initially flown to receive medical treatment following the shooting.
Her autobiography, 'I Am Malala' is set to be published in the US and UK on Tuesday, the first anniversary of the attack.
RAW in WAR first started giving out the Anna Politkovskaya Award in 2007 to mark the anniversary of her death and "to honor Anna and other women like her in the world."
The first recipient of the award was Natalya Estemirova, a human rights activist who had actively worked with Politkovskaya in documenting human rights abuses in Chechnya.
On July 15, 2009 Estemirova was abducted near her home in Grozny, Chechnya. Later that day, her bullet-riddled body was found in the neighboring republic of Ingushetia.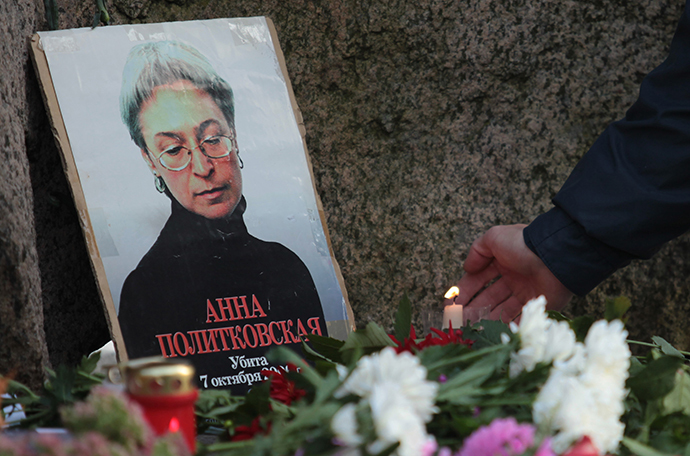 You can share this story on social media: