Thousands protest Basque terrorist release in Madrid (PHOTOS)
Several thousand people have gathered at Madrid's central Plaza de Colone to protest the early release of a former member of Basque separatist group ETA. Ines Del Rio was serving her 30-year term for bomb attacks, in which 30 people died.
According to the Terrorist Victims' Association, which organized the protest, up to 200,000 people have joined to demand justice.

"They can call us resentful, but we are not going to remain silent," local RTVE broadcast cited Angeles Pedraza, president of the Terrorist Victims' Association, as saying. "Victims want justice, not revenge," he said. Pedraza's daughter was amongst the 191 people killed in bombings by Islamic militants on Madrid commuter trains in 2004.

"No we aren't going to surrender, we will continue our fight," he said.

Activists held large banners reading "Justice", Spanish flags and photographs of victims of terror acts.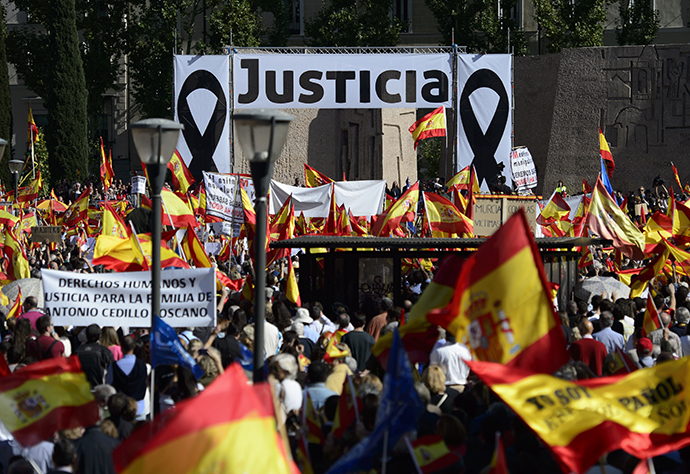 A large influx of people forced local police to cut off the traffic in downtown Madrid over a half an hour before the protest officially started.

"There are 829 reasons to be here," Carlos Floriano of Spain's ruling Popular Party said referring to the number of murders attributed to the terrorist group ETA.

However, as leaders of the Popular Party joined the protest, activists started accusing them of betraying the victims as the party, which labels ETA as a terrorist group, has been unable to successfully challenge a European Court of Human Rights ruling and prevent a mass release of ETA inmates.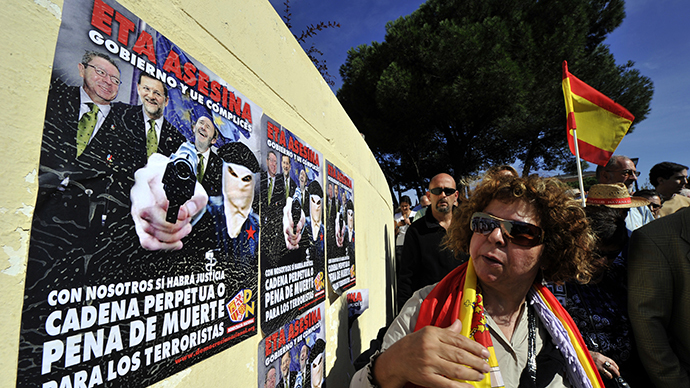 In case of former ETA member Del Rio, she was originally sentenced to more than 3,800 years in jail for participating in 23 murders and car bombings carried out by the terrorist group.

However, because of the criminal code in force at the time her jail time was reduced to a maximum of 30 years.
Del Rio earned sentence reductions through prison work, making her release possible in July 2008. But in 2006 the High Court applied the Parot doctrine to her case and extended Del Rio's detention till 2017.

Under this doctrine, sentence reductions are applied to the sentences for individual crimes, which in Del Rio's case collectively amounts to over 3,000 years, rather than the overall 30-year maximum stay.

On Monday, the Strasbourg-based court voted against the 'Parot doctrine' adopted by Spain's Supreme Court in 2006 to restrict ETA prisoners' entitlement to early release and other benefits.  

The Human Rights court ordered Spain to ensure Del Rio's immediate release and to pay her 30,000 euros ($41,000) in compensation.

An estimated 60 prisoners have had their jail time extended under the Parot doctrine; about 30 have appeals pending in Strasbourg.

The doctrine was named after ETA member Unai Parot who was the first to see his term extended.
ETA, a movement that began in 1959 and ceased armed activity in 2011, has been accused of committing more than 800 murders in its Basque liberation campaign.