Madrid seeks talks with Catalonia to avoid independence referendum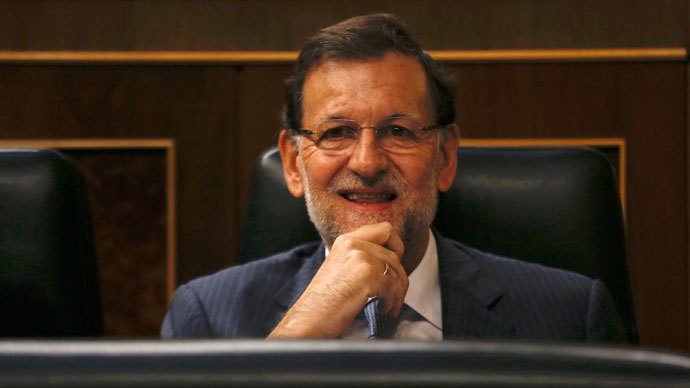 Spanish Prime Minister Mariano Rajoy has proposed talks with the Catalan regional government in an effort to avert a referendum on Barcelona's independence from Madrid.
Rajoy on Saturday sent a letter to the leader of the Catalan regional government, Artur Mas, proposing the talks, just three days after crowds of 1.6 million people flooded the region's streets, waving red, yellow and blue flags Catalan flags and calling for independence. Activists calling themselves The Catalan Way linked hands, forming a human chain that stretched for more than 400 kilometers along Catalonia's Mediterranean coast, uniting 86 towns and villages.
In his letter, PM Rajoy said he was "convinced of the exceptional relevance of Catalonia for Spain and of the richness, plurality and singularity of Catalan society," but added that "ties cannot be broken without huge ... economic, political and social costs." He added, "We need to work together to strengthen these ties and move away from confrontation."
A referendum would be a "unilateral declaration of independence that would have serious consequences for Spain and also for Catalonia," Spanish Foreign Minister Jose Manuel Garcia-Margallo warned earlier this month, adding that Catalonia would have to "bid farewell to the European Union" if it went ahead with the independence vote.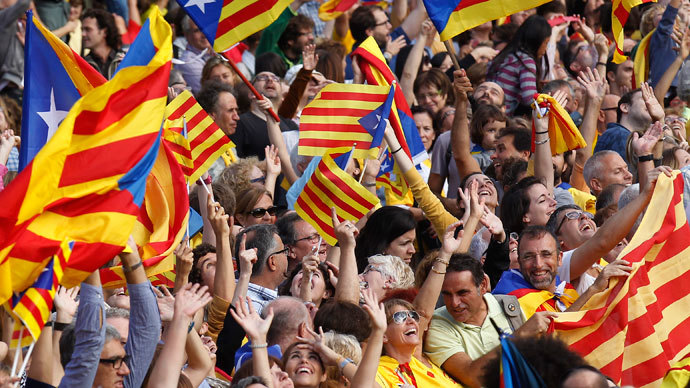 The region of 7.5 million people, which has been comparatively less hard hit by Europe's recession than some other parts of Spain, has increasingly swung toward the idea of independence from Madrid. The threat of a referendum comes as Rajoy and his center-right ruling party are embroiled in a corruption scandal, while the country faces a deep recession.
Earlier this week, Mas said that a new, more favorable tax regime would be welcome in Catalonia, but only to pave the way for an independence referendum. Many Catalans complain that their region pumps too much money into the central government's coffers, with little sent back in return. Catalonia pays at least $15 billion more in tax revenues than it receives back in social spending or investments in infrastructure.
Catalonia, unlike the Basque region with its similar desire for secession, is Spain's most economically powerful region – but having requested €9 billion ($12 billion) in bailout funds from the central government – on top of the €5 billion ($6.3 billion) it already owes, it is also the most indebted, due to the economic crisis strangling the nation.

Rajoy and Mas had a closed-door meeting in August in a bid to end a year-long standoff over the independence referendum, and to discuss greater tax powers for Catalonia, Reuters reported. That meeting failed to produce a positive result, however, and the two sides continue to have major disagreements on a range of issues.
"The breakdown in relations with Spain has become so serious that the only solution is a referendum," Mas said earlier Wednesday.
Rajoy has not said what new proposals he has for the Catalans, but he has threatened to block Barcelona's attempts at secession in court, calling it unconstitutional. 
In response to Rajoy's threat of legal action, Mas said he would call an early election and use it as a platform to campaign for the region's secession. According to recent polls, about one half of Catalan voters would favor independence independence.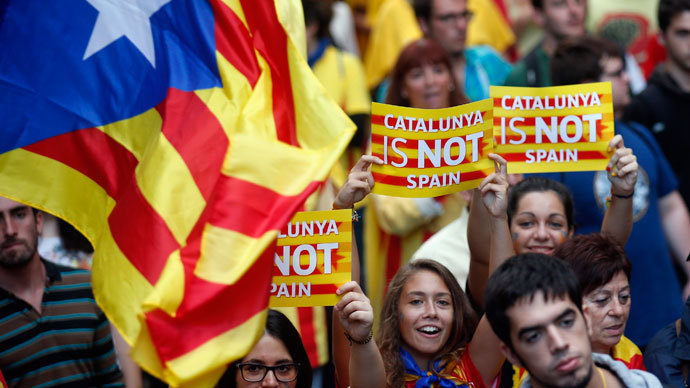 The warning by Mas comes as his conservative Convergence and Union party joins forces with its rival, Oriol Junqueras of the Republican Left of Catalonia. The two are set to jointly push for regional independence.
"We aim to put the future of Catalonia in the hands of the citizens of Catalonia, and to do that we want to consult them democratically," said Junqueras.
Wednesday's 'human chain' event, which took place on Catalonia's national day, the Diada, included the President of the Catalan National Assembly, Carme Forcadel, who organized the event. "We need to put an end to the cultural and economic suffocation we are suffering from," she shouted to a crowd in downtown Barcelona. "We have come out in our hundreds of thousands into the street to show in a democratic and inclusive way that we are capable of achieving any aim we set for ourselves," she added.

You can share this story on social media: