Dirty election made into board game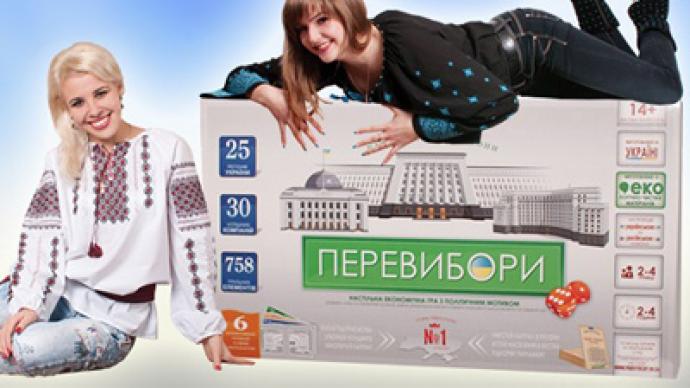 A Ukrainian company is offering a board game where players are meant to bribe voters and make money through hyped sensations in order to get the most seats in parliament for his political party.
The gameplay of the "Re-election" is somewhat similar to the classic "Monopoly". Players make money by taking control of different properties, which list real Ukrainian companies like the oil giant Naftogaz or the metal producer Krivorozhstal. The finances are further spent on raising political capital in different regions of the country, reports the news agency Segodnya. The ultimate goal is to score enough votes to get a majority in the parliament.What gives a political message to the game is the way the money and votes are gained. For instance, a player may start a media campaign about a non-existent flu pandemic and profit on selling masks at inflated prices. Or he can put a relative in the position of mayor in a regional capital and later leverage this to take control over an opponent's property there. Most such in-game events refer to Ukraine's real political life. The game has a $60 price tag, which is far from affordable. According to the producer, they have sold about 70 over the three weeks since it hit the shop selves.Making political statements through board games in not uncommon. For instance, Poland's Institute for National Remembrance has recently released a game about perils of the communist regime.Players stand in long queues to get a chance to buy things like coffee, toilet paper and shoes – all of which are in deficit. They are also at risk of the shop running out of its stock or someone else jumping the queue and snatching the coveted prize. In the state-sponsored project 3,000 copies of the game have been released.
You can share this story on social media: